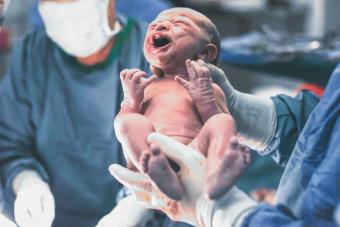 You've navigated first-trimester nausea, watched your belly grow, and dealt with the normal aches, pains, and body changes that occur during pregnancy. After months of anticipation, the moment you've been waiting for is nearly here: the birth of your baby.
The unpredictable nature of childbirth can leave many birthing parents anxious and unsure of what to expect during their labor and delivery. One of the best ways to educate and prepare yourself for what lies ahead is to understand the many ways birth can take place. Though no two births are exactly the same, watching natural childbirth videos can help prepare expectant parents for the big moment.
Benefits of Watching Online Childbirth Videos
Many couples who are expecting their first child take childbirth classes to prepare for their own child's birth. Many of these classes share birthing videos during class time that you watch with fellow expectant parents. Given the emotional nature of these videos, you may prefer to watch the miracle of childbirth from the comfort and privacy of your own home.
Thanks to the internet, you can watch nearly any type of childbirth video you'd like to see, such as hypnobirthing videos or doula-assisted births. You can even watch certain aspects of the birthing process you are interested in or curious about, such as epidural placements, various stages of labor, or placenta delivery. You can also look for videos that showcase different ways to induce labor and breathing techniques. When you watch these videos at home, you can pause, rewind, or save the video to watch at another time.
If you have a particular relaxation technique in mind that you'd like to try for your own labor and delivery, you can search for videos that demonstrate the technique in practice. Or perhaps you're not sure which type of technique you'd like to try, so you can watch a range of videos with various techniques to decide which may be best for you. It's almost like a "test drive" for techniques that you're curious about but aren't sure how they will work.
Different Types of Childbirth Videos
There are many websites that offer birth videos that you can watch for free online. Whether you're planning a home birth, water birth at a birthing center, or a hospital birth, it can be helpful to have an idea of what to expect. Below, you will find several types of birth videos that give you an idea of what to expect.
Water Birth
A water birth takes place in a pool or bathtub filled with warm water. Some birthing parents labor in the water and get out for delivery, and others give birth in the water. Because the baby has been in the amniotic fluid sac for the entire pregnancy, many people believe that water birth is gentler for the baby and helps reduce some of the pain of contractions for the birthing parent.
All-Natural Hospital Birth
Natural childbirth is a labor and delivery that is free from medical interventions, such as medications for pain relief and continuous fetal monitoring. Many hospitals are intervention-focused, but some are able to support a birthing parent's desire for as little intervention as possible, as long as it is safe for both parents and baby.
Cesarean Section Birth
A Cesarean section birth, or C-section, is a surgical procedure used to deliver a baby through a cut in the birthing parent's abdomen. Healthcare providers recommend a c-section when it is the safest delivery option for the baby, birthing parent, or both. Some Cesarean births are planned, and others are performed when an unexpected problem arises during the labor process that requires surgical intervention to safely deliver the baby. Over 31% of all babies born in the U.S. are born via C-section.
Vaginal Birth After C-Section (VBAC)
If you've had a previous delivery via Cesarean section, you may be able to give birth vaginally with your next baby or babies. This is called vaginal birth after Cesarean (VBAC). VBAC births are safe if your C-section incision was low transverse and you've had a low-risk pregnancy.
More Sources for Childbirth Videos
There are thousands of childbirth videos online that you can watch from your computer or mobile phone. If you're not sure where to get started, here are a few websites that offer birth videos to get you started.
Babycenter.com
Babycenter.com, the online version of Baby Center magazine, has a video center. Scroll down to the "Giving Birth" section, and you'll find videos that include c-sections, induced labor, breech babies, twin deliveries, and more.
A Baby Story
A Baby Story is a TLC series that gives viewers the opportunity to get to know the expectant parents and their plans for labor and follow them along through their birth and the first few weeks at home with their baby. You can view episodes on TLC.com, use the TLC Go app, or watch on Amazon Prime.
Birth Boot Camp
The creators of Birth Boot Camp say birth videos are an important aspect of childbirth education. On the site, some of the creators' all-time favorite birth videos are showcased. Examples of birth videos on the website include natural birth, breech birth, home birth, and outdoor water birth.
Birth Becomes You
Birth Becomes You offers a library collection of birth videos from birth photographers around the world. The collection is vast and offers a wide variety of birth videos, ranging from hospital births to home births all across the globe. You can even submit your own birth video to share with others, if you're interested in sharing your story.
Mama Natural
Mama Natural offers a variety of inspiring birth videos for expectant parents. Search by birth type to see many unique births, including car births and outdoor births. Some of the videos are accompanied by a written story that shares the birthing parent's experience throughout their labor and delivery process.
YouTube
YouTube hosts hundreds of labor and delivery videos, and you'll find many that are short recaps of birth highlights and others that are vlog-style and last hours long throughout the entire process. As with most YouTube content, the quality of videos varies. Some videos are professionally produced and others are filmed by a happy, excited dad in the delivery room.
She Births Bravely
Armed with a desire to help moms overcome their fears of giving birth, the owner and creator of She Births Bravely has spent years developing a birth course and putting together a list of 11 positive birth experience videos to help educate expectant parents on the beauty and miracle of birth.
Your Own Birth Video
Many people like to capture the first moments of their baby's life on film. You may choose to keep the video private as a personal keepsake of one of the most cherished moments of your birth. Or perhaps you want to share it online to help educate other expectant parents and alleviate the nervousness that new moms may have. Whatever you choose, documenting the birth of your child can help you take a walk down memory lane and treasure the day of your baby's birth for many years to come.