It's difficult to find the right cut, style, and fashion outfit when you are wheelchair bound. Clothing for wheelchair users must be versatile to accommodate the unique needs of wearers. Whether you need clothing for work, recreation, special occasions, or simply relaxing at home, using this type of clothing provides a comfortable, fashionable solution so you can look and feel great.
Style Considerations for Clothing for Wheelchair Users
As the saying goes, "When you look good, you feel good." Everyone deserves the dignity of looking in the mirror and feeling proud of his or her appearance. Just because you use a wheelchair doesn't mean you're forced to don frumpy, uncomfortable clothing.
Look for Clothing That Looks Good While Seated
Clothing hangs differently depending on your posture. When seated, clothing cut for typical users bunches up around the waist and back. Longer-length sweaters, peasant-style tops, tunics, and cardigans may also pose a hazard if they hang near the top of the wheels on a wheelchair or near the brakes. Many styles of dress shirts, especially dress shirts for men, are also too tight across the shoulders and arms for men to propel their wheelchairs easily. Clothing for wheelchair users is cut differently to enhance safety, independence and mobility.
Find Clothes that Have a Longer Neck to Waist Ratio
This is the portion of the garment from the neckline to where it hits near the waist. Adaptive clothing is often cut with this section longer in front than in the back so that the back of the garment doesn't bunch up when seated.
Skirts Should be Longer in the Front Than the Back
Women who like to wear skirts find the usual cut of skirts doesn't work if you're seated all the time. Skirts tend to ride up in the front, exposing the leg or knee, and longer skirts hang down in the back, sometimes dragging on the floor. Skirts for wheelchair users should be cut with the front section proportionately longer so that when seated, the skirt forms a neat circle around the bottom hem.
Find Longer-Length Trousers
Trousers also ride up on the leg when seated. To maintain a neat line without exposing too much sock, look for trousers slightly longer than what you may wear when standing. Unless of course, you want to show off your special socks; then, by all means, wear typical length trousers and flaunt those argyles!
Seek Clothing With a Loose Fit Around the Hips and Thighs
For both men and women, pants with a loose cut around the hips and thighs are more comfortable than tight-fitting trousers. Relaxed-fit pants can also accommodate medical devices such as catheter bags and tubes, hiding them neatly under trousers.
Wear Tops With a Loose Fit Across Shoulders and Arms
A loose fit in tops, shirts, jackets, and blazers enables wheelchair users to move their arms freely to smoothly move their wheelchairs wherever they wish.
Find Seamless or Flat Seamed Clothing
Nothing hurts more seams that rub and chafe. If selecting pants or trousers, feel the inner leg seam. It should be soft and sit flat against the leg. Pinching, bunching or rubbing hurts a lot, and for those with sensitive skin due to medications or illness, can also spell disaster in the form of painful sores.
Avoid Tight Belts or Fitted Waistbands
Belts can be uncomfortable, especially if too tight. Ladies may wish to avoid dresses with belts. Fitted waists with elastic provide fashionable yet comfortable options for most garments.
Have Clothes Tailored for a Good Fit
Just because a garment has to be looser in some areas doesn't mean it can't fit well. Don't hesitate to have a tailor adjust clothing for wheelchair users to best accentuate figure and posture.
Importance of Color and Pattern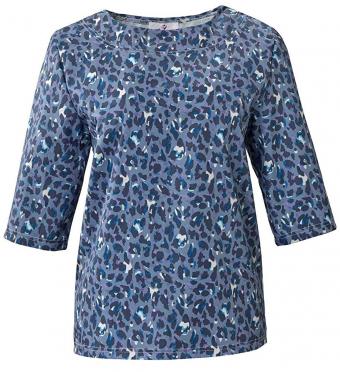 Both men and women benefit from selecting flattering colors and patterns.
Keep in mind dark colors recede while light colors make something appear larger.
Dark trousers or skirts blend in with the wheelchair while pretty patterns or attractive tops and jewelry focus attention on the face.
Vertical stripes make a person appear taller and slimmer.
Large patterns may overwhelm petite figures.
Clothing Adaptations for Seniors in Wheelchairs
Depending on your level of mobility, you may select clothes with other adaptations for comfort and convenience.
Easy to Use Fasteners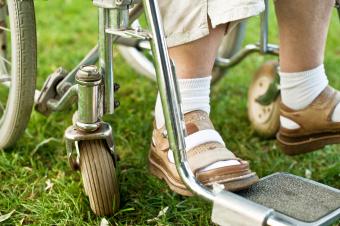 Buttons, clips, neckties, and fasteners pose special challenges. Arthritis and other ailments can make buttoning shirts quite painful. Fortunately, manufacturers have come up with clever solutions for easy access. For example, men's dress shirts fasten with magnets or Velcro behind the button placket to create a smooth, seamless look that's easy to change into and out of no matter what your disability.
Slip-on Shoes
For those who find donning shoes a challenge, slip-on fashions can be useful. Be careful, however, if you use slip-on shoes and stand or walk as well as use a wheelchair. Slip-on shoes may also slip off easily. Shoes that fasten with Velcro come in many fashionable styles as well as athletic styles for sports or outdoor recreation.
Breathable Fabrics
Choose soft, machine washable fabrics. Look for natural fibers, such as wool, cotton, and blends that allow the skin to breathe. Wear layers to add warmth or cool off as needed.
Sources of Adaptive Clothing for People in Wheelchairs
Never before have wheelchair users had access to such a variety of fashionable styles, colors and clothing options to enhance their independence. You can find adaptive clothing on the Internet or through mail-order catalogs. You can even buy blue jeans adapted for wheelchair wear, as well as formal gowns, nightgowns, underwear, athletic clothing, and more. Be yourself and choose fashions that enhance your natural beauty while providing you with safe, comfortable clothing.
Easy Access Products
Easy Access Products features clothing for work, school, play, special occasions and more. While the catalog also includes clothing for children, the adult fashions are suitable for home, church, work and other activities and have features that make the clothing easier to put on and take off, such as velcro closures and full back openings. Adaptive pants for adults start at around $60-$70 and a long sleeve shirt costs around $60.
Silvert's Adaptive Clothing & Footwear
Silvert's Adaptive Clothing & Footwear offers men and women's clothing for both assisted and independent dressing. Shirts start at around $35 and pants start around $45. Their adaptive clothing is designed for easy on and off wear. Sizes range from small to "plus."
Izzy Camilleri
Adaptive clothing is often merely functional with not much thought put toward the fashion. Designer Izzy Camilleri created her line IZ Adaptive to give wheelchair users a choice in adaptive clothing that rivals fashions found in traditional clothing stores. Men can purchase a three-piece suit and women can buy peacoats and capes in addition to pants, shirts, shorts and more. Because these clothing items are more stylish, their prices may be a little higher than other adaptive clothing. Women's pants start around $60 and men's pants start around $80.
Patti + Ricky
Much like Izzy Camilleri's collection, Patti + Ricky offers clothing for wheelchair users that is more stylish than typical for adaptive clothing. Men, women, and children can buy clothing in bold prints, or even activewear that rivals non-adaptive clothing in its modern style. Jeans start around $65, but "vintage wash" jeans start around $95. Stylish wheelchair accessories, such as bags, are also available through Patti + Ricky.
Stylish and Adaptive
Those willing to pay a little more can find adaptive clothing that rivals fashion found in retail stores. As society becomes more aware of the need for adaptive clothing and differently abled models are more widely used in ads and on the runway, clothing choices will likely expand.