Even if you are avoiding gluten due to Celiac or a gluten intolerance, you can still enjoy traditional comfort foods like chicken pot pie. This recipe uses a corn and rice crust that has a crisp texture and lively taste that will rival anything made of wheat.
Chicken Pot Pie Crust
This flaky crust is the perfect complement to a delicious pot pie filling. You can mix up the crust while the filling is cooking on the stove.
If you're making a one-crust pot pie, you can halve this recipe and use it only on the top of the pie. For a two-crust pie, use it as written for a top and bottom crust.
Makes top and bottom crust for one 9 x 13-inch pie
Prep time: 10 minutes
Cook time: 30 to 45 minutes
Oven temp: 400 degrees
Ingredients
1 cup cornmeal
1/2 cup white rice flour plus four tablespoons
4 tablespoons arrowroot flour
1-1/4 teaspoon xanthan gum
1 tablespoon baking powder
1 teaspoon salt
2 tablespoon honey
1-1/4 cup milk
4 tablespoons olive oil
Instructions
Combine the dry ingredients in a medium-sized bowl.
Combine the wet ingredients in a second, larger bowl.
Slowly add the dry ingredients to the wet until completely moistened. If the mixture is too runny, add additional arrowroot flour until thickened.
Divide the crust in half.
Spread half on the bottom of a 9 x 13-inch baking dish.
Top with the filling and spread the second half on top.
Bake at 400 degrees for 30 to 45 minutes.
Let stand for 10 minutes before serving.
Chicken Pot Pie Filling Recipe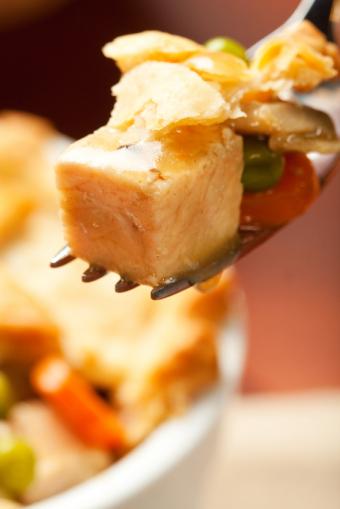 This filling is easily tweaked to include whatever vegetables you may enjoy or have on hand.
Makes filling for one 9 x 13-inch pie
Prep time: 15 minutes
Bake time: 10 minutes
Ingredients
1 pound chicken breast, cooked and shredded
2 tablespoons of rice flour
2 tablespoons of olive oil
1/2 teaspoon salt
1/4 teaspoon pepper
5 carrots, sliced thin
1 large red bell pepper, chopped
1 cup peas
1 large onion, diced
1-3/4 cup GF chicken stock
1 tablespoon fresh basil, chopped finely
3 tablespoons of sour cream
1 clove garlic, minced
Instructions
Heat the olive oil in the bottom of a large stock pan.
Add the rice flour, salt and pepper and mix to combine.
Slowly add the chicken stock, whisking well.
Add the vegetables, basil and garlic and simmer approximately 10 minutes.
Stir in the chicken and sour cream.
Spread evenly over the bottom crust in the baking pan.
Top with the remaining crust and bake at 400 degrees for 30 to 45 minutes.
Let stand 10 minutes before serving.
Create Your Comfort Food
Tweak the spices and vegetables in this pie recipe and experiment with a top and bottom crust until you achieve the pot pie you enjoy best. Remember, giving up gluten does not mean having to give up the foods you love.