For those that have fallen in love with aromatherapy at a spa, a home herb vaporizer can create the same atmosphere at a fraction of the cost. Home herb vaporizers are relatively inexpensive and easy to purchase. Affordable herbs can be purchased from a variety of sources or you may even grow them yourself.
Types of Herb Vaporizers
Depending on how you want to distribute your herbs, how often you'll be using them and where you want to use your vaporizer, you may find one type of vaporizer to be more suitable to you than another.
Portable Glass Vaporizers
Portable glass vaporizers are small, glass cylinders that are contained within a tube. You need to apply a heat source to the outside or bottom of the cylinder to heat up the herbs inside, vaporizing them. Most portable glass vaporizers help cool the vapors down before they reach your mouth since you will be heating the bottom of the glass as you hold the top of the vaporizer to your lips, although some require heating for a few minutes before you breathe. They tend to "shut off" automatically after a few minutes. Some examples of portable glass vaporizers include:
The Ubie is the smallest glass pocket vaporizer on the market. It can be heated with a pocket lighter, and operates like a cigarette.
Vapolution, a small pocket vaporizer that uses a windproof lighter. Heat the glass that surrounds your herbs in order to release the vapors.
Portable Butane Vaporizers
Portable butane vaporizers are small vaporizers about the size of a cell phone. They are powered by butane, so they don't require plugs or electrical cords to work. Some use butane to charge the units; fill up the unit before you leave the house and it's good for up to two continuous hours of vaporization. Others are heated by a butane lighter minutes prior to using them. Examples of butane vaporizers include:
Iolite vaporizers, which are small, light, modern vaporizers available in a wide selection of colors. They are similar in size and shape to a cell phone, and work on a butane charge.
Vapman Vaporizers are handcrafted portable butane vaporizers that work with a butane lighter. They use a wooden base with a ceramic, glass top for heating.
Battery Operated Portable Vaporizers
Battery operated portable vaporizers are available. These don't require a separate lighter or lighter fluid; most run on one or two AA batteries, and some have internal rechargeable batteries. Battery operated portable vaporizers will frequently have digital displays, and the ability to change the temperature of the vapor or length of time for which it operates. Examples include:
Vapir NO2, a portable vaporizer with a built-in rechargeable battery. The vaporizer has a digital screen and comes with tube attachments and cleaning implements.
Magic Flight Launch Box, which uses two rechargeable batteries. To work the vaporizer, push the batteries all the way in and wait a few seconds; once done inhaling, release the batteries to turn off the box.
Electric Conduction Vaporizers
Electric vaporizers are larger machines meant for use at home, rather than on the go. Electric vaporizers can use two methods for heating the herbs; the first is conduction. Conduction applies heat directly to the herbs through a metal plate on which the herbs are placed. Very little heat is actually applied; only enough to release the herbal properties and not enough to lead to combustion or smoke. Examples of conduction vaporizers include:
BC Vaporizers, small vaporizers shaped like cylinders with wood at both ends and glass in the center. They come with medical grade silicone tubing for inhalation.
Hot Box Vapors, which are small, cubed shaped vaporizers. You can get them custom made in tiles, stone or decorative finishes to complement your decor. Be advised, you need to be at least 18 to enter this store.
Electric Convection Vaporizers
Convection is the method of heating the air around the herbs, and letting this bring up the temperature to vaporization. This method is viewed as more efficient and safer than conduction, and is therefore more widely used.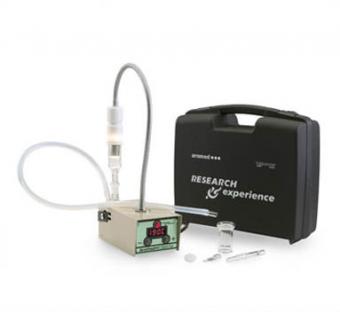 There are several ways that the air can be heated in convection vaporizers. Three of the most utilized ways include:
Halogen bulbs
Ceramic elements
Aluminum elements
Heat guns may also be used to heat the air, but this carries the risk of heating the rubber, metal and other parts of the vaporizer, which can impart an undesirable flavor to the vapor. Some examples of convection vaporizers include:
The AroMed vaporizer, which is a large vaporizer that utilizes halogen bulbs to heat the herbs.
Da Buddha, which is a large, canister style vaporizer that uses a ceramic heating element.
The Volcano Vaporizer, which is a cylinder shaped vaporizer with a digital display. It uses an aluminum heating element.
Places to Buy Vaporizers
In addition to these specific models, there are countless others available in each category. Visit these shops to see a selection of what's available.
Vapor Giant sells vaporizers in every category in sizes to fit every need.
Vaporizer Chief carries vaporizers at prices that are often lower than the competition.
The Vapor Store carries a select range of vaporizers, as well as accessories like grinders and tubing.
Using Vaporizers
Vaporizers are a safer and more effective way of inhaling specific properties from herbs than smoking. Vaporizers heat up and distribute herbal material without burning or distributing carcinogenic materials as well. The result allows you to get the full benefits of herbs, without wasting the material or causing irritation.
The following common herbs have been used in vaporizers with success, according to users:
Clary Sage - used to aid in sleeplessness
Eucalyptus - used to help clear nasal passages
Jasmine - used to help people feel confident and uplifted
Lavender - used to relieve stress, headaches and migraines
Lemon - used as a stimulant and a refresher
Peppermint - used to stimulate people who are fatigued
Roman Chamomile - used to aid in sleep and relaxation
Rosemary - believed to be a mental stimulant and an anti-depressant
Sandalwood - used to combat depression and stress
Ylang Ylang - helpful in reducing stress, depression and nervous tension
Add Some Herbal Aromatherapy to Your Day
Using a vaporizer is an effective way of getting the benefits of inhaling herbs. Whether you want a vaporizer for your home, or you want one for the go, there are numerous options available to you to suit your every need.