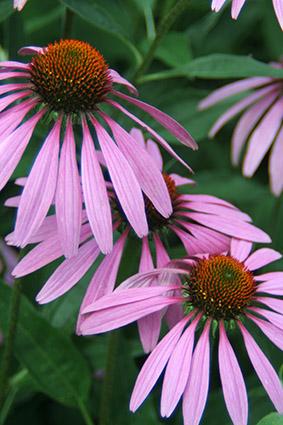 Deciding what the best herbs for flu and colds are for your family is a combination of trial-and-error and developing a knowledge base about medicinal herbs. Traditional remedies passed down from families often end up as everyone's favorites.
The Four Best Herbs for Flu and Colds
Oftentimes, the best herbs for flu and colds are found locally. In North America, the Native Americans shared their knowledge of local medicinal herbs with the pioneers. Today, many traditional herbs are still used to relieve the symptoms of influenza and are found on the shelves of many drugstores.
Goldenseal
Goldenseal is part of the buttercup family found growing in North America. Goldenseal has been used for its multipurpose medicinal benefits since the Native Americans begun using it to treat cancer. Today the herb is used for its antibiotic, antifungal and antimicrobial properties to treat the common cold, flu and other medical conditions. It is thought to be effective with treating common stomach and respiratory symptoms associated with the cold and flu. Use goldenseal with care with young children and pregnant or lactating females.
Echinacea
Echinacea is a flowering plant from the daisy family, and is found growing in open prairies and wooded areas. The Native Americans used it to treat a variety of medical conditions, including symptoms of the common cold, such as cough, headache and sore throat. Echinacea is also believed to boost the immune function and contain powerful antimicrobial properties useful for fighting infections and flu-related symptoms. The herb should not be taken for longer than two weeks, since the long term effects of Echinacea are yet to be determined.
Eucalyptus
This woody evergreen is a well-known herb used to treat coughs, cold and flu. Traditionally, eucalyptus has been used in various over-the-counter ointments that are rubbed into the skin, as well as traditional vaporizer remedies. Eucalyptus is a powerful remedy for breaking up phlegm in the lungs; it is also helpful in treating a sore throat and cough. Eucalyptus has an excellent synergy when combined with other evergreen herbs, or herbs from the mint family.
Wild Cherry Bark
Wild cherry bark is an expectorant, used to remedy dry cough and soothe sore throats. It has been used as a main ingredient in cough syrups since the Native Americans introduced its bark to migrating settlers. Wild cherry bark is not recommended for those pregnant or nursing or for young children. Large doses can lead to cyanide poisoning. The bark also has other toxic properties; thus, the herb is normally taken as a tea or cough syrup.
A List of More Traditional Herbs:
Basil
Blackberry leaves
Blueberry leaves
Calendula flowers
Catnip
Chamomile
Cypress
Elder flowers
Fennel seeds
Garlic
Horsetail
Hyssop
Pine
Juniper
Mullein
Peppermint
Rosemary
Sage
Thyme
Home Remedies for Flu and Cold
Traditionally, many of the best herbs for flu and colds were made right at home. Local wild herbs were used for medicinal properties within leaves, roots, flowers and bark. A variety of vehicles were developed in order to take one's daily herbs, from homemade herbal teas and herbal steam recipes, to the medicinal poultice and herbal cough syrups. Below are a few traditional homemade cough syrups that have stood the test of time.
Unless you are very experienced at finding, harvesting and preparing wild plants, purchase herbal ingredients at your local health food store.
Make Your Own Herbal Cough Syrup
Ingredients
2 tablespoons cayenne pepper
2 tablespoons ginger
4 whole cloves
10 drops liquid Echinacea
5 drops lemon balm extract
1/2 cup honey
1/4 cup lemon juice
1/4 cup water
Directions
Mix cloves and lemon balm extract with natural honey and refrigerate overnight. Remove the whole cloves the next day and discard.
In a saucepan, gently heat the honey mixture, water and lemon just until the ingredients soften and blend together. Remove from heat and set aside.
Add cayenne pepper and ginger, stir and cool for 15 minutes. When cooled, add Echinacea liquid and blend. Store herbal cough syrup in an airtight container.
Take up to one tablespoon of cough syrup up to four times a day. Children may take up to one teaspoon three times a day. Children under two should not be given honey.
Homemade Wild Cherry Cough Syrup
Ingredients
2 tablespoons wild cherry bark
1 tablespoon valerian
2 tablespoons marshmallow root
1 tablespoon licorice root
2 tablespoons ginger root
2 tablespoons cinnamon bark
10 drops goldenseal tincture
1/2 cup honey
1 cup black cherry juice
1 pint water
Directions
Heat one pint of water in a saucepan. Add valerian, marshmallow root, licorice root, ginger root and cinnamon bark. Gently simmer the ingredients until the mixture is reduced by half. Remove the mixture and allow it to cool for 15 minutes.
In a different saucepan, bring black cherry juice and honey to a slow boil. Simmer the mixture until reduced by half. Remove mixture from heat and allow it to cool for 15 minutes.
Add wild cherry bark to the black cherry juice mixture and set aside.
Strain the herbal mixture once it has reached room temperature. Add herbal mixture to wild cherry mixture and stir. Set aside.
Add the goldenseal tincture to cough syrup once it has reached room temperature. Stir and add wild cherry syrup and store in an airtight jar.
Adults may take up to one tablespoon of syrup three times daily. Children may take up to one teaspoon as needed, but no more than three times a day.
When to Visit the Doctor
Generally, the cold and flu only last a few days with some lingering symptoms lasting longer, such as a dry cough. If you experience vomiting or high fever for more than three days, please contact your doctor. Always discuss your use of herbs with your doctor, especially if you are taking any medications, as interactions can occur.