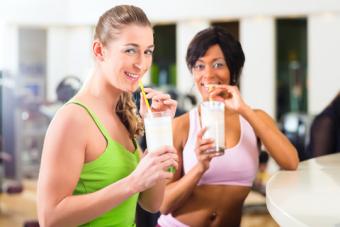 If you have celiac disease or gluten sensitivity, going gluten-free is a must. If you're an athlete, it may be difficult to know which foods to eat or to find sports nutrition recipes that are gluten-free. However, such foods and recipes do exist and can help boost energy levels and improve athletic performance.
Gluten-Free Recipes for Athletes
The following gluten-free recipes are sure to be a hit with athletes, whether used before working out for a quick boost of energy or as a post-exercise recovery meal or snack.
Almond Blast Protein Shake
This shake helps athletes consume protein, which is essential for muscle development.
Ingredients
2 scoops of gluten-free vanilla-flavored protein powder
1.5 cups of low-fat milk, soy milk, or almond milk
½ cup of gluten-free oats
½ cup of raisins
12 slivered almonds
1 tablespoon of peanut butter
Directions
Blend all ingredients together in blender and serve chilled.
Chocolate Peanut Butter Protein Balls
Another protein-rich recipe, these protein balls make a great pre- or post-workout snack.
Ingredients
1 cup of gluten-free rolled oats
1/2 cup of natural peanut butter
1/3 cup of honey
2 tablespoons of flax seeds
2 tablespoons of chia seeds
1 tablespoon of gluten-free chocolate protein powder
Directions
Stir all ingredients together in a bowl.
Cover the bowl with plastic wrap.
Refrigerate mixture for 30 minutes.
Scoop chilled mixture into balls and serve.
Tomato Spinach Omelet
With healthy protein and nutrient-dense veggies, this recipe is a great way to start the day.
Ingredients
4 large eggs
1/2 cup oven-roasted tomatoes
1 cup baby spinach leaves
1/2 cup feta cheese
1 tablespoon olive oil
Directions
Saute the spinach and tomatoes in the olive oil over medium-low heat for two to three minutes.
Pour the beaten eggs into the pan and slowly shake to distribute evenly throughout.
After about two minutes, loosen the omelet mixture from the bottom of the pan to prevent sticking.
Sprinkle the feta cheese on top of the omelet.
Fold the omelet with the cheese in the middle and cook until it is golden brown.
Flip the omelet and cook for one more minute.
Serve with gluten-free toast and orange slices, if desired.
Quinoa and Asparagus Chicken Salad
This recipe is a great source of gluten-free complex carbs and protein.
Ingredients
1/2 cup uncooked quinoa
2 ounces chicken breast
1/2 cup sun-dried tomatoes
10-ounces asparagus
1/2 cup feta cheese
1 tablespoon olive oil
Salt and pepper
Directions
Cook the quinoa as directed and add it to a large bowl.
Steam the asparagus for about 5 minutes and cut it into small pieces.
Add the asparagus, tomatoes, feta cheese, and chicken breast to bowl with the quinoa.
Add the olive oil, salt, and pepper.
Mix all ingredients and enjoy!
Turkey Chili
Lean protein, complex carbs, and lots of flavor makes this an idea recipe for athletes.
Ingredients
2 cups water
1 pound ground turkey
1 can of diced tomatoes
1 can of kidney beans
1 chopped onion
1 1/2 teaspoons olive oil
1 tablespoon minced garlic
2 tablespoons chili powder
1/2 teaspoon oregano
1/2 teaspoon ground cumin
1/2 teaspoon paprika
Salt and pepper to taste
Directions
Cook the turkey and olive oil in a pot over medium heat until brown.
Add the onions and cook until tender.
Add the remaining ingredients and bring the mixture to a boil.
Reduce the heat to low and simmer for about half an hour.
Gluten-Free Sports Nutrition Basics
When you're an athlete, it's important to get a good variety of protein, carbohydrates, and healthy fats throughout the day. Avoiding gluten means choosing gluten-free foods and eliminating wheat, barley, and rye products from your diet to avoid inflammation, bloating, abdominal pain, cramps, diarrhea, fatigue, malnutrition, iron deficiency, and constipation.
Protein Needs
The American College of Sports Medicine and the Academy of Nutrition and Dietetics recommend athletes eat 0.5 to 0.8 grams of protein per pound of their body weight daily, and 15 to 20 percent of their total calories from protein, according to a 2009 issue of Medicine and Science in Sports and Exercise. Choose plenty of protein-rich foods, such as:
Lean meats, poultry, fish, and seafood
Eggs
Low-fat dairy foods or dairy substitutes
Tofu or other soy products
Legumes
Nuts, seeds, and nut butters
Carb Requirements
Carbs are crucial for athletes because this macronutrient is an athlete's main energy source. The American College of Sports Medicine recommends athletes get 50 to 60 percent of their calories from carbs, or 2.7 to 4.6 grams of carbs per pound of body weight daily. Choose healthy, gluten-free carbs such as:
Gluten-free oats, oatmeal, and cereals (must specify gluten-free)
Rice
Quinoa
Fruits
Starchy vegetables like potatoes, yams, peas, corn, and legumes
Fat Recommendations
Dietary fat should make up about 20 to 30 percent of an athlete's calorie intake. Choose healthy fats, such as:
Nuts and seeds
Nut butters
Plant-based oils
Avocadoes
Olives
Where to Find More Recipes
A variety of websites provide you with additional healthy gluten-free recipes appropriate for athletes. These include:
Team Gluten-Free
If you're an athlete seeking ways to raise money for a good cause, Team Gluten-Free is something to consider. This fundraising program allows athletes to raise awareness and funds for the Celiac Disease Foundation by participating in marathons, triathlons, movie nights, bake sales, and community service projects. Proceeds are used for early diagnosis, treatment, and potential cures for deliac disease and to improve quality of life for people with deliac disease and other gluten-related disorders.
Bottom Line
Eating gluten-free as an athlete means avoiding certain foods but choosing a variety of healthy options from each food group and knowing where to find gluten-free recipes.