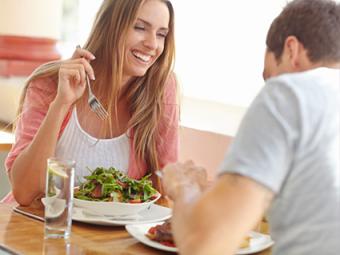 When you're vegan, going out to eat can sometimes be a challenge. Fortunately, the restaurants listed below all offer options for hungry vegans who are craving something out of the ordinary.
Olive Garden
When it comes to making pasta, most basic re cipes are quite simple - semolina flour and wate r. It should come as no surprise, then, that Olive Garden is a fairly good choice when it comes to choosing vegan meals. In addition to the g arden salad with olive oil and v inegar dressing, Peta notes th at the following typ es of pasta featured at Olive Garden all are vegan:
Linguine
Fettucine
Angel Hair pasta
Capellini
Penne
Shell pasta
Spaghetti
Ask your waiter to top any of these pastas with a simple sauce made of olive oil and garlic for a vegan dish that can't be beat. For a more well-rounded meal, steamed veggies may also be added as a side or to the pasta dish.
Cheesecake Factory
Vegan options are also quite plentiful at the Cheesecake Factory, reports Munchyy Menus. For an appetizer, consider fresh asparagus or edamame, or a bowl of fresh strawberries without whipped cream. For salad lovers, consider:
Endive salad with no cheese: Contains endive, radicchio, maple syrup glazed peca ns, and the vinaigrette of your choice
French country salad with no cheese: Contains various mixed greens, grilled asparagus, beets, candied pecans, a nd the dressing of your choice
Fresh vegetable salad with no cheese: Contains asparagus, green beans, tomato, cucumber, roasted beets, apple, edamame, radicchio, romaine and pomegranate vinaigrette
Greek salad with no cheese: Contains tomato, cucumber, kalamata olives, red onions and vinaigrette dressing
SkinnyLicious Asian chicken salad with no chicken: Contains romaine, carrots, bean sprouts, green onions, cilantro, rice noodles, wontons, almonds and sesame seeds , with your choice of dressing
Skinnylicious pear and endiv e salad with no chicken or cheese: Contains endive, radicchio, arugula, butter lettuce, roasted pear, candied pecans and tomato, with your choice of dressing
Tossed green salad with no croutons: Contains chopped greens, carrots, zucchini, beets, tomato wedges and cucumber slices
Vegans can top their salad with a variety of different dressings, including:
Asian Vinaigrette
Chinese Dressing
Citrus Vinaigrette
Japanese Dressing
Lime Vinaigrette
Oil and Vinegar
Peanut Vinaigrette
Shallot Vinaigrette
Sheila's Vinaigrette
Those who prefer a heartier meal may want to choose from a vari ety of types of pasta, including Angel hair, farfa lle, or penne, topped with marina ra sauce, roasted tomato sau ce, or Thai peanut or pasta sauce. Finally, add a side of veggies, broccoli, or hummus with celery sticks for a tasty meal that will please even the fussiest vegan diner.
P.F. Chang's
P.F. Chang's is a great choice for vegan diners. For an appetizer, vegans can choose from edamame, garlic snap peas, spicy green beans, spinach stir-fried with garlic, or edamame dumplings, among other starters.
Vegan entrees at P.F. Chang's include:
Baby Buddah's Feast: Contains snap peas, carrots and broccoli served steamed or stir-fried
Buddah's Feast: Contains soy sauce tossed with baked tofu, asparagus, shiitake mushrooms, broccoli and carrots, served steamed or stir fried
Ma Po Tofu: Contains spicy garlic-red chili sauce with crispy silken tofu, in a ring of fresh steamed broccoli
Stir-Fried Eggplant: Contains Chinese eggplant tossed in a spicy vegetarian sauce with chili paste and scallions
California Pizza Kitchen
At California Pizza Kitchen, the sky is nearly the limit for hungry vegans. Start your meal with bread, steamed or mixed vegetables, or hummus with Neapolitan crust. For entrees, vegans can choose from:
California Veggie Pizza with no cheese: Contains baby broccoli, eggplant, corn, red onions, mushrooms, sun-dried tomatoes, and tomato sauce on whole-grain crust
Margherita Pizza with Neapolitan crust with no cheese: Contains Italian tomatoes and basil
Tricolore Crust Pizza without cheese: Caramelized parmesan pizza crust with field greens, tomatoes and tossed in Dijon balsamic vinaigrette
Wild Mushroom Pizza with Neapolitan crust with no cheese: Contains cremini, shiitake, Portobello and white mushrooms with scallions, cracked black pepper and extra virgin olive oil
Pear and Gorgonzola Pizza with Neapolitan crust and no cheese: Contains bosc pears, caramelized onions, hazelnuts, and field greens
Vegan diners who are interested in a lighter meal may prefer a salad, include one made with field greens, grilled vegetables, or a house salad with no croutons.
Cracker Barrel
While pickings may be somewhat slim at Cracker Barrel, Urban Taste Bud notes that vegans can still find something to eat. For breakfast, consider oatmeal, and for lunch or a light dinner, a baked potato with a side salad topped with apple cider vinegar and olive oil.
Vegan Dining
Eating out as a vegan doesn't have to mean nursing a glass of water and a bowl of lettuce. In fact, a number of restaurants offer tasty options for vegan diners. Be sure to mention to your waiter that you are a vegan to avoid any mistakes in the kitchen.