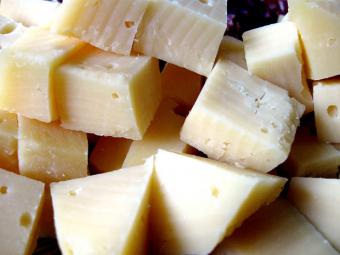 You might be surprised to learn that not all cheeses are vegetarian, as many brands are made using an ingredient called rennet (derived from a calf's stomach, believe it or not). Rennet is used in cheese manufacturing to aid in the coagulation process. The good news is if you're a vegetarian, you don't have to avoid cheese entirely. Vegetarian rennet (made from plant-based sources) and microbial enzymes are becoming increasingly popular in cheese making.
Vegetarian Cheese Recommendations
You can trust the following brands of cheese to provide you with meat-free ingredients and delicious products.
Babybel
Babybel offers a variety of vegetarian cheeses, such as gouda, mozzarella, white cheddar and many more. You can feel good about eating Babybel when following a vegetarian diet because it's made using only microbial enzymes (not rennet). Babybel is widely available in most grocery store chains and receives a high 4.6 out of 5 star rating. Babybel makes a perfect bite-sized snack for adults and kids alike and costs about $4 to $5 for a pack of six.
Sheese
Sheese brand cheese is a good pick when you're following a vegan diet. In fact, the Vegan Society rates Sheese's smoked cheddar cheese as best in the all-around vegan cheese category. There are no animal-based food ingredients in Sheese. You can purchase Sheese brand cheese in health and vegan food stores. The cost varies by the type of cheese you pick. For example, you might pay $7 to $8 for a 9-ounce container of creamy Sheese spread.
Horizon Organic
Horizon Organic cheeses are an excellent pick when you're seeking something organic, and when choosing cheeses made by this brand you don't have to worry about non-vegetarian cheese ingredients. You won't be getting rennet when consuming any type of Horizon Organic cheese, as all cheeses are made using 100 percent microbial enzymes. Horizon Organic brand is widely available in many retail grocery chains and health food stores, and sells for between $5 and $6 per 6-ounce bag of shredded cheese.
Go Veggie!
Another top rated pick, Go Veggie brand vegan cheese, is suitable for all vegetarian and vegan dieters. Go Veggie makes a variety of vegan cheese products, such as cheddar singles, shredded mozzarella, shredded Mexican blend, and shredded cheddar. The cost varies based on the type of Go Veggie cheese you choose, but you might pay about $7 for a pack of 12 cheddar Go Veggie singles or $53 for a pack of 12 4-ounce containers of grated Parmesan cheese. Go Veggie brand is widely available in popular grocery chain stores, such as Walmart.
Buying Tips
Following a few simple tips will help you figure out which cheeses are indeed vegetarian (containing vegetarian rennet or microbial enzymes as ingredients).
Visit health food, vegetarian, or specialty cheese stores to receive good advice about different types of cheeses available for vegetarians.
Carefully read cheese ingredient labels to determine the source of rennet.
Be aware of different kinds of vegetarian rennet before you shop. Look for cheeses containing vegetarian rennet or microbial enzymes instead of regular rennet.
Look for rennet-free cheeses, such as soft cheeses, cottage cheese, and some cream cheeses.
Avoid cheeses containing gelatin (or other hidden animal-derived food ingredients). Some novelty cheeses might contain unusual or unexpected ingredients.
Look for non-dairy cheeses (made using soy, for example), which are suitable for vegetarian and vegan dieters.
Other Things to Watch Out For
One of the disadvantages of being a vegetarian is that hidden animal-based food ingredients may end up in your "vegetarian" cheese unknowingly. Things to watch out for include:
Some cheeses contain red or orange coloring. It's possible some of these color additives are derived from non-vegetarian sources.
Cross-contamination may be a concern in some cases. For example, vegetarian and vegan cheeses might be cut with slicers that were used to cut non-vegetarian cheeses. Keep in mind that unless a brand specializes in vegetarian or vegan food products, staff and equipment might handle many different types of cheeses (with cross contamination being a concern).
Choosing Your Cheese
Choosing vegetarian cheese means doing a little extra research, but you can still enjoy a variety of different cheeses without worrying about non-vegetarian ingredients. Simply know where to shop and choose cheese brands you can trust.