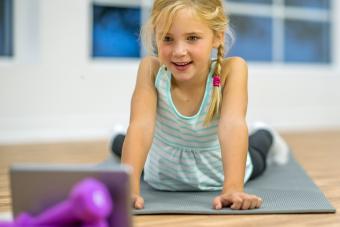 Fitness is very important for children of all ages. Give them tools, such as workout videos, targeted to their age groups. A wide selection of videos is available for youngsters of all ages, from babies and toddlers through the teenage years.
Workout Videos for Young Children
It's never too early to have your little ones learn that exercise is a fun activity that will help their bodies become strong and healthy. Workout videos geared toward this young age group include fun movements, dance and routines that are done to simple songs and music.
Once Upon a Mat
Introducing young children to yoga early in life can set the stage for a strong, focused individual as they age. Once Upon a Mat is designed for kids as young as two and a half years old. Offering a modified version of yoga that involves whimsical moves young kids will understand like catching butterflies and frog leaps. The instructor stands in front of a plain, white background, which is good for parents who don't want their kids exposed to additional visual stimulation. Reviewers on Amazon praise this DVD for engaging their young children and offering simple poses for the littlest yogis. Buy for around $14 on Amazon.
Sesame Street Get Up and Dance
Designed for very young viewers, this Sesame Street Get Up and Dance DVD encourages kids to dance along with some favorite characters including Big Bird. And while it isn't a traditional workout video, it's definitely a DVD that will get little ones up and moving. Purchase the DVD or stream the video using Amazon's Prime Video. Reviewers say this video has fun songs, fun dance moves, and can help get young children up and moving.
Peggy Tanous Total Body Workout With Your Toddler
Peggy Tanous of reality show fame presents this Total Body Workout With Your Toddler DVD, which is meant to be done by a parent and toddler together. It's a good option for a parent who wants to incorporate their young child into their workouts and introduce kids to the fun of working out. Buy the DVD from Tanous' website for around $13. The real benefit of this DVD is the interaction between child and parent as they exercise together instead of just placing the child in front of a screen alone to get some exercise.
Videos for Elementary School-Aged Children
Some of your favorite fitness personalities - from Denise Austin to Billy Blanks - offer kid-friendly workout DVDs that will get kids moving and help them learn to love fitness.
Denise Austin's Fit Kids
Designed for pre-teens, this exercise DVD includes cross-training with no equipment necessary. Available for around $10 on Amazon, many reviewers say they use this DVD as the P.E. portion of their homeschool curriculum with great success. Some of the moves may be too advanced for younger children, but pre-teens should be able to follow along well enough to work up a sweat.
Beachbody Shaun T's Kids Fit Club DVD Workout
Shaun T - best known for his tough Beachbody workout DVDs - offers two workouts on this DVD designed for kids. The DVD comes with a fun wall poster so kids can track their workout progress and a guide on how to read nutrition labels. This is a good choice for parents who want to teach kids about fitness in a holistic sense with nutritional considerations included. Reviewers on Amazon praise the workout for being fun and keeping kids engaged. The DVD kit costs around $25, but the workouts are also available on demand to Beachbody subscribers.
Billy Blanks Tae Bo Kicks
Billy Blanks of Tae Bo fame offers this DVD workout designed for kids, featuring his signature Tae Bo moves modified for a younger audience. Available for around $20 on Amazon, reviewers say the workout is actually suitable for a variety of ages - even adults. One reviewer said it's a great choice for indoor recess during inclement weather. This may be a good option for kids who have watched their parents do Blanks' adult Tae Bo videos and expressed interest in trying them out.
Where to Find Kids Workout Videos Online
The following is a small sampling of the many options for online workouts for kids - all of them free to try.
Kids Workout 1 Beginners
Moe Jones offers a fast-paced, easy-to-follow 15 minute workout suitable for kids. Featuring young exercisers alongside Jones to demonstrate the exercises, kids will feel as though they're following instructions from a cohort instead of an adult.
Yoga for Kids
Produced by the Michigan Medicine Pediatric Rehabilitation Program and lasting only three and a half minutes, this yoga pose demonstration video keeps instruction clear and brief. The poses presented are specific to helping kids increase strength and balance. Poses are demonstrated by both an adult instructor and children.
Strength Training for Young Athletes
Suitable for kids already accustomed to exercise and wanting to get stronger, this nine minute video is narrated by Clinical Research Coordinator Katie Kitchen of Cincinnati Children's. This is an excellent choice for parents who want to help their kids get stronger, but aren't sure how to go about it without resulting in injury. Proper form is stressed throughout the workout, and very little equipment is required. Though Kitchen guides the workout, the exercises are demonstrated by children.
Beginning Lifelong Fitness
Although an age guideline is given on some children's exercise videos, many kids that do not fall into the suggested ages still enjoy working out to the videos. Motivating children to get up and exercise at an early age helps them to understand the importance that movement and fitness have on building a strong, fit body. Teaching them that exercise can be fun sets them on an early path that leads to a healthy, active lifestyle.