Older moms may need maternity business suits or cocktail dresses, but teen maternity clothing needs to be high-style and fun. Whether the pregnancy was planned or accidental and whether a young mom is getting ready to have a family or planning for adoption, teens can keep up their fashionable looks with junior maternity clothes and modern styles the whole nine months.
Teen Maternity Clothing Basics
Teens' bodies are still developing. That's why "juniors" size clothes are cut differently from "ladies" sizes. Maternity clothes designed for older women may not fit quite right, and it may take some shopping around to find the right look.
Essential Teen Maternity Wear
In addition, teens may not be ready for grown-up styles. When pregnant teens go out with their friends, they still want to fit in. That usually means wearing the same styles as everyone else. Today there is more support for teen moms than ever before; whether a pregnant teen is finishing school, planning on entering a career field, or considering staying home with her little one with the support of family and friends, there is no reason a pregnant teen can't look and feel great in stylish maternity wear. Essential basics a pregnant teen may want for her pregnancy include:
Leggings
Basic or stretchy t-shirts
Tank tops
Tunic tops
Dress pants if needed for work or school
Dressy tops for work or school as needed
Maternity shorts for a summer pregnancy
Maternity dresses
Cardigans, hoodies, or sweatshirts if the pregnancy takes place during cooler weather
Maternity underwear - Depending on how much your body changes, this could be as minimal as a larger bra size or include big the need for maternity bras, panties. and undershirt/cami styles.
Trendy Teen Maternity Styles
In order to stay looking and feeling great, teens may want to start off with a few maternity basics once they begin to show, and add in several trendy pieces that can grow with them through the pregnancy. Many maternity items have bands that can adjust or stretch so they can accommodate a young woman throughout the pregnancy. Some trendy items that a teen may look for include:
Cute, contemporary shirts
Modern dresses in body-con or cut-out styles
Maxi dresses
Stylish Capris
Overalls
Off-the-shoulder or cold shoulder tops
Fun sweaters or wraps
Maternity Jeans
Maternity denim might be a mainstay for a teen mom-to-be, especially if she is in school. There are lots of great jeans styles for choose from, including skinny jeans, ripped denim, and various denim colors. You can find cute denim in discount jean brands from places Burlington Coat Factory and Kohls. Many designer names. Seven, Citizens of Humanity, Juicy Couture, and True Religion all make maternity jeans. So do many other high-style denim companies. Even on eBay, though, these jeans can go for as much as $100.
Style Tips for Pregnant Teens
Look for ways that you can maximum use of your maternity wardrobe without having to go overboard in buying.
Opt for Neutral Colors
Choose basic neutrals that let you mix and match pieces and accessorize them in different ways. Colors like navy, black, white, cream tan, and grey, can be mixed and matched easily. Cute pants with a stretchy waist band can be dressed with a white top, cardigan, and necklace, or dress it down with a simple tank and flat shoes.
Try Stretchy Tops and Tanks
Stretchy tops and tanks that can extend over your baby bump and grow with your pregnancy will enable you to buy less throughout the nine months your baby grows.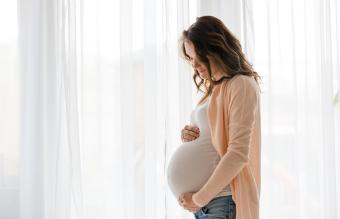 Look for Flowy or Boho Style Dresses
Easy to wear throughout the pregnancy, a floaty boho dress can be worn throughout the pregnancy and is a great trendy look for young moms-to-be.
Use Items In Your Current Wardrobe
You can probably incorporate lots of items in your close into your maternity wardrobe. Items like crop tops, cardigans, jackets and blazers will fit a little differently, but you can still make them work (wear jackets and blazers unbuttoned for example).
Consider Buying Larger Junior Sizes
For many pregnant teens, it can be enough to just be larger junior sizes when pregnant than the ones they normally wear. Going a size to a few sizes up in regular sizes (especially in items like tops or stretchy pieces like leggings or knit dresses) could be enough. Tops, tunics, and dresses are easiest to get in bigger sizes, while items like jeans and shorts may require true maternity wear.
Shop for Affordable Basics
For some young women, teen maternity clothing really means affordable maternity clothes. Fortunately, there are a variety of places to shop for stylish yet inpespensive pieces.
Old Navy
Old Navy is priced for teen budgets and their maternity line is styled for teen looks. At OldNavy.com, you can browse maternity tank tops, specially sized bikinis, and hoodies with extra room for a growing belly.
Walmart
Walmart offers a large selection of cute tops, tunics, jeans and shorts, bathing suits, dresses, and lingerie. With most items priced under $30 and many under $20, this is a very affordable choice for teen maternity clothes.
Target
Target has a maternity line, too. Priced similar to WalMart's choices, the Target styles may be more suited to women in their 20's and above, but some teens will like them, too. The tank tops and T-shirts, available in multiple colors, are practical basics.
Shop for Trendy Maternity Clothing
Being on-trend can be important for teen moms-to-be, and fortunately there are more top maternity stores than ever before that cater to contemporary, trendy, and sexy looks ideal for young women. Consider the following stores for trendy looks you can wear throughout your pregnancy to keep up with the latest styles.
Pink Blush Maternity
Pink Blush Maternity specializes in trendy looks for modern moms-to-be ranging from adorable off-the-shoulder tops and casual cold-shoulder dresses to scalloped shorts and adorable maternity bikinis.
H&M
H&M is known for its affordable price point and trendy styles - and that extends to maternity clothes as well. Find items like cut dresses, shorts, fun tops, swimsuits, PJ's, and print pull-on pants as well as basics like tanks, leggings, and under garments.
ASOS
Another shop known for having their pulse on current trends, ASOS is a bit more pricy than H&M, but they have tons of styles worth splurging on. Whether it's great contemporary maternity trench coat or a sweet frill-sleeve maternity jumpsuit, they have tons of styles to fit the bill when it comes to modern maternity digs.
Special Teen Styles
Sometimes, teen styles are wildly different from what most adults would wear. Finding teen maternity clothing in these styles can be a challenge.
Punk and Goth Maternity Clothes
Goth has been a part of high school life for years and shows no signs of fading away. Punk has been around for so long, it's almost mainstream. There are far fewer stores that offer gothic and punk maternity clothes than standard fashions, but there are a few. You could also look for things like black dresses or black lacy shirts that have a punk or goth feel to them in standard stores. Young women looking for punk teen maternity clothing may have to shop for larger size tops at their usual stores and pair them with more ordinary maternity pants, skirts, and jeans if what they are looking for isn't available at regular or specialty maternity retailers.
Vintage Maternity Styles
For teens who like to dress in the styles of a different decade, sewing patterns may be the answer. Web sites like Rusty Zipper and Betsey Vintage sell patterns to make clothing and dresses that look like they came from the 1950s, 1940s, or before. A call to local second-hand shops may also turn up a few good finds. If you don't have the time or inclination to sew, you can make vintage reproduction pieces work for you. Depending on the style and fabric, you may not even need to buy a bigger size. Some tips on making vintage looks work include:
Adjust full skirts - Wear full skirts with elastic waist bands. Wear the waist band above or just below your bump.
Try stretchy wrap and a-line dresses - These will likely fit your pregnancy belly with ease, but depending on the specific style and retailer, you may need to size up.
Wear swingy tops - These will fall over a pregnant belly with ease.
Look for empire waists - Like swingy tops, and empire waist will easily fall over a pregnant figure.
Tees and capris - Pair a cute vintage tee in size larger than normal with a pair of maternity capri pants for a fun retro look.
Some places to shop for vintage reproduction clothing include:
More Tips for Affordable Junior Maternity Clothes
There are other ways you can save money and get fun, stylish, and trendy maternity wear.
Look for sales, coupons, and online codes if you like something at one of the pricier maternity fashion stores.
Consider secondhand shops or online venues like Motherhood Closet for gently used maternity items.
Visit garage sales and church clothing sales for inexpensive maternity wear.
Ask around about borrowing maternity clothes - an aunt, cousin, or family friend may have a box of maternity clothes sitting in a box that they may happy to lend or give to you.
Look for community support resources for pregnant teens - local groups may have maternity clothes and baby items that have been donated to help young moms or moms-to-be in need.
Use maternity belt extenders to keep wearing your regular pants longer.
Fun and Style
Becoming a mom doesn't mean you have to be serious all the time! Check out Café Press for thousands of T-shirts with pregnancy-related slogans. Some are sweet, but many will make you laugh. Try "I drop (folic) acid," "All I wanted was a backrub," or "We're hungry!" If the baby's dad will be helping out, treat him to "Any boy can father a child. It takes a real man to be a Daddy." From funny tees to trendy maternity items, there is a wealth of clothing choices out there for every teen mom-to-be. Just check out the styles and price points that work for you to have a fashionable pregnancy that leaves you feeling great.