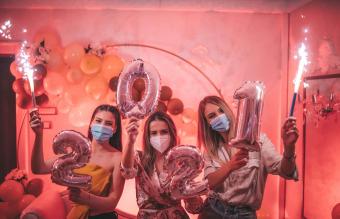 New Year's Eve safety can help you have a fun and safe celebration of the coming year. With COVID-19 still impacting individuals throughout the world, it's important to consider New Year's Eve safety when planning for this upcoming holiday.
New Year's Eve Safety
Whether you decide to spend the holiday solo, with a small group of loved ones, or in a larger gathering, there are some New Year's Eve safety tips to keep in mind that can help you fully enjoy this celebration while minimizing your risk.
Consider Your Guest List
If you are planning on hosting an event, try to keep your guest list as small as possible to minimize the risk of spreading COVID-19. You may also request guests get tested a few days before attending the event. Ideally, it's best just to celebrate with those who live in your household.
Create a Safe Party
If you have decided to host a party:
Create hand sanitizer stations around the venue.
Make sure all bathrooms are stocked with hand soap.
Consider sanitizing the bathrooms a few times within the evening to minimize the risk of spreading COVID-19.
Practice food safety and avoid shared dishes or buffets. Instead, consider individually portioned snacks or meals to minimize using shared serving utensils.
Have extra masks on hand and make sure guests know that they must be worn, unless eating or drinking.
Set up tables or eating areas that are at least six feet apart from other guests and encourage only those who live in the same household to eat at the same table.
Outdoor events are noted to be safer than indoor events, so if possible, create an outdoor party.
Check the Centers for Disease Control website for updated holiday safety information.
Attending a Party
If you have decided to attend a party:
Be sure you haven't exhibited any signs of any illness, and if so, don't attend.
Be sure to bring your mask and a sanitizer with you.
If you notice anyone coughing or complaining about feeling ill, it's best to leave the party, or at least maintain a good distance from them.
Check with the host about any precautions they are taking to minimize the risk of spreading COVID-19 and see if there's anything you can do to help.
Eat beforehand in case you aren't able to eat the food at the party, or if there isn't any food at the party.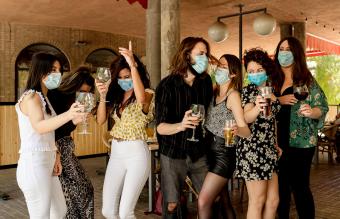 Check Your Own Health
Before attending a party, it is critical to check in with yourself to see if you are exhibiting any signs of any illness, especially COVID-19. It is your responsibility to not go to a party, even if you want to, if you are showing any signs of being ill. Remember that COVID-19 impacts individuals differently, and what may feel mild to you may critically impact someone else.
Have Your Mask and Sanitizer Ready
Whether you are having people over at your home, meeting others out, or heading to someone else's home or yard, be sure to wear your mask properly, wash your hands as often as possible for at least 20 seconds, and take a mini sanitizer with you in case there isn't hand soap available. When you get home, you may consider laundering your mask if it is washable.
Having Fun at Home
New Year's Eve can absolutely be fun at home. Come up with some fun New Year celebration ideas together to make your day and evening special. Only celebrating with those you live with is the lowest risk choice during the pandemic.
New Year's Eve Driving Safety
Driving while under the influence can lead to an increase in car accidents on New Year's Eve. If you do choose to drive home:
The later it gets in the evening, the higher incidence of drunk driving related accidents.
If you do drive home, let someone know you are heading home, and keep them posted when you arrive home safely.
Never drink and drive.
If in doubt about your own ability to drive, have a sober friend take you home, or take other safe means of transportation home.
Drive extra carefully when heading home and leave extra space between you and other cars just to be safe.
Keep Essentials on You
Because you may end up spending the night somewhere else, it's important to keep any medication, contacts, glasses, or any other overnight essentials with you. Essentials during the pandemic also means having sanitizer and a mask on you.
Make Sure You Eat
Whether you plan on drinking alcohol or not, it's important that you eat a good meal before heading out for the evening. Eating ensures that alcohol will process more slowly in your system. Eating also ensures you feel comfortable, even if there isn't food at the party that works for you.
Create a Plan With Your Loved Ones
On New Year's, individuals within the same household may split off and head to different events. Be sure everyone knows how to get in touch with each other, and that you all have an agreed-upon plan in place. New Year's can often be a chaotic holiday with a lot of events going on during the same evening, so be sure to keep track of each other to ensure that everyone makes it home safely.
How Do You Prepare for New Year's Eve?
The first aspect in being prepared for New Year's Eve is deciding how you'd like to celebrate. Know that whether you spend this holiday alone, or with others, there are ways you can prepare.
Consider your risk for contracting COVID-19 when making plans.
Consider getting COVID-19 tested and having any guests do so as well if you are hosting an event.
If hosting an event, find ways to lower the risk of spreading infection.
If preparing food for an event, make sure to follow food safety guidelines.
Serve alcohol responsibly and make sure guests are safely able to head home.
Is It OK to Stay Home on New Year's Eve?
It is absolutely okay to stay home on New Year's Eve, and in fact this may decrease any holiday related stress for you. Especially with COVID-19 still impacting individuals throughout the world, keeping New Year's simple and staying at home is a responsible choice.
What Should I Do on New Year's Eve by Myself?
If you are spending New Year's Eve solo, there are many options when it comes to celebrating:
Write down meaningful resolutions
Journal about your previous year and what you feel proud of
Watch your favorite movie
Order in your favorite meal or dessert
Cook and/or bake yourself something special
Read a good book
Facetime with loved ones
Practice self-care
It is really up to you to do whatever feels best for yourself. You can choose to celebrate the holiday or treat it like any other day of the year.
New Year's Eve Safety Tips
New Year's Eve can be a fun holiday to celebrate solo or with loved ones. Keep yourself safe by considering New Year's Eve safety tips.