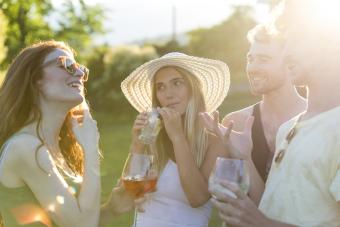 Every September, thousands of people decide to take a break from drinking alcohol. It's part of a challenge known as Sober September that allows people to make a health and wellness goal and explore their relationship with alcohol.
For over half a decade, Sober September has been helping people go booze-free for a good cause. During the challenge, those that participate often raise money for cancer research charities or other worthy initiatives. For some, going a full month without alcohol may seem like a tough challenge. But there are some things you can do to support yourself along the way.
What Is Sober September?
Sober September, also known as Dry September, is a challenge that requires participants to give up alcohol for the duration of the month. All forms of alcohol are off-limits for the entire 30 days. In fact, many people choose to participate in Sober September because it is a sober month with the least amount of calendar days, as Sober October and Dry January both have 31 days in their months.
For many people, the month off from booze gives them the break that they need before the holidays which can involve higher rates of alcohol consumption. In addition, it can help people better understand their relationship with alcohol, and even experience some health and wellness benefits.
Sober September Origins
Sober September started in 2016 and captured the attention of drinkers in the United Kingdom (UK) and the United States (US). In the U.S., it's believed to have originated on social media as a hashtag on sites like Twitter and Instagram. Then, it quickly rose in popularity, especially for younger people, who had spent much of the summer drinking alcohol and were looking for a break.
At around the same time in the UK, a Sober September campaign was started by a charity called Cancer Research UK. They called Sober September a 'dryathlon' and challenged participants, or 'dryathletes', to give up alcohol for the month in order to help raise money to fight cancer.
Cancer Research UK funds scientists and medical professionals that not only provide care for people living with cancer but also conduct cancer-fighting research. In addition, they provide educational resources to the public. Over the years, Cancer Research UK has raised over 19.5 million dollars through people's participation and donations during Sober September.
Sober September Participants
Just about anyone can join if they are at or above the legal drinking age. You can sign up for Cancer Research UK's dryathlon and help raise money for their charity. However, you don't officially have to sign up to participate. You can take the pledge for yourself to go alcohol-free in September. If you want to fundraise, you can collect money for a charity of your choosing. There's no right or wrong way to participate. If you're abstaining from alcohol, you're on the right track.
People that have developed an alcohol dependency should not participate in a sober month challenge. Immediately stopping drinking with this condition can lead to negative health consequences, such as vomiting and other symptoms of withdrawal depending on the degree of dependency. People that are low-risk alcohol drinkers, such as women that consume no more than one alcoholic beverage a day and men that have consume more than two alcoholic beverages a day are encouraged to participate.
Benefits of Sober September
According to research from the British Medical Journal, going a month with alcohol can have several health and wellness benefits. Some of these benefits include:
Clearer skin
Increased energy
Lower blood pressure
Lower cholesterol
Reduced risk of diabetes
In addition to the above benefits, people are also able to re-evaluate their relationship with alcohol. They are able to discover ways to relax, have fun, and socialize without it. Also, taking the month off from alcohol can leave you with a sense of accomplishment when you have completed the challenge, and even more so if you have helped raise funds for charity.
Sober September Tips
September brings with it the tail end of summer. You may have enjoyed summer by staying up late, going to parties, and hanging out with friends. And in September, it can be tempting to keep these activities going. But this can present potential challenges for your Sober September. However, after a fun-filled summer, you may discover that you are more than ready and willing to take a break from alcohol.
Also, you don't have to wait for a sober month challenge to arrive in order for you to go booze-free. You can participate in your own sober month whenever you'd like that fits with your schedule. For example, if you have an event on the fifth of September that you know you might want to drink at, you can start your sober month after you attend and of until the fifth of the next month. You can even start in the summer and do a Dry July. Find a month and time that works for you.
Are you up for the challenge? Whether you're ready to make the booze-free lifestyle change or think that it may be an interesting new challenge, there are some things you can keep in mind to help you reach your Sober September goals.
Get Loved Ones Involved
Tell your friends and loved ones that you want to participate in Sober September. Ask if they'll join you in your sobriety and fundraising efforts. The more people you get involved the greater sense of community support you can create. And, together, you may be able to raise even more funds for a good cause. Your Sober September group can also get together to plan booze-free hangouts and activities that can add a little extra fun to the end of your summer.
You can also get support through apps or online forums. For example, Sunnyside is an app and online tool that helps you to track your drinking and provides support as you try to stick to your goals.
Prepare Yourself for Events
You don't have to avoid social gatherings during your sober month. However, you might find it helpful to prepare yourself beforehand. You may be in an environment where others are drinking and constantly asking you if they can get you a drink of your own. In these situations, it can be helpful to think of some phrases to say to explain why you are refusing a drink. You can even practice these at home before you arrive either by saying them out loud or just brainstorming different things to say. Some phrases you might find helpful are:
I heard of sober months and thought I would try one out.
I set a goal for myself and I really want to stick to it.
I wanted to give my body a break from alcohol for a bit.
I was curious about sobriety and wanted to try it out for a while.
I'm raising money for charity by not drinking.
Become a Designated Driver
Just because you participate in Sober September doesn't mean that you have to give up having a social life. After all, you're giving up alcohol, not socializing. You can still attend dinners and parties with friends and family. It will give you the opportunity to find something new about them that you enjoy. And, you can offer to be the sober driver for events. This will not only help keep you accountable, but you can feel good knowing that you helped get people home safe.
Opt For Summer-Themed Mocktails
If you love fun and fruity summer drinks, you're not alone. And you don't necessarily have to give them up for September. Many alcoholic beverages have mocktail versions that offer the same great taste without any booze added. You can have a refreshing drink and still maintain your Sober September. Throw an end-of-summer party with mocktails, or ask your friends what options will be available during your hangouts. Also, there are several mocktail recipe books, such as Mocktails: A delicious collection of nonalcoholic drinks filled with ideas to inspire you. Or, you can check out some alcohol-free wine, or spirits that are currently on the market.
Bring Sober-Friendly Refreshments
One way to make sure that you always have something alcohol-free to drink at social gatherings is to bring it yourself. Whenever you are planning on going to a party, bring your favorite sparkling cider or a different bubbly drink you enjoy. This way you can insure that you will have an alcohol-free alternative to whatever they are serving at the event.
Staying sober while others are drinking can be easier if you have a drink on hand. And bringing your own beverages allows you to enjoy more variety. Also, there's even certain brands of water with cans that are designed with cool skulls and graphics to resemble beer and seltzers. Drinking one of these might bring you closer to the party atmosphere, and can also deter others from asking you if you want something to drink.
Replace Your Old Habit with a New One
Many people drink alcohol as a way to de-stress. However, during your sober month, you can replace the habit of drinking for stress relief with a different activity you enjoy. This might even help you feel like you are gaining a new and enjoyable experience instead of just giving one up. Whenever you feel like a glass of wine, do something you enjoy. This can be watching an episode of your favorite TV show, taking a relaxing bath, or going for a walk. Think about what is fun and relaxing for you and find a replacement that makes sense for your lifestyle.
Keep Track of Your Progress
Keep track of your goal throughout the month. Keep a journal, mark it on a calendar, or create a countdown on your phone. Write down how you feel inside and out. Have you noticed any changes in your sleep or how you feel? Do you have any cravings? Explore what a month of sobriety feels like. If you've set a fundraising goal, you can keep track of that, too. In addition, if you're interested in tracking how much money you saved throughout your sober month you can do that, too. The National Institute on Alcohol Abuse and Alcoholism has an alcohol spending calculator that you can use to measure your savings.
Go Easy on Yourself
You may enter Sober September under the impression that it's not going to be a challenge. Or, you may enter thinking that it's going to be quite difficult. Either way, it's important to go easy on yourself. Remember that you don't have to have a perfect month to participate. There are different levels of commitment. For example, some sober challenges like Hello Sunday Morning ask participants to reset their sober months whenever they have a drink of alcohol. However, it's not always a requirement. Find a level of commitment that works for you. You're already taking healthy steps by being more mindful about your drinking, and that's a huge accomplishment.
Everyone's Sober September experience will be different. Some people may face more challenges than others depending on their environments and social support. It can feel great to achieve your goal, and it might feel even better to help out a good cause. Find what works for you and simply do your best.