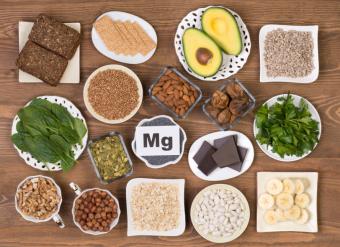 According to a Journal of Nutrition 2011 review, many Americans may fall short of meeting dietary magnesium requirements. As MedlinePlus notes, magnesium is an essential nutrient needed for more than 300 biochemical reactions in the body, so knowing how to meet your daily needs is a must.
Why Magnesium Is Important
Magnesium is an essential mineral responsible for a variety of functions within your body. It supports a healthy immune system and strong bones, helps with energy production and blood glucose regulation, keeps your heartbeat steady, and helps maintain normal muscle and nerve functions.
A deficiency in magnesium can lead to:
Numbness
Muscle spasms
Muscle cramps
Muscle twitching
Weakness
Convulsions
Abnormal eye movements
Fatigue
Confusion
Poor memory
Problems learning
Difficulty sleeping
Groups at risk for magnesium deficiency include:
Elderly people
Chronic alcoholics
People with renal disorders
Individuals with type 2 diabetes
Extensive burn victims
People with gastrointestinal disorders
Individuals with low blood calcium levels
The Amount of Magnesium You Need
You can easily get all the magnesium you need by eating a well-balanced, magnesium-rich diet. Magnesium recommended dietary allowances (RDAs) are as follows.
| | | | |
| --- | --- | --- | --- |
| Life Stage | Age | Males (mg/day) | Females (mg/day) |
| Children | 1-3 years | 80 | 80 |
| Children | 4-8 years | 130 | 130 |
| Children | 9-13 years | 240 | 240 |
| Adolescents | 14-18 years | 410 | 360 |
| Adults | 19-30 years | 400 | 310 |
| Adults | 31 years and older | 420 | 320 |
| Pregnancy | 18 years and younger | - | 400 |
| Pregnancy | 19-30 years | - | 350 |
| Pregnancy | 31 years and older | - | 360 |
| Breast-feeding | 18 years and younger | - | 360 |
| Breast-feeding | 19-30 years | - | 310 |
| Breast-feeding | 31 years and older | - | 320 |
*Chart adapted from the Linus Pauling Institute.
Magnesium-Rich Foods
Milk, yogurt and chicken are good sources of magnesium. Other foods rich in magnesium include:
Fruits: bananas, dried apricots, raisins, and avocados
Vegetables: spinach, Swiss chard, other leafy greens, potatoes, broccoli, and okra
Legumes: peas, chick peas, black beans, kidney beans, other dried beans, and lentils
Nuts: cashews, almonds, peanuts, Brazil nuts, hazelnuts, pine nuts, peanut butter, and cashew butter
Seeds: pumpkin seeds, sesame seeds, flaxseeds, and sunflower seeds
Soy products: tofu, tempeh, soy milk, soybeans, soy nuts, soy yogurt, and soy cheese
Whole grains: magnesium-fortified breakfast cereals, shredded wheat, whole-wheat bread, wheat-germ cereal, oat bran cereal, all bran cereal, oatmeal, brown rice, millet, and quinoa
Fish: salmon, halibut, mackerel, Pollock, and crab
Sample Magnesium-Rich Menu
The following menu is based on a 2,000-calorie plan.
Breakfast
One packet of plain instant oatmeal: 36 mg
½ cup of raisins: 23 mg
1 ounce of almonds: 80 mg
2 scrambled eggs
1 cup of black coffee
Snack
1 cup of plain soymilk: 61 mg
1 medium banana: 32 mg
Lunch
3 ounces of grilled chicken breast: 22 mg
2 cups of spinach salad: 78 mg
1 tablespoon of Italian salad dressing
1 cup of cooked quinoa: 94 mg
Snack
1 ounce of cashews: 74 mg
1 cup of plain yogurt: 42 mg
Dinner
3 ounces of baked salmon: 26 mg
1 cup of brown rice: 84 mg
1 cup of steamed broccoli: 24 mg
Snack
1 cup of magnesium-fortified breakfast cereal: 40 mg
1 cup of low-fat milk: 25 mg
Total Dietary Magnesium: 741 mg
**Sources: Office of Dietary Supplements and Dietitians of Canada
What About Supplements?
MedlinePlus notes that taking magnesium supplements generally isn't needed and getting too much magnesium from supplements can lead to toxicity. Symptoms of magnesium toxicity from supplements include:
Nausea
Vomiting
Low blood pressure
Facial flushing
Depression
Fatigue
Muscle weakness
Difficulty breathing
Irregular heartbeat
Heart attacks
It's always best to check with your doctor before taking supplements. If you're deficient in magnesium, your body isn't absorbing it properly, or you're at risk for deficiency, your doctor may recommend a supplement.
How Much Is Too Much?
Fortunately, you're not at risk for magnesium toxicity by eating magnesium-rich foods, as noted the Office of Dietary Supplements. However, the maximum safe amount (tolerable upper intake level) from supplements for adults is 350 milligrams daily.
Bottom Line
Chances are good you're getting all the magnesium your body needs if you're eating a well-balanced nutritious diet. You might even be getting more than enough. While magnesium is an essential nutrient, you likely don't need a magnesium supplement unless your doctor recommends it. Getting too much magnesium from supplements can cause toxicity.