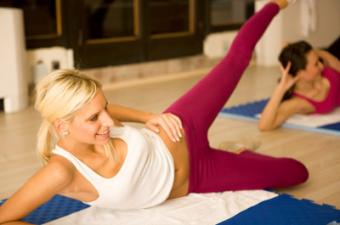 The benefits of physical exercise go well beyond weight loss and the elusive six-pack. Engaging your body in regular exercise is important because it can improve mental, physical and emotional health, helping you ward off chronic disease and depression while improving your memory and ability to reason.
Benefits Associated with Regular Exercise
Physical Benefits
When you regularly engage in physical activity, you strengthen and tone your muscles, improve your cardiovascular health and ward off disease. Here are just a few of the physical benefits of exercise:
Weight Management or Weight Loss. When you exercise, your body has to burn stored fuel for energy in the form of calories. If you're consistently burning as many calories as you take in throughout the day, you'll achieve long term weight management, and those who burn more calories than they take in can even lose weight.
Improved Muscular Health. Exercise engages and challenges your muscles which can enhance your muscular health. Some forms of exercise, like running or swimming, focus on improving muscular endurance, while other forms of exercise, like strength training, focus on muscular strength. Maintaining muscular strength and endurance as you age is particularly important because the more muscle mass you maintain as you age, the better your balance will be, which can help prevent falls.
Disease Prevention. According to the Centers for Disease Control and Prevention regular physical exercise can help prevent cardiovascular disease, Type 2 Diabetes, colon cancer, breast cancer, osteoporosis and stroke. It can help manage blood pressure and cholesterol. It can even strengthen your immune system to help ward off bugs like the flu and the common cold.
Increase Life Span. Individuals who exercise regularly appear to live longer and have healthier lives than those who don't maintain a regular exercise program.
Mental Benefits
A 2010 study performed at the University of Illinois at Urbana-Champaign found that physically fit children had larger hippocampuses than their less fit peers. Not only that, but the fit children performed better on relational memory tests. The hippocampus plays an important role in learning and memory, so children and adults who are active and fit can benefit mentally from their exercise routine.
Emotional Benefits
Exercise provides emotional benefits because it causes you to release endorphins in your brain that boost mood and stave off mental illnesses like depression and anxiety. Some research has shown that regular physical activity can have positive effects on depression similar to drug therapy.
Types of Physical Exercise
You can reap the benefits of physical exercise by engaging in forms of activity that improve muscular strength, muscular endurance, cardiovascular endurance, flexibility and body composition.
Cardiovascular Exercise: When you perform cardio you increase your heart rate and breath volume while moving your major muscle groups in a rhythmic fashion for a sustained period of time. Examples of cardio including walking, jogging, swimming, biking and step aerobics. These exercises improve cardiovascular health, muscular endurance, body composition and flexibility.
Strength Training: Strength training routines enhance muscular strength and endurance by using resistance to build muscle volume. You can choose body weight exercises, strength training equipment, bands, medicine balls or other tools to enhance your strength training program.
Flexibility Training: When you work on your flexibility you try to maintain or improve your range of motion in a given joint. You can spend time stretching, or you can engage in activities like yoga, pilates and dance to improve your flexibility.
Reaping the Benefits
To reap the benefits of physical exercise try to achieve the American College of Sports Medicine's physical activity recommendations by performing at least 30 minutes of exercise most days of the week including two days of muscle strengthening exercise. If you want to make major changes to your body composition you may have to increase your daily physical exercise to 60 or 90 minutes.