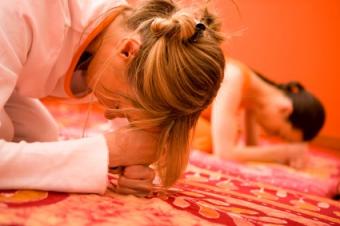 For yogis with the goal of teaching Christian yoga, a few Christian yoga teacher training programs exist in the U.S. These teacher training programs are accredited by the Yoga Alliance, ensuring the quality and quantity of yoga teacher instruction. Upon completion of one of these teacher training programs, you can register with the Yoga Alliance as an RYT (Registered Yoga Teacher) so that all of your future students know that you are highly qualified.
Christian Yoga
Yoga is not, at its roots, a Christian activity. In fact, ancient yoga stems from the Hindu religion in India. However, because yoga is non-denominational and considered a non-religious by most practitioners, it can be adapted to fit into any lifestyle.
This is how Christian Yoga developed. While it is perfectly acceptable for Christians, Muslims, and Jews to practice traditional Indian yoga, it is also understandable if religious groups tailor yoga to fit into their own individual religious and philosophical way of life. Christian Yoga embraces the Christian lifestyle in every aspect of yoga practice.
Christian Yoga Teacher Training Schools
There are only a few specifically Christian yoga teacher training programs that hold accreditation. If any of these are unfeasible for some reason, remember that you can also follow a non-denominational yoga teacher training, and then go on to teach yoga with a Christian identity after attending a few workshops fto learn more specific aspects of the style.
Yahweh Yoga
In Arizona, Yahweh Yoga offers a unique training program. Boasting more than 250 hours of study, the program easily meets the 200-hour Yoga Alliance certification requirement, and the program is divided into segments in order to accommodate busy lives. The program starts with 70 hours of asynchronous online study spread over 70 days, followed by a 15-day intensive in which the required 180 contact hours occur.
The program focuses on all of the basics of yoga and yoga teaching, as well as the special features that enhance the desired Christian aspects. Like in all teacher training programs, you will practice yoga, observe teachers, teach some classes yourself, and learn extensive theoretical and practical knowledge, including anatomy and how to run a yoga studio. The program costs more than $4,000, but virtually everything is included, except travel. Graduates speak very highly of the program.
New Day Yoga
Near Atlanta, Georgia, New Day Yoga offers Christian yoga to students and teachers looking to harmonize their yoga practice with their religious beliefs. The yoga teacher training from this studio is given by ERYT (Experienced Registered Yoga Teacher), Dayna Gelinas, who founded New Day Yoga in 2003, and started the teacher training program in 2006.Meeting all of the requirements of the Yoga Alliance for certification, this program is a highly-regarded teacher training for yoga teachers of Christian faith. In addition to the 250-hour training (which is given on ten weekends spread over the course of the year), a 12-hour course is also offered. This shortened course is designed primarily for registered teachers who would like to start teaching Christian Yoga. Costing just over $2,000, this program is very affordable, but only feasible for yogis located near enough to the studio to make ten weekends spread over the year a manageable option.
Lourdes Institute
A unique opportunity exists through the Lourdes Institute in New Jersey. This program, affiliated with a Christian organization for health and education, is offered in the form of 200- or 500-hour registered yoga teacher certification. The 200-hour certification ($2,600) has two schedules: on various days throughout the year, or as a summer intensive. In addition, the Lourdes Institute offers a 500-hour certification, which can be attended by any teacher holding a 200-hour certification with sufficient teaching experience. This option contains a few required courses, and a wide variety of electives, including a 16-hour module focused on teaching Christian Yoga. All programs offered by the Lourdes Institute are accredited by the Yoga Alliance.
Teaching Christian Yoga
Christian Yoga has recently expanded on the national yoga scene, with studios and DVDs expanding the market. As more demand for Christian teachers becomes apparent, expect the market to grow. With a certification to teach Christian Yoga, you can be an important part of this movement.