You don't have to spend a fortune on freeze-dried specialty meals in order to enjoy lightweight meals in the backcountry. Rather than shopping for ready-to-eat backpacking meals, spend your time putting together some simple meal options that are just as easy to stash in your backpack and carry as they are delicious.
Speedy Green Salad With Salmon
When you stock up on pouches of salmon from the supermarket, you can enjoy a gourmet treat like a green salad with salmon in the backcountry. Eat this during the first day or two of your trip so the greens don't lose their freshness.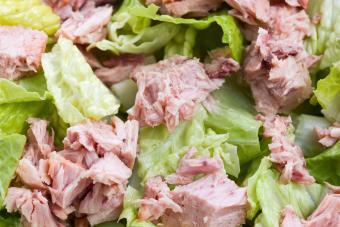 Recipe Ingredients
Small bag of pre-washed romaine lettuce or spring mix
1 pouch of pre-cooked salmon
1 individual salad dressing packet
2 to 3 pieces of string cheese
Assembly Instructions
Put your salad together per the following instructions:
Spread the lettuce out on a plate.
Use a fork to remove the salmon from the pouch, spreading it out across the salmon.
Break the string cheese into chunks and sprinkle on the salad.
Top with salad dressing.
Salad Variations
Pack individual serving bags of sunflower seeds or slivered almonds to add flavor and protein to your salad. You can also boost the flavor with cut-up veggies, such as diced onions, bell peppers, cucumbers, tomatoes, or radishes. Olives also make a great addition.
Super-Quick Black Beans and Rice
Traditional black beans need to simmer a long time, but there is an option for enjoying this tasty, protein-rich dish in the backcountry. You'll just need to purchase a few convenience items before your trip. You'll also need to pack a backpacking stove and pot or be prepared to heat your meal over a campfire.
Meal Ingredients
You'll need to following items:
Backpacking Preparation Instructions
To prepare your black beans and rice:
Place a small pot over a camp stove or campfire.
Add the beans to the pot and heat through.
Add a few tablespoons of water.
Dump in the ready-to-serve minute rice.
Remove from heat.
Mix well.
Recipe Variation
You could prepare this meal with ordinary minute rice rather than ready-to-serve rice, but you'll need two pots if you do that. If you go this route, you'll need to boil the appropriate amount of water in a pot for the amount of rice you want to make, then remove that pot from the heat and stir in the rice. While waiting for the water to absorb into the rice, just heat the beans in another pot. Then, place a portion of rice on a plate and cover it with warm beans.
Instant Lo Mein Recipe for Backpackers
While packaged ramen noodles aren't marketed specifically for backpacking, they're a perfect low-cost, just-add-water meal to enjoy in the great outdoors if you simply follow the package directions. With a little creativity, you can spice up the flavor as you cook over the campfire.
Recipe Ingredients
Purchase the following ingredients:
Backcountry Cooking Instructions
Follow these steps:
Dump the noodles and vegetable soup mix into a bowl.
Bring 1½ cups of water to a boil over a campfire.
Add the water to the ramen and soup mixture.
Stir well.
Add pre-cooked chicken to the mixture, if desired.
Allow the mixture to sit for about five minutes before eating.
Recipe Variations
Instead of chicken, you could add protein by gently stirring in a can of drained baby shrimp. If you're using vegetable or chicken lo-mein, consider boosting the flavor by using a pouch of chicken noodle soup mix instead of vegetable soup.
Instant Potatoes with Cheese and Beef
Use beef jerky and dehydrated mashed potatoes as the foundation for a calorie-dense and cheesy backcountry meal. Be on the lookout for sales on instant potato packages at the supermarket; you can usually find them for around a dollar.
Recipe Ingredients
Pack the following ingredients in your backpack.
1 pouch of instant mashed potato flakes (four-cheese flavor)
4 ounces of beef jerky
2 cups of water
(optional) spices to taste (such as onion and/or garlic powder)
Backcountry Cooking Instructions
Follow these instructions:
Bring 2 cups of water to a boil over the campfire.
While the water is boiling, cut or tear the beef jerky into bite-sized chunks.
Put the beef jerky in the boiling water.
Remove the water from the heat.
Stir in the mashed potatoes.
Let sit five minutes to thicken.
Season with spices as desired.
Recipe Variations
Pouches of dehydrated potato flakes come in a variety of flavors and you can use any flavor you prefer. If you don't opt for a variety that includes cheese, you may want to stir in a few tablespoons of powdered cheese when you add the potatoes. For a richer taste, sprinkle powdered butter (such as Butter Buds) on the top as soon as you stir in the mashed potatoes.
Homemade Gorp for Backcountry Snacking
Put together a batch of gorp at home for a grab-and-go snack to munch on while backpacking. This calorie-dense snack is also a great no-prep breakfast choice to start a day of backcountry hiking. For a budget-friendly option, watch for seasonal M&M colors to go on sale after major holidays.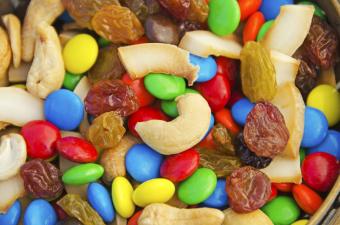 Gorp Ingredients
This no-cook recipe requires only a few store-bought ingredients.
2 cups of roasted nuts, such as peanuts, almonds, or cashews (or a mixture)
2 cups of raisins
2 cups of plain M&Ms
Make-Ahead Instructions
Follow these directions to make gorp:
Place all ingredients in a large bowl.
Toss to combine.
Dole out the mixture into pint-sized sealable food storage bags or small containers with tightly fitting lids.
Keep it within an arm's reach in your backpack so that you'll have easy access to a snack during the trip whenever you need one.
Recipe Variations
Consider using dehydrated cranberries in place of some (or all) of the raisins in the recipe. If you don't have any M&Ms, you could substitute an equal amount of chocolate chips.
Homemade Protein Bars
Store-bought protein bars are a tasty backpacking food, but you can save money and reduce your consumption of unpronounceable ingredients by making your own in advance of your trip.
Recipe Ingredients
Gather the following items:
1 cup of all-natural crunchy peanut butter (such as Smucker's)
2¾ cups of oatmeal (not cooked; not instant)
2/3 cup of honey
¼ cup of whey protein powder
Preparation Instructions
Place a large saucepan over low heat on the stovetop.
Put the honey and peanut butter in the saucepan, stirring until well combined.
Heat until it reaches a runny consistency; it's ready when both ingredients can be thoroughly combined.
Turn the burner off and remove the pan from the heat.
Stir in the oatmeal and protein powder, mixing until completely combined.
Transfer to an 8- by 8-inch baking dish that has been coated with nonstick cooking spray.
Cover and cool completely.
Cut into bars and wrap each one in wax paper. Place wrapped bars in sealable plastic food storage bags or plastic containers for packing ease.
Recipe Variation
You can vary this recipe by mixing in some chunks of dried fruit before putting it into the baking dish. Raisins, cranberries, and apricots would be good add-ins to use. For more protein and crunch, stir in some chopped peanuts or use chunky peanut butter instead of smooth.
Antipasto a la Backcountry
While charcuterie boards may not be the first thing that comes to mind when you're thinking of easy-to-carry backpacking foods, the fact is that these upscale antipasto platters are the perfect inspiration for simple protein-packed backcountry meals. Of course, presentation isn't what matters in the backcountry.
Just purchase a selection of shelf-stable salami and pepperoni, your favorite nuts, shelf-stable cheese blocks or cubes, pouches of olives, dried fruits, crackers, cut-up veggies, and other flavorful no-cook finger foods. Pull them out when you're ready to eat and you'll have an easily transportable finger food feast.
Crispy Rice Treats
Whip up a batch of crispy rice treats at home before you head out on your backpacking adventure. Not only will these tasty cereal-based treats remind you of being a kid, but they'll also provide you with a boost of energy and a way to assuage your sweet tooth when you're in the backcountry. Wrap individual bars in wax paper, then place them in a zipper-seal baggie for easy transport during your trip.
Muffins to Munch On
Muffins are another great backpacking food, as they're lightweight and most don't require refrigeration. These gluten-free chocolate muffins made with buckwheat flour are a great choice whether you eat gluten or not. If you'd rather stick with traditional flour, try a selection of healthy muffin recipes or vegan muffin recipes. Use a mini muffin pan for maximum packing ease. Transport the muffins in a baggie. If you'll be gone several days, freeze some of the muffins before you leave and save them for the end of the trip. This will maximize freshness.
More Great Ideas for Backpacking Food
These are just a few of the many fabulous food options for backpackers to consider. Rather than spending a small fortune with a high-end backpacking retailer, put some thought into what supermarket items you can use or how you can adapt some of the staple recipes you eat at home to enjoy in the backcountry. With a little advance planning and a strong shopping list, you'll find that it's surprisingly simple to make your own backpacking food and really easy to use grocery store convenience items to create tasty one-pot backpacking meals.