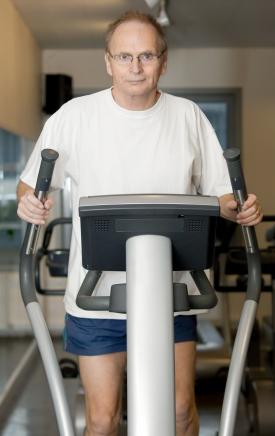 As the population ages, there are many excellent senior citizen exercise tools available to make exercise sessions easier and more enjoyable. If you're new to these kinds of tools, talk to a personal trainer or physical therapist to see which tools will work best for your exercise routine.
Exercise for Seniors
Baby Boomers make up the largest demographic group in American society, and as they age, more products and tools are being produced specifically for them. Many individuals in this group have led active, healthy lives, but as time goes on they often find exercising becomes more difficult due to health concerns or physical problems. In addition to the baby boomer demographic, older seniors also want to be able to stay fit well into their golden years, but traditional exercise tools and programs haven't always made this possible.
Sit and Get Fit Exercise Classes
Many senior centers and community adult centers offer exercise classes called Sit and Be Fit. During these exercese sessions, the focus is on exercises for low impact cardio, range of motion and flexibility. Throughout the fitness class participants use many exercise tools including light dumbbell weights, balls, chairs and exercise bands as they exercise to music. This type of exercise class is also given at many fitness centers.
The Wii as a Senior Citizen Exercise Tool
A great exercise tool for seniors is the video game system called the Nintendo Wii. The Wii system was introduced in November 2006 and has proven to be a great exercise tool for senior citizens. This system allows the players to use remote controls to play realistic sports games such as bowling, golf, tennis, boxing and baseball. The players actually move as if they were participating in the sport. Seniors are finding that they are able to take part in games that they love, but are no longer able to play. While playing the Wii, the players movements are simulated on screen, enabling the gameplay to feel fairly realistic. The Nintendo Wii system is also popular in many senior centers and adult homes, and its popularity continues to grow.
In 2007 the Wii videogame system also introduced the Wii Fit, a game that uses a balance board to mimic strength training, flexibility, balance and cardio exercises. This system is perfect for seniors who are primarily homebound but would like to retain as much strength and flexibility as possible. Because the exercises are packaged as a game, seniors find that it's a type of exercise that's fun and easier to stick to.
Many medical practitioners are recommending the Nintendo Wii system to patients as a way to exercise. In addition to the games, players are also able to log in to a fitness test and program on the Wii system. Their fitness improvements are tracked by the system and displayed on a graph allowing seniors to watch their fitness levels improve with exercise.
Fitness Equipment
Fit Express Exercise Equipment
An excellent exercise tool for seniors found in many fitness clubs is the AMR Physiofit line of equipment. These machines are made specifically for older adults with special features such as lower seats designed for support and comfort. The hydraulic fitness equipment provides circuit training with no impact to joints.
Small Home Equipment
Seniors can take advantage of a variety of small fitness equipment tools to improve balance, flexibility and strength. Keeping small tools at home is nice because they're ease to access and easy to store. Plus, these pieces of equipment are commonly used at fitness centers and physical therapists offices, so if you can't make it to the gym, you can perform a similar workout at home. Consider using the following items:
Exercise bands: Exercise bands are strength training tools that are small, lightweight, and come in a variety of resistance levels.
Light-weight dumbbells and medicine balls: Light-weight dumbbells and medicine balls are perfect for adding resistance to body weight exercises, like squats and lunges, and performing upper body moves.
Stability balls: Stability balls are a tool that helps improve balance and core strength.
Exercise Videos and DVDs for Senior Citizens
There are many excellent exercise videos and DVDs made especially for the needs of seniors. These videos are available in many styles including dance, aerobics, weight training and yoga. Exercise videos work well for home-bound seniors who enjoy mimicking the movements of an on-screen instructor or for individuals who simply prefer working out at home. Most senior-focused videos offer a combination of activity and rest as seniors build their strength, stamina and balance. Shop for senior exercise videos at the following websites:
Final Thoughts
Seniors should take advantage of the many excellent resources and senior citizen exercise tools available to them. Regardless of age, your body benefits from the effects of physical activity and exercise. It reduces the risks of certain diseases such as diabetes and heart disease, minimizes the effects of other diseases such as arthritis and will make you stronger and more flexible.