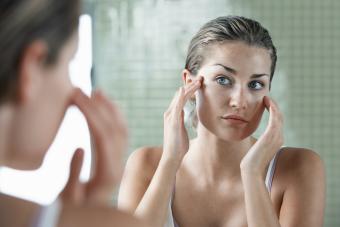 People are looking for 'Botox face creams' as more convenient alternatives to Botox® injections. However, products currently being sold in the United States in 2017 as such in truth contain no Botox®. Instead, they are formulated with a skin peptide that is said to work similarly on muscles and can give facial skin a tighter, smoother appearance.
Argireline® Peptide Anti-aging Creams
Argireline®, or acetyl hexapeptide-3, is a non-toxin Botox®-alternative, anti-wrinkle peptide, which:
Is a synthetic, small fragment of protein containing a short string of six amino acids
Like Botox®, blocks nerve chemical transmissions that make muscles contract
Applied to the face instead of being injected, is said to give a Botox®-like effect by causing tight facial muscles to relax
Reduces the appearance of frown lines and wrinkles, especially in the forehead and around the eyes
Is a proprietary compound made by Lipotec, a Spanish company, and supplied to manufacturers of skincare products
Massaged into skin, Argireline® is only capable of superficial penetration compared to the direct injection of Botox® into muscles.
Comparison to Botox®
Botox® injections are currently the gold standard non-surgical treatment of facial frown lines and wrinkles. Its main benefit compared to Argireline® is that it is more efficacious, although it is more toxic. When injected, Botox® penetrates and has a stronger effect on treated muscles and skin appearance than topical Argireline®.
Like synthetic Argireline®, Botox® is a small peptide of amino acids. However, Botox® is a derived from purified Botulinum toxin A. The toxin is produced by the bacteria Clostridium botulinum. Other approved commercial brands of Botulinum injection products include Dysport, Xeomin, and Myobloc.
Proof of Argireline® Effectiveness
Company research shows that Argireline® can mimic the mechanism of action of Botox® and effectively relax muscles and smooth skin. However, there are no large human clinical studies that prove the effectiveness of Argireline® by itself or as formulated in any skincare product on the market. Promising results were found in at least two small studies:
One study was funded by Lipotec and reported in 2002 in the International Journal of Cosmetic Science. There was a 30 percent reduction of wrinkles around the eyes in ten women who applied an emulsion of ten percent acetyl hexapeptide-3 for 30 days. This compared to ten percent improvement with a placebo.
A second two-part study on Chinese subjects and aged mice was published in 2013 in the Journal of Cosmetic and Laser Therapy:

60 study subjects used Argireline® twice a day four weeks. There was a 48.9 percent decrease in the depth of wrinkles.
Argireline® was applied to the skin of aged mice twice daily for six weeks. There were improvements in collagen and skin structure.
Although Argireline® does not work as quickly and is not as effective as Botox®, it might be a viable choice for people looking for an alternative to reduce facial lines and wrinkles.
Benefits of Argireline®
Argireline® creams or serums have the following advantages for anyone who would prefer to avoid Botox® injections or plastic surgery procedures:
The offer a non-invasive, easy-to-use, alternative to Botox® injections and cosmetic surgery procedures.
They are likely to have fewer side effects than Botox.
Although the products are not inexpensive, they are a less costly treatment than Botox® injections or cosmetic surgery.
In-home application avoids recurring doctor's visits to maintain the effect of Botox® injections.
Choose products with ten to 20 percent Argireline®. Have realistic expectations that it is not an instant fix for facial lines or sagging skin. In addition, the results are bound to vary between people because of their different baseline skin problems.
Disadvantages
Botox® causes a noticeable effect soon after a single treatment, which lasts for three to six months. On the other hand, Argireline® anti-aging products require repeated twice daily applications for up to a month before any real changes might be noticeable.
Potential Risks
It is difficult for Argireline® to penetrate skin and just get to selected muscles. Concerns and potential risks include:
The potential for paralysis of all facial muscles and numbing of the whole face
Concern that this might cause unwanted sagging of areas of the face over time
The potential for systemic absorption to affect other body muscles
Allergic skin reaction, which can happen with any skincare product
None of these effects have been reported as a problem in the literature but it might be best to discuss this topic with your doctor before you start using a product. Use a face cream or serum only as directed on the label.
Synthetic Snake Venom Creams
There are also Botox®-like face creams that contain Syn®-Ake, (tripeptide-3), a synthetic version of part of the venom of the Malaysian Temple Viper. Syn-Ake is a newer compound and is made by Pentapharm, a Swiss company. The three-amino acid peptide:
Also blocks nerve chemical signals which makes muscles contract like Botox® and Argireline®
Paralyzes the treated muscles and makes them relax, thus able to smooth facial frown lines and wrinkles
Usually shows a more noticeable effect after the cream or serum is massaged into the face twice a week for four weeks
Syn®-Ake is a smaller peptide than Argireline® and thus might penetrate more easily and more deeply through the skin. Studies are needed to show this and to verify the clinical effectiveness of Syn®-Ake. The benefits and advantages compared to Botox, and the potential risks and concerns, are similar to those of Argireline®.
Other Anti-Wrinkle Peptides
Some facial creams contain other skin-active peptides that might reduce lines and wrinkles and produce a small firming, Botox®-like effect. However, their anti-wrinkle, skin-smoothing mechanism of action is different from that of Botox®, Argireline®, or Syn®-Ake. These peptides can:
Penetrate skin to reach deeper layers, unlike larger protein molecules such as collagen.
Act as signals for some cellular functions such as protein production.
Cause an increase production of collagen, elastin, and glucosaminoglycans, skin elements that decrease with aging.
Shore up the structural support of aging skin and improve its appearance through the rejuvenation of these skin elements.
The peptides are among the newest active skin-renewing, anti-wrinkle agents.
Common Peptides in Products
Argireline® or Syn®-Ake creams or serums most often contain one or more of these peptides, together with other skin-active agents such as retinol and vitamins, to enhance skin physiology and benefits. Look on the product label for these commonly used peptides:
Palmitoyl pentapeptide-3
Palmitoyl tetrapeptide-7
Palmitoyl tripeptide-5
Palmitoyl oligopeptide
The concentration of these peptides varies among the available skin anti-aging products. One known proprietary peptide formula, Matrixyl®3000, combines two peptides, palmitoyl tetrapeptide-7 and palmitoyl oligopeptide.
Product Selections
You can find Argireline® and or Syn®-Ake-containing and other peptide creams or serums in drug stores, major retail stores, beauty supply stores and online. Argireline® might be listed as acetyl hexapeptide-3 or acetyl hexapeptide-8. Syn®-Ake might be listed as tripeptide-3 or dipeptide diaminobutyroyl benzylamide diacetate.
In the absence of large clinical studies, you are left with getting input from your doctor or skin care specialists, or reviewing other users' experience with a product. Look for products that have the peptides at the top of the ingredients list. The following are rated highly by consumers.
Convenient and Lower Cost
Facial lines and wrinkles, the effects of years of expression and skin aging, can be bothersome for many women. An over-the-counter Botox®-like cream is a more convenient and less costly alternative to Botox® injections for these problems. If you have any concerns, based on your health factors, that you can safely use these creams, consult your doctor or a dermatologist.