RoC Skincare is a line of anti-aging facial care products that uses active ingredients, specifically retinol, to help smooth the look of fine lines and wrinkles, lift and firm the skin and boost its radiance. The brand has multiple collections, with products such as cleansers, serums, day creams, night creams, and eye creams.
RoC Skincare's Heritage
RoC Skincare was first developed in 1957 by a pharmacist and a group of dermatologists practicing in France on the premise of creating skincare that offers real results. The brand was brought to the United States in 1999 and is now sold at most drugstores and mass merchants such as Walgreens and Walmart as well as beauty stores like Ulta. The RoC website also has a helpful buying tool that displays available retailers and purchasing options for products you select. The brand continues to introduce new products and technologies based on research and clinical studies.
Facial Care Products
RoC has multiple collections designed to treat a variety of skin conditions. Many of the products contain the active ingredient retinol, which is known for reducing signs of aging, including lines, loss of firmness, and dullness.
Multi Correxion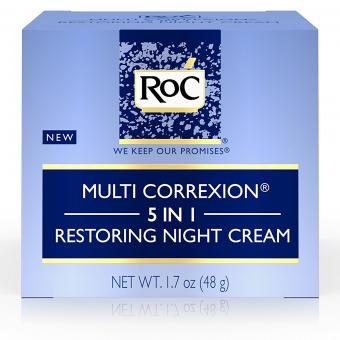 RoC Multi Correxion contains Hexinol technology, which was developed to target the five most common signs of aging. That includes wrinkles, skin discoloration, sagging, moisture loss, and a dull skin tone. This line contains four products, each for under $30:
5 in 1 Daily Moisturizer with SPF 30 to reduce deep wrinkles and firm skin
5 in 1 Chest, Neck, and Face Cream with SPF 30 to smooth lines
5 in 1 Restoring Night Cream to fight the appearance of wrinkles and improve elasticity
5 in 1 Eye Cream to lighten dark circles and reduce fine lines
RoC Retinol Correxion
The RoC Retinol line is the brand's cornerstone collection that smoothes the appearance of deep lines and wrinkles and keeps skin looking youthful. Products in this line are generally available for less than $25 each. RoC Retinol products include:
Deep Wrinkle Night Cream to moisturize and reduce the appearance of wrinkles
Deep Wrinkle Daily Moisturizer SPF 30 to protect skin from the sun and reduce expression lines
Sensitive Night Cream for effective results that aren't hard on the skin
Deep Wrinkle Filler to immediately fill in lines and wrinkles
Deep Wrinkle Serum to firm skin and reduce lines
Sensitive Eye Cream to reduce crow's feet with a milder retinol formula
Eye Cream to fight signs of aging around the eyes
RoC Retinol Correxion Max
Those who are after noticeable results may want to consider some of the newer products offered from this skincare brand. Their MAX line features intense moisturizers and cleansers to give the skin a youthful finish. That includes:
Daily Hydration Creme to hydrate for 24 hours and smooth fine lines and wrinkles
Wrinkle Resurfacing System which is used to renew without harming the surface layer of the skin
Resurfacing Facial Cleanser for remarkably softer skin
The Creme and Resurfacing System are typically available for under $30, while the Cleanser can be found for under $10.
RoC Pro-Preserve
The purpose of this line of products is to improve, protect, and maintain a youthful appearance. It is full of antioxidants to prevent signs of aging before they occur. The items in this collection are usually sold for less than $25 and include:
Anti-Oxidant Protecting Fluid to hydrate the skin using ingredients like vitamin C and E
Anti-Dryness Protecting Cream to add intense nourishment
RoC Pro-Renove
The Pro-Renove line combines vitamin C with Hexinol technology to improve the tone and texture of the skin while smoothing imperfections and preventing the appearance of dark spots. The products in this line are available for less than $40 and include:
Anti-Ageing Unifying Fluid to renew the skin, improve texture, and fight wrinkles
Anti-Ageing Unifying Cream which is used to hydrate and achieve a younger-looking complexion
RoC Pro-Correct
Combining retinol and hyaluronic acid (two of the most effective anti-aging ingredients), this skincare line is all about noteworthy results. Each product works to reduce fine lines and wrinkles and can generally be purchased for less than $40. They include:
Anti-Wrinkle Rejuvinating Fluid which can reduce wrinkles by 25 percent after four weeks of use
Anti-Wrinkle Rejuvinating Cream to target even the deepest facial wrinkles
Anti-Wrinkle Rejuvinating Concentrate for an intense treatment that has the brands highest concentration of retinol
RoC Pro-Define
This line is all about achieving firmer skin and preventing sagging - a common signs of aging. These products (available for around $40 each) use THPE and Bugrane to redefine facial contours:
Anti-Sagging Firming Fluid to help fight skin aging and related sagging
Anti-Sagging Firming Cream to firm, reshape, and prevent drooping
Anti-Sagging Firming Concentrate which lifts the skin by using the highest concentration of Bugrane
RoC Pro-Sublime
Anyone worried about aging around the eye area will want to pay close attention to this next line of products. They are dedicated to reducing eye bags, wrinkles, and dark circles:
Anti-Aging Eye Perfecting System which is an intense two-step system designed for this sensitive area (around $40)
Anti-Wrinkle Revitalizing Eye Cream to reduce crow's feet and fill wrinkles around the eyes (just over $30)
RoC Enydrial
This line was designed for people with dry to very dry skin. It works to hydrate to the area and immediately reduce or eliminate unwanted itching. The products (ranging from less than $10 to about $25) included in this collection include:
Moisturizing Body Lotion to compensate for skin deficiencies and add back moisture
Hand Cream to soothe chapped or excessively dry hands
Rich Shower Cream to treat skin in the shower with moisturizers and softening agents
Repairing Lip Care to reduce up to 44 percent of lip dryness
Moisturizing Cream to create a protective barrier that prevents the evaporation of moisture
Other RoC Skincare Products
In addition to the many collections that RoC offers, there are also standalone products to be aware of. Examples are:
Daily Resurfacing Discs (under $10) which are self-foaming exfoliating discs that are gentle enough for everyday use
Clarifiant Concentrated Clarifying System (under $50) that combines Total Soy and Clarifying Complex technologies to remove dark areas
Effective Ways to Use RoC Products
With so many items to choose from, it is important to select all products carefully. Consider your skin type (sensitive, dry, normal) and specific concerns (eye area, deep lines, and so on) before you buy anything. Knowing what you need will make your skincare routine as effective as possible.
How to Layer Each Product
Something else to consider is the order you apply your skincare products. Proper layering will maximize your results. According to an InStyle article on this topic, it is best to start with a cleanser. Something like the RoC Resurfacing Facial Cleanser is a great first step as it removes dirt, oil, and dead skin cells to allow for the proper absorption of products.
After the skin has been cleansed, it is recommended that you exfoliate gently (the Daily Resurfacing Discs are ideal for this), apply a serum that targets your specific skincare needs, moisturize, and add on an eye cream. An SPF is the perfect finishing touch if you plan to go outside, or you can stick to a RoC product that already contains sunscreen.
Saving Money on Skincare
For those looking to save money on their daily routine, here are a few suggestions to keep in mind:
Check the RoC Skincare website for any special offers. There are often coupons available for different products.
Head to your local beauty counter or drugstore and inquire about testers. Often, they have small RoC samples that allow you to test out an item before you purchase.
Avoid buying products you don't actually need. Carefully read what each product is intended for, pay attention to the ingredients, and understand your needs. Being informed may prevent you from choosing something that will not work for you.
Invest in multitasking products to simplify your routine. The RoC Multi Correxion line is a great example as each product targets five signs of aging and many have a built-in SPF.
Know how much product you should be using each day. Many women slather on way too much, and wind up throwing away money. Be mindful of the amount you need and apply with care.
Considerations When Using Retinol
One of the most popular lines from RoC is their Retinol Correxion line. While retinol is proven to reduce the signs of aging, it can be irritating, especially if you've never used products containing retinol, have very sensitive skin, or are using a product with a high percentage of the ingredient.
Dermatologists recommend starting slow when introducing a retinol product into your regimen to reduce the likelihood of redness and irritation. Start by using it every other night or every two days, depending on your skin's sensitivity, and gradually increase usage to every day. It's also important to use sunscreen daily when using products containing retinol, because the ingredient makes skin especially sensitive to the sun.
Youthful Looking Skin
No matter what your skin concern, RoC Skincare can help keep skin looking youthful, radiant, and healthy. Their products are easily available, and you can often print coupon offers by visiting the brand's website. By knowing what's available, what to use and how to use it, and how to save money on the brand, the RoC skincare products can work for any woman.