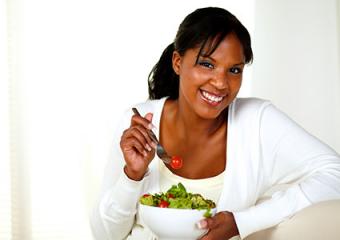 Many people with diabetes believe they need to follow a special diet in order to be healthy. According to the American Diabetes Association (ADA), however, people with diabetes can eat foods similar to people without, as long as they follow some simple guidelines. A 1,200 calorie diet using these guidelines is a low-calorie diet that may help you lose weight.
ADA Dietary Guidelines
The ADA takes an approach similar to the MyPlate system. Instead of measuring portion sizes, the ADA recommends dividing your plate into three sections.
Imagine a line right down the middle of your plate.
Fill one full side of the line with non-starchy vegetables such as broccoli, green beans, or leafy greens.
On the other side of the plate, imagine a line down the middle, dividing it into two small sections.
Fill one of these smaller parts with a starch such as potatoes, bread, or brown rice.
Fill the other part with meat, fish, poultry, or other lean proteins.
Add an 8 ounces of lowfat dairy or another small portion of carbs.
Add a small piece of fruit.
1,200 Calorie Meal Plan
This meal plan is based on the ADA recommendations, and adds up to around 1,200 calories per day. It is not endorsed or created by the ADA.
To follow the meal plans, select one each from breakfast, lunch, dinner, and snack to total around 1,200 calories per day.
Breakfast
Each of the following breakfasts has around 300 calories.
Food
Details/Instructions
Calories
Total

Egg white omelet with spinach and mushrooms

1/2 banana

1 slice whole wheat toast

8 ounces skim milk

Whisk together 3 egg whites.
Spray a saute pan with nonstick.
Cook 1 cup of spinach and 8 sliced button mushrooms in pan until softened.
Pour egg whites over vegetables.
Allow to cook until set.

70

65

77

80

292

Breakfast smoothie

1/2 cup oatmeal with cinnamon

Combine the following in a blender until smooth:

8 ounces skim milk
2 tablespoons chia seeds
1/2 cup frozen blueberries
1 cup raw kale
1 cup raw spinach
1 tablespoon cocoa powder
A few drops of stevia or other non-caloric sweetener

217

83
300

Open face breakfast sandwich

1/2 cup fresh berries

6 ounces unsweetened nonfat plain Greek yogurt

For the breakfast sandwich:

Toast 1/2 English muffin
Spread with 1/4 avocado mashed with a squeeze of lemon juice.
Add one slice Canadian bacon and a poached egg.
Top with 1/4 tomato, chopped

214

40

90
344

Breakfast burrito

1 orange

Coffee or tea

For the breakfast burrito:

Spray a nonstick pan with cooking spray.
Over medium heat, saute 1/2 chopped onion and 1 cup chopped zucchini until soft.
Add 3 egg whites, whisked together, to the pan and scramble together.
Add 1/4 cup salsa and cook until warmed through.
Put egg mixture on top of a warmed 6" whole wheat tortilla.
Sprinkle with one ounce fat-free cheese.

230

70
300
1/2 medium avocado, two tablespoons removed from center

1 egg

1 ounce shredded cheddar

1/2 grapefruit

1 piece whole wheat toast

Remove pit from avocado.
Scoop a few spoonfuls from the center of the avocado to make the hole large enough to accommodate an egg.
Crack the egg into a ramekin and carefully transfer it to the avocado.
Bake at 425 for 15 to 20 minutes.
Top with shredded cheddar and broil until cheese melts.

90

72

45

60

77
344
Lunch
Each lunch is around 400 calories.
Food
Details/Instructions
Calories
Total

Chef's salad

Combine 1 cup spinach, 1 cup arugula, and 1 cup romaine lettuce.
Add 2 ounces of chopped roasted skinless chicken breast and one chopped hard-boiled egg.
Add 5 cherry tomatoes, halved, 1 sliced carrot, and 1 sliced cucumber.
Add 1/4 cup cooked quinoa.
Toss and top with 4 tablespoons fat-free ranch dressing.

404
404

1 red pepper, sliced

1/2 cup zucchini, sliced

4 tablespoons prepared hummus

1 ounce pita chips

1 peach, sliced

6 ounces plain nonfat yogurt

Dip vegetable slices and pita chips in hummus.
Top yogurt with sliced peaches.

46

10

108

130

40

82

406

Turkey rollups

1 ounce baked potato chips

1/2 banana

Layout six large pieces of kale. Top with six slices deli turkey.
Mix six tablespoons of cream cheese with one teaspoon of horseradish and spread on top of each of the turkey slices.
Place 1 cherry tomato, halved and 3 or 4 pieces of baby spinach on top of the cheese.
Roll each piece of kale into a roll.

240

130

65

435

Taco salad

1/4 medium cantaloupe

Toss together:

2 cups shredded iceberg lettuce
3 ounces 93 percent lean ground beef, cooked
5 cherry tomatoes, halved
3 green onions, chopped
1 ounce baked corn tortilla chips
Top with 1/4 cup prepared salsa combined with four ounces plain, fat-free Greek yogurt

371

50

421

Ham and veggie pita

8 ounces skim milk

1 apple

Spread 1/2 whole wheat pita with 1 tablespoon Dijon mustard
Add 3 ounces turkey-ham, 1/4 cup chopped spinach, 5 sliced cherry tomatoes, and 1/2 cup spicy sprouts.

210

80

116

406
Dinner
Each of these dinners is around 400 calories.
Food
Details/Instructions
Calories
Total

3 ounces grilled salmon

2 cups steamed broccoli

1/2 baked sweet potato

topped with

6 ounces plain, nonfat yogurt

1 teaspoon sriracha

Combine sriracha and yogurt before topping potato.

175

35

60

90

25

385

Chicken lettuce wraps

1 cup watermelon chunks

8 ounces skim milk

Select three large pieces of romaine lettuce.
Roast 3 ounces of skinless chicken breast. Toss with 2 tablespoons soy sauce mixed with 1/4 teaspoon grated ginger.
Steam 1/4 cup brown rice.
Chop four scallions and julienne 1 large peeled carrot.
Divide chicken, vegetables, and rice among three lettuce leaves. Top with 1/2 cup bean sprouts, divided evenly, and roll like a burrito.
As you eat it, use 3 tablespoons sweet chili sauce as a dip.

325

20

80

425

3 ounces grilled shrimp

Couscous with peppers

2 cups green beans

To make couscous:

Heat one tablespoon olive oil in a pan.
Add 1 red pepper, chopped, and 1/2 onion, chopped.
Add 1/2 cup cooked couscous.

101

269

44

414

Open-face hamburger

1 cup steamed spinach

1/2 medium pear

For the hamburger:

Heat 1/2 tablespoon of olive oil in a pan. Saute 1/2 onion, sliced, and 1/2 cup mushrooms, sliced. Season to taste with salt and pepper.
Toast one slice of whole wheat bread
Top with a 3 ounce patty made from 93 percent lean ground beef, and 1 slice fat free cheddar.
Top hamburger with onions and mushrooms.

312

30

50

392

3 ounces grilled halibut

1 cup steamed carrots

1/2 medium potato, baked

1 ounce shredded fat-free cheddar

1/4 cup plain, non-fat yogurt

1/4 medium honeydew melon

Top potato with fat-free cheddar and plain yogurt. Season with salt and pepper.

119

54

65

45

27

110

420
Snacks
Choose one 100-calorie snack per day.
Food
Details/Instructions
Calories
Total
Ham wrapped honeydew

Remove rind from one 1/4 inch wedge of honeydew melon and cut in half.
Wrap each wedge with one thin slice of deli ham.

100
100
1/2 ounce almonds
Raw almonds are a great way to get healthy fats.
84
84

1/2 small jicama, sliced

1/2 cup salsa

Dip jicama slices in salsa.

70

30

100
1/4 medium avocado
Slice avocado
80
80

1 artichoke, steamed

Dipping sauce

For the dipping sauce combine:

4 tablespoons fat-free mayo
1/4 teaspoon lemon juice
1/8 teaspoon minced garlic

64

40

104
Staying Healthy
One of the best ways to manage your diabetes is by eating a variety of healthy foods, with vegetables making up the bulk of the foods you eat. Always talk to your doctor before starting a new diet. By eating according to ADA guidelines and limiting calories to 1200, you may be able to lose weight while managing your diabetes.