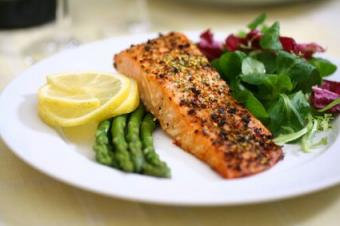 Many health officials recommend eating a 1,200-calorie diet to help you lose weight. For those hoping to undertake this diet, there are numerous menus and options available to you.
Counting Calories
Your body uses calories each day to fuel itself. If you are attempting to lose weight, it's important to take in fewer calories than you expend. For many men and women, eating 1,200 calories a day provides the body with less fuel than it uses to operate. Typically, this means a net loss in weight. Before undertaking any diet, it's important to talk to your doctor about the specific nutritional needs of your body.
The Pros and Cons of a 1,200-Calorie Diet
All diets have their pros and cons, and the 1,200-calorie diet is no exception to this rule. Many people find it easy to use for numerous reasons, but that doesn't mean that it's for everyone.
Benefits of a 1,200-Calorie Diet
There are several benefits to eating a diet of 1,200 calories:
You can eat whatever you want. Simply add up the calories; there are no restrictions on food types.
You can follow any of numerous diet plans. If you need more support than simple calorie counting, follow any one of a number of set diet and food plans to help you stay on track.
You can customize it to your needs. If you need to follow a high protein diet or you're trying to reduce blood sugars, you can still follow a 1,200-calorie plan.
You can select from numerous menus and eating plans. No matter what your personal eating habits, nutrition needs or cooking ability, you shouldn't have any difficulty finding menus that suit your needs.
Drawbacks to Eating Only 1,200 Calories
While many people are able to follow a 1,200-calorie plan without difficulty, there can be drawbacks for some:
If you are used to eating a 2,000-calorie diet, the reduction in calories may also lead to a reduction in some nutrients. Make sure to eat a balanced diet, without cutting too much out of any one food group to ensure you are staying well nourished.
Every calorie eaten must be logged to ensure that you are staying on the plan. Using a menu or assistive diet plan may help, but this is one more thing to keep track of.
While 1,200 calories is frequently recommended, some men and women weighing over 165 pounds who have an active lifestyle may require more calories to sustain themselves. As with any diet, always check with a physician before you begin and discuss whether or not this amount of calories will be sufficient for you.
Like many diets, the 1,200-calorie-a-day diet can be stressful. Limiting calories or following a specific menu or eating plan may affect your stress levels.
Sample Diets
You may be surprised by the variety of foods and the size of the meals you can take in while still keeping to 1,200 calories a day. These sample menus offer a glimpse at what you can expect.
Day One
Breakfast
Half a cup of shredded wheat - 104 calories
Four ounces of skim milk - 90 calories
Medium-sized banana - 105 calories
Morning Snack
Small bunch of grapes - 75 calories
One piece Mini Babybel Light cheese - 50 calories
Lunch
Two ounces of sliced ham - 59 calories
One whole wheat wrap - 90 calories
Large lettuce leaf - 1 calories
Three slices tomato - 10 calories
One slice cheddar cheese - 120 calories
One teaspoon mustard - 3 calories
One large apple - 80 calories
Dinner
Four ounces Atlantic salmon, broiled - 165 calories
One medium sweet potato, baked - 103 calories
One cup fresh spinach, sauteed in olive oil - 134
Snack
1 cup of popcorn - 31 calories
Total for the day - 1,220
Day Two
Breakfast
One slice whole wheat toast - 70 calories
One teaspoon butter - 33 calories
One egg, poached - 70 calories
One cup of orange juice - 103 calories
Morning snack
Eight Kashi TLC crackers - 65 calories
One tablespoon peanut butter, natural - 100 calories
Lunch
One cup salad greens - 22 calories
One medium tomato, sliced - 22 calories
Quarter cup chick peas, drained - 95 calories
Half a cup low fat cottage cheese - 100 calories
Dinner
Three ounces of sirloin, broiled or grilled - 225 calories
One cup wild rice - 166 calories
Half a cup cooked carrots with butter - 50 calories
Snack
One scoop vanilla ice cream - 100 calories
Total for the day - 1,221
Explore Your Options
With so many menu choices, diet plans and ways to restrict your calories, you will not be limited by the way you undertake a 1,200-calorie-a-day diet. Explore the many options available to you before you commit to find the plan that fits you the best.