Choose Whole Foods
You don't have to starve on a 1,200-calorie diet plan. Choose whole foods to satisfy your hunger. Eat three 300-calorie meals and two snacks that equal about 150 calories each. If you'd rather have a 400-calorie dinner, cut snacks to 100 calories each. Find what works for you. This slideshow provides a variety of ideas to include in your 1,200-calorie diet sample menu.
Enjoy a Nourishing Breakfast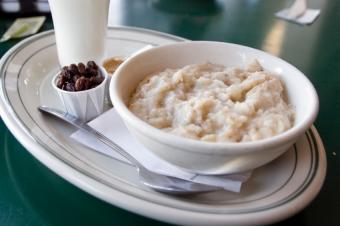 Try this sample breakfast for a low-calorie and healthy start to the day:
¾ cup oatmeal (rolled oats) = 110 calories
½ cup skim milk = 41 calories
One tablespoon raisins = 44 calories
One cup orange juice = 111 calaories
Unsweetened, black coffee or tea
Total: 306 calories
High-Protein Breakfast
Including protein, grains and fruits in your breakfast menu is an important part of eating healthy. Try this tasty sample menu:
Two eggs, poached or soft-boiled = 140 calories
One slice whole grain toast (no butter or margarine) = 75 calories
¾ cup orange juice = 83 calories
Total: 298 calories
Delicious Snacks
Keep a selection of 150- or 100-calorie snacks on hand:
Kashi TLC chewy granola bars - two delicious choices include Trail Mix Granola bars and Cherry Dark Chocolate. (140 calories)
Baked tortilla chips, 36-gram serving (150 calories)
One tablespoon peanut butter and one medium apple (150 calories)
Strawberries dipped in dark chocolate - melt one ounce of dark chocolate chips to dip about five to six medium strawberries (150 calories)
Low-Fat Lunch
The key to a low-fat lunch is to mix and match possibilities to equal 300 calories. This lunch plan can be altered to include more fruit and less cheese, no crackers, or whatever meets your mood:
One cup lowfat cottage cheese (1 percent milkfat) (162 calories)
Six saltines (72 calories)
One cup mandarin oranges canned, juice drained (71 calories)
Water
Total: 305 calories
High-Protein Lunch
When you choose whole grain bread for your diet, check the label first because calorie content can vary from as low as 50 calories per slice to more than 120 calories per slice. For this 1,200-calorie plan, count the bread at 65 calories per slice.
Two slices whole grain bread (130 calories)
Four ounces Tuna canned in water (131 calories)
Small salad made with dark green lettuce, tomato, and cucumber and topped with salad dressing that equal 40 calories.
Total: 301 calories
Grilled Chicken Dinner
This low-fat chicken dinner will leave you feeling satisfied:
Three ounces grilled chicken breast, skin removed (138 calories)
One cup broccoli, steamed (27 calories)
One small potato, baked (138 grams) topped with one tablespoon of lowfat cottage cheese (1 percent milkfat) (148 calories)
Water
Total: 313 calories
Low Calorie Steak Dinner
No matter what you choose to fill out your 1200-calorie plan, be sure to include at least 64 ounces of pure water in your menu. This succulent steak dinner is a great way to finish your day.
Three-ounce sirloin steak grilled (212 calories)
One cup of grilled mushrooms and onions (70 calories)
1/2 cup mixed vegetables (21 calories)
Water
Total: 303 calories