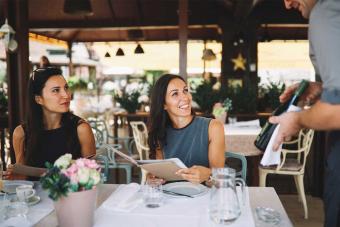 Travelling can be a challenge when you're avoiding gluten, but all-inclusive gluten-free vacations make it simpler than ever before to travel without worry. Whether you've decided to go gluten-free because you have celiac disease, you have non-celiac gluten sensitivity, or you've made a lifestyle choice, there are some terrific all-inclusive vacations to be enjoyed in a variety of destinations around the world. All it takes is a little research to ensure the resorts offer gluten-free options for guests.
Although you can find a few gluten-free options at most restaurants these days, some celiac-friendly resorts specialize in delicious meals that go beyond your standard fare. Try one of these all-inclusive resorts in the USA, the Caribbean, and Europe if you want to have a vacation from everything, including worry about gluten contamination.
Beaches Turks & Caicos
The Caribbean is a great place to vacation, and at Beaches Turks & Caicos, you'll find five different villages that celebrate the ambiance and architecture of international destinations, as well as a 45,000-square foot water park and terrific dining options.
All-Inclusive, Gluten-Free Dining Options
Beaches Turks & Caicos executive chef Colin Watson says that almost anything on the menu can be made gluten-free, including pastas, pizzas, and breads. You do have to fill out a request form at least one meal in advance (i.e., submit the form at lunch for dinner), but you can choose from a number of restaurants. There's a special concierge desk to serve those with food allergies, celiac disease, or gluten-intolerance. And the restaurants have special prep stations for making allergy-friendly food to avoid cross contamination.
Typical Pricing
Beaches is a premium resort, and the prices reflect that. Two guests staying for one week in November can expect to pay about $6,000 and up, not including airfare. There are special rates for families.
Beach Palace Cancun
One of the five different resorts in Cancun run by Palace Resorts, Beach Palace is directly adjacent to a gorgeous white sand beach with incredible access to the brilliant blue ocean waters. Each guest room comes fully stocked with its own mini bar, and the on-site spa will help you relax in the lap of luxury.
All-Inclusive, Gluten-Free Dining Options
Palace Resorts offers "a variety of gluten-free options at all restaurants" and these options are marked a special symbol so they are easy to find on the menus. Gluten-free items include breakfasts, sandwiches, dinner dishes, and desserts. Additionally, the staff will ask about food allergies and will modify meals to remove the gluten whenever possible.
Typical Pricing
Expect to pay around $500 a night for two guests, depending on season and availability. This rate includes gluten-free meals and drinks.
Hotel Riu Palace Costa Rica
Located on the edge of the beach of Matapalo in Guanacaste, Riu Palace Costa Rica boasts four swimming pools, 24-hour room service, and plenty of ecotourism opportunities. It's also one of the best all-inclusive resorts for Celiac disease and gluten sensitivity.
All-Inclusive, Gluten-Free Dining Options
The property features four themed restaurants and one buffet restaurant. The parent company for the resort chain, Riu Resorts, has a food allergy policy designed to give guests peace of mind. They encourage guests to call ahead to discuss gluten-free options before their stay and then meet with a representative upon check-in.
There's also a form to fill out and print that you can present to the server at each meal, detailing the need for gluten-free dining. It's translated into several languages, making communication clear and easy. In the case of the buffet where cross-contamination is an obvious concern, the chefs prepare a special plate, and they will also use dedicated gluten-free areas of the kitchen to prepare plated meals.
Typical Pricing
Weeks rates for couples typically start around $2,000. This doesn't include air fare.
Breathless Punta Cana
At the adult-only Breathless Punta Cana, you can expect lively entertainment, including DJ parties by the pool, as well as rejuvenating spa treatments, water sports, and access to the Now Onyx Resort & Spa next door. There are also lots of options for enjoying your all-inclusive vacation without worry about gluten.
All-Inclusive, Gluten-Free Dining Options
You'll find a total of eight a la carte restaurants, plus a beach grill, a cafe, and a buffet. You can also indulge in room service 24 hours a day. There are gluten-free options at nearly all the resort's restaurants, including grouper and shrimp, vegetable moussaka, seaweed salad, and chilled avocado soup. They can also make many dishes gluten-free, and they have a card you can take to the restaurants to help communicate your need for food without gluten.
Typical Pricing
A one-week vacation for two guests in December will set you back about $2,000. This doesn't include air fare.
Hilton Sandestin Beach Golf Resort & Spa
If you want an all-inclusive, gluten-free resort stay in the USA, Hilton Sandestin Beach Golf Resort & Spa in South Walton's Miramar Beach in Florida is a good option. They offer a variety of dining options and are located on the Gulf Coast with a sand beach and comfortable rooms.
All-Inclusive, Gluten-Free Dining Options
From poolside options like gluten-free burgers to fine dining choices like steak, gulf oysters, and blue crab claws, there are lots of gluten-free meals at this resort. The staff is trained to serve those with food allergies or celiac disease, and they can modify many dishes if they aren't already gluten-free. They can also prepare food in a separate gluten-free environment to avoid cross contamination.
Typical Pricing
Expect to pay about $500 per night, depending on the room and time of year. There are packages that include meals and some that are the room only, so be sure to look at what's included when you are booking.
The Inn Berlin
Another gluten-free vacation option in the USA is The Inn Berlin in Berlin, Maryland. This bed and breakfast is located in a historic Victorian-era home with all the modern touches you would expect from a luxury stay. It's the perfect home base for a seaside vacation.
All-Inclusive, Gluten-Free Dining Options
The owner of The Inn Berlin has celiac disease and ensures that no gluten enters the kitchen. You will never have to worry about cross contamination. The gourmet breakfast, which is included in your stay, features pastries, fresh fruit, and hot items. The menu changes seasonally. You can get all-inclusive packages with a packed lunch for exploring the seaside and romantic dinners in the dining room. There are lots of options, and you can work with the inn to customize your stay.
Typical Pricing
Rooms start at about $275 per night for two guests, including breakfast. You'll need to add on additional meals, as well as transportation.
Zimbali Playa Spa Hotel
If you want an all-inclusive, gluten-free vacation in Europe, Zimbali Playa Spa Hotel is a top choice. The hotel is located in Vera, Spain. The parent company, Senator Resorts and Hotels, specializes in entirely gluten-free vacations for people with celiac and gluten intolerance. You'll find a hotel bar, pool bar, buffet, a la carte restaurant, and more. There's also a spa and beach for plenty of sun and relaxation.
All-Inclusive, Gluten-Free Dining Options
Because the entire Senator chain is gluten-free, you can rest assured you won't encounter cross contamination at any restaurant at these resorts. The hotels are a collaboration with the advocacy and education group, Spanish Celiac Associations Federation (FACE), which means they are strongly recommended for people with celiac disease. The chefs at the hotels have trained for the past several years to create entirely gluten-free and delicious food for guests.
Typical Pricing
Prices vary depending on the time of year, and you can have all or some of your meals included in your stay. Expect to pay about $1,500 for a couple for the week for an all-inclusive stay in a sea-view room in October.
Enjoy an All-Inclusive, Gluten-Free Stay
Travelling with dietary restrictions can be challenging, and it's easy to feel a bit excluded at traditional buffets and resorts. Fortunately, you can enjoy a variety of gluten-free food, even when lavishing in the luxury of an all-inclusive resort. Just be sure to let your servers know about your dietary preferences and ask for any clarification before ordering.