Enjoy a Gluten-Free Thanksgiving
If you're avoiding gluten, you can still have an incredibly delicious Thanksgiving. These days, it's easy to make an entirely gluten-free Thanksgiving dinner, including all the classic foods you expect.
From appetizers to desserts, there are lots of gluten-free Thanksgiving recipes and tips to help you make your favorite pies, stuffings, and other dishes without gluten, and you won't even notice the substitutions.
How to Make a Gluten-Free Thanksgiving Turkey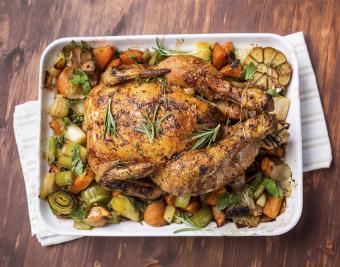 It wouldn't be Thanksgiving without a turkey, but there's no reason for gluten to be present during your poultry preparations. On its own, turkey doesn't contain gluten. However, it's important to read the label before you buy, since some manufacturers do use additivities or seasonings that might include gluten. To be on the safe side, select a turkey brand that's labeled gluten-free.
You can salt, season, and brine this turkey to your liking - just make sure all products used in the preparations are sans gluten. If you're using a purchased marinade or sauce, read the label carefully.
Tips for Choosing Gluten-Free Appetizers
Keep hungry guests satisfied while they wait for the main meal by offering a selection of gluten-free appetizers. A tangy dill pickle dip with gluten-free crackers, roasted spicy chickpeas, or chicken and corn quesadillas are all tasty options. You can also go with veggies and dip, dates stuffed with cream cheese, or any other favorite.
Options for Gluten-Free Thanksgiving Stuffing
There's no need to eliminate stuffing from the Thanksgiving table when there are so many gluten-free breads and flours available on the market. Brown rice, amaranth, or even sprouted grain breads (providing you aren't sensitive) can easily substitute for traditional wheat varieties. Some people with celiac disease or non-celiac gluten sensitivity use a combination of chili-spiced corn meal and white rice flour to create scrumptious southwestern-style stuffing.
There are a number of Thanksgiving stuffing recipes with variations using potatoes, cornbread, and other starches too. Use a gluten-free cornbread mix to make cornbread stuffing, and substitute gluten-free breadcrumbs in potato stuffing. These are great options that take the focus off the chunks of bread in traditional stuffing recipes.
Gluten-Free Gravy Ideas
It's very easy to make a classic gluten-free giblet gravy to go with your Thanksgiving turkey. Instead of using flour in your gravy, you can substitute three tablespoons of corn starch.
You can also make a delicious brown mushroom gravy if you're going vegetarian. Although the recipe calls for 1/4 cup flour, you can substitute gluten-free flour or cornstarch without affecting the quality of the gravy.
Gluten-Free Green Bean Casserole
Skip the canned cream of mushroom soup and make your own gluten-free version of this classic Thanksgiving side dish. Use a from-scratch green bean casserole recipe and substitute gluten-free flour or corn starch for the flour in the sauce. It's an easy dish that everyone will love.
Gluten-Free Bread Basket
There's no need to omit the bread basket on your holiday table just because you're avoiding gluten. Substitute gluten-free bread flour for traditional flour in your favorite bread recipes or try gluten-free pumpkin bread for a festive and delicious alternative.
You can also purchase gluten-free bread or bake-at-home biscuits or rolls. One especially tasty option is Against the Grain, although there are lots of great brands to choose from.
Ideas for Gluten-Free Sweet Potato Dishes
Sweet potatoes are another element of the traditional Thanksgiving menu, and there are lots of ways to make gluten-free side dishes with them. On their own, sweet potatoes do not contain gluten, so you can always serve them baked or mashed.
Another option is to make a vegan sweet potato casserole, substituting corn starch or gluten-free flour for the regular flour in the recipe. This is a great choice if you'll be hosting people who stick to a vegan or vegetarian diet.
Simple Gluten-Free Thanksgiving Salads
You can make a gluten-free Thanksgiving salad with mixed greens, chunks of apples, pomegranate seeds, pecans, cooked squash, and goat cheese. Top it with your favorite gluten-free balsamic dressing or make your own by mixing balsamic vinegar, olive oil, garlic, salt, and maple syrup to taste.
Another traditional salad option is the classic Waldorf salad. There's no gluten in this recipe, so there's no need to bother with substitutions.
Thanksgiving Pumpkin Soup
Soup can be the perfect choice if you want a cozy starter or side dish for Thanksgiving dinner. You don't need to worry about gluten, especially if you make a simple soup from scratch. Pumpkin soup uses real pumpkin, spices, and broth to create a simple and comforting dish that's perfect for this meal.
Gluten-Free Cauliflower Sides for Thanksgiving
Although it's not always a traditional choice, cauliflower offers lots of wonderful options for delicious gluten-free Thanksgiving side dishes. Cauliflower recipes can be especially useful if you're hosting people who are vegetarian or vegan, and because cauliflower has lots of natural carbohydrates, recipes using it rarely require the addition of flour. Try out cauliflower casserole, mashed cauliflower, and cauliflower steaks as side dishes on your Thanksgiving table.
Roasted Brussels Sprouts
It's nice to include a variety of green vegetables on your Thanksgiving table, since many traditional dishes are heavy on the starch and fat. One excellent gluten-free option is roasted Brussels sprouts. Simply toss halved Brussels sprouts with olive oil, salt, and cracked pepper and roast them in your oven. There's no gluten involved, and your Thanksgiving guests will love this nutritious treat.
Stuffed Butternut Squash
If you need a vegan, dairy-free, and gluten-free Thanksgiving dish, make stuffed butternut squash. Although the recipe calls for breadcrumbs, it's easy to substitute gluten-free breadcrumbs without sacrificing taste or texture. The squash is stuffed with wild rice, walnuts, shallots, garlic, and herbs, and it's a savory and delicious option.
More Delicious Gluten-Free Thanksgiving Sides
There are many delicious options for gluten-free Thanksgiving side dishes. In fact, many traditional foods don't contain gluten. Cranberry sauce, whether homemade or canned, is usually gluten-free. So are mashed potatoes and twice-baked potatoes.
Gluten-Free Thanksgiving Pies
No Thanksgiving menu is complete without a selection of pies. Choose a gluten-free pie crust as your starting point, and then add your favorite fillings. The traditional pumpkin pie recipe doesn't include gluten in the filling, so you can keep things classic and delicious. You can also make vegan pumpkin pie without gluten if you have guests who need to avoid eggs and dairy products.
Fruit pies sometimes use flour to keep the pie from being too juicy, but it's easy to substitute corn starch in these recipes. Make a crumb topping for your fruit pie using gluten-free rolled oats instead of flour.
Gluten-Free Apple Desserts for Thanksgiving
Apples are a classic flavor of fall, and apple pie isn't the only way to incorporate them into your Thanksgiving dessert menu. Gluten-free apple dumplings are also a hit, especially with those who don't like pumpkin pie. Serve them with vanilla ice cream or whipped cream for a treat that will end your Thanksgiving meal on a sweet note. You can also make gluten-free stuffed apples, which are filled with oats, brown sugar, and spices.
Other Gluten-Free Thanksgiving Desserts
If you want some more alternatives on your Thanksgiving dessert table, there are lots of gluten-free options to consider. Try a gluten-free cheesecake topped with cranberry sauce for a Thanksgiving twist on a classic. You can serve it with whipped cream for an even more decadent treat. Also consider gluten-free brownies from a mix, or leftover pumpkin desserts like pumpkin whip or pumpkin pudding.
Thanksgiving Cocktails and Mocktails Without Gluten
Although most beer contains gluten, there are plenty of cocktails that are safe for those with celiac disease or gluten intolerance. From cranberry cosmopolitans to citrus tonics, don't forget to include gluten-free Thanksgiving cocktails on your holiday menu. There are also lots of non-alcoholic Thanksgiving drinks to try if you want to skip the spirits.
Gluten-Free Ideas for Thanksgiving Leftovers
Even after your Thanksgiving meal is over, there's usually food to last for days. You can always do a repeat of your gluten-free Thanksgiving, but that can get boring after a while. Try out a turkey casserole, but substitute gluten-free flour, pie crusts, and pasta when these items come up in the recipes. You can also opt for the classic standby of the turkey sandwich, making sure you use gluten-free bread or buns.
Thanksgiving Alternatives for Every Diet
The key to pulling off a successful gluten-free Thanksgiving is checking the labels and minimizing the need for big substitutions. The same goes for accommodating other dietary restrictions. If you're hosting family or friends who are vegan or need a dairy-free diet, there are lots of options and alternatives to try. It's never a bad idea to practice recipes ahead of time to make sure they'll be delicious (and food allergy-friendly) on Thanksgiving Day.