Gluten-Free Thanksgiving
With a little ingenuity and knowledge of recipe substitutions, you can easily achieve a gluten-free Thanksgiving without too much trouble.
Gluten-free cooking is streamlined through practice because many non-glutinous ingredients are a challenge to substitute in recipes. Learning to work with these products during cooking experiences will teach you the ins and outs of textures, tastes, and cooking time adjustments.
The Turkey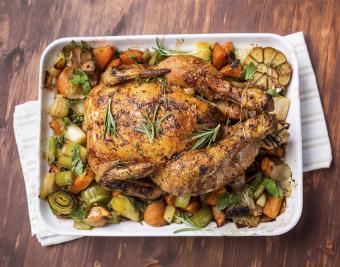 It wouldn't be Thanksgiving without a turkey, but there's no reason for gluten to be present during your poultry preparations.
Purchasing a turkey that contains no additives or seasonings is your first step toward mastering a gluten-free Thanksgiving. You can salt, season, and brine this turkey to your liking - just make sure all products used in the preparations are sans gluten.
Appetizers
Keep hungry guests satisfied while they wait for the main meal by offering a selection of gluten-free appetizers. A tangy dill pickle dip with gluten-free crackers; roasted spicy chickpeas, or chicken and corn quesadillas are all tasty options.
The Stuffing
There's no need to eliminate stuffing from the Thanksgiving table when there are so many gluten-free breads and flours available on the market.
Brown rice, amaranth, or even sprouted grain breads (providing you aren't sensitive) can easily substitute for traditional wheat varieties. Some celiacs use a combination of chili-spiced corn meal and white rice flour to create scrumptious southwestern-style stuffing.
The Gravy
Brown rice flour gravy is a popular choice for both celiacs and individuals following a macrobiotic meal plan. Though brown rice flour lacks the viscous sticky qualities of refined wheat flour, over time you will likely lose your ability to tell the difference. A stock made from the innards of your turkey is the base for this rich, gluten-free turkey gravy that will impress your guests.
Side Dishes
There are many delicious options for gluten-free Thanksgiving side dishes such as rice pilaf or twice baked potatoes. Put away the breadcrumbs and garnish your vegetables with rich herbs and spices instead.
Traditional yam dishes don't require gluten-containing ingredients. You can even make that holiday staple, green bean casserole, gluten-free. In general, feel free to bulk up your Thanksgiving spread with healthy vegetable dishes.
The Bread Basket
There's no need to omit the bread basket on your holiday table just because you're avoiding gluten. Almond flour biscuits are delicious and versatile, and gluten-free cornbread is tasty served with honey butter. Try experimenting with various herbs and spices for variety. You can also make gluten and yeast free breads out of coconut or brown rice flours.
The Pies
No Thanksgiving menu is complete without a selection of pies. You can make your own wheat-free pumpkin pie or find one at your local health food store. If pecan pie is a must on your holiday table, try this gluten-free version.
Coconut and almond flours are excellent gluten-free baking alternatives to wheat flour varieties. Pie crusts can easily be made out of these two gluten-free flours.
The Morning After
If out-of-town guests are staying over, you'll want a variety of gluten-free breakfast items on hand. Keep the breakfast menu simple yet memorable by making gluten-free banana bread, chocolate muffins, cinnamon raisin French toast, and fresh fruit.
Feeding Your Friends and Family
The key to pulling off a successful gluten-free Thanksgiving is practicing with your gluten-free ingredients to master all the subtle adjustments necessary for perfecting a recipe. Preparing gluten-free Thanksgiving recipes is much easier than you'd expect.