Fast food salads are a tricky thing. Everything you know about nutrition generally tells you that that bowl of greens is the best, healthiest option. In reality, though, fast food restaurants often cover those leaves in all sorts of less-than-healthy ingredients. To help you sort through it all, here's a list (in no particular order) of five of the best salads you can get at a fast food restaurant.
McDonald's Premium Southwest Salad With Grilled Chicken
Topping the traditional lettuce with roasted corn, black beans, shredded cheese, carrots, roasted red pepper, and corn chip strips, this salad carries a little bit of spice with it. As far as protein, it's up to you whether the chicken comes fried or grilled. To trim the calories a little, either opt for the grilled chicken or leave the chicken out all together. Prevention calls the salad one of 10 Seriously Healthy Fast-Food Meals, making it a good choice.
Of course, the grilled chicken breast will make the salad more filling and help you reach your nutrition goals a littler easier. Here's the nutrition information with the salad with the grilled chicken included.
| | |
| --- | --- |
| Calories | 350 |
| Fat | 12g |
| Carbohydrates | 27g |
| Protein | 37g |
Taco Bell's Cantina Power Bowl With Chicken
Essentially a deconstructed burrito, Taco Bell's Power Bowl includes black beans, guacamole, roasted corn and pepper salsa, creamy cilantro dressing, pico de gallo, and cilantro rice with the option to add either steak or chicken. According to the HuffPost food blog So Good, this salad is a filling, well-prepared, and slightly cheaper alternative to similar meals offered by Chipotle.
Remember, however, that this salad is all served on a pretty substantial bed of rice. While that might make the salad more flavorful and filling, it also adds a significant dose of fast-acting carbohydrates to the mix. Therefore, for those who are working to avoid or limit carbs, the Power Bowl might not be the best option.
If you go for the chicken, the nutrition of your bowl will look like this:
| | |
| --- | --- |
| Calories | 560 |
| Fat | 22g |
| Carbohydrates | 64g |
| Protein | 26g |
Subway's Double Chopped Chicken Breast Salad
Often, low-carb or gluten-free dieters tend to skip Subway thanks to the brand's powerful connection with their nemesis, the sandwich. In a pretty ingenuous move, though, Subway now offers all of their sandwiches as a salad. So, rather than piling all of those ingredients between two slices of carb-rich, gluten-laden bread, they will simply end up in a green salad.
As is typical with Subway, exactly what goes into your salad is up to you, although things start off with a base of iceberg lettuce. According to EatingRules likes this salad a lot as a healthy option, suggesting that to make it healthier, you can should ask for the salad to start with spinach instead of the iceberg lettuce. For lean protein, go with the Double Chopped Chicken, which will give you the most protein that Subway has to offer in salad form.
| | |
| --- | --- |
| Calories | 220 |
| Fat | 5g |
| Carbohydrates | 10g |
| Protein | 36g |
Wendy's Spicy Caesar Salad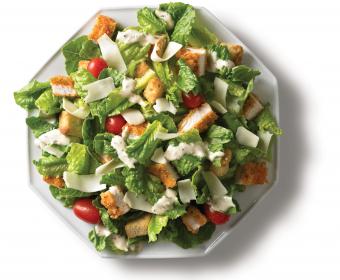 In addition to their unique square burgers, Wendy's also offers a wide selection of salads in both full and half sizes. Among those, the Spicy Caesar salad is a solid, filling choice. The salad contains romaine, chicken breast, a blend of asiago, parmesan, and romano cheeses, grape tomatoes, and French bread croutons. Of course, to complete the whole Caesar salad theme, the meal also comes with salad dressing on the side. Generally, when constructing nutritional information, it's assumed that you're going to add the dressing. Just be aware that, if you do toss that dressing in there, you're adding quiet a bit of fat and total calories. If this fits in with your overall diet, though, go right ahead. GrubGrade gives the salad a solid 7 out of 10 rating.
You should also know you have the option to go with grilled chicken rather than spicy, which will slightly cut down on the overall calories and fat contain of this salad. The standard option as it stands on the menu, though, looks like this:
| | |
| --- | --- |
| Calories | 470 |
| Fat | 25g |
| Carbohydrates | 26g |
| Protein | 37g |
Panera Bread's Modern Greek Salad With Quinoa
Overall, Panera Bread has done a pretty good job of separating itself from the rest of the traditional fast food options out there. So, the fact they offer a wide variety of fresh salad likely isn't very surprising. Among Panera's impressive salad menu, the Modern Greek Salad with Quinoa stands out as being an especially filling and unique option. The salad contains romaine, kale, a quinoa tomato sofrito, diced cucumbers, kalamata olives, feta, and toasted almonds tossed with a Greek dressing.
Interestingly, in 2015 Panera Bread began removing an impressive 150 artificial ingredients from their menu. Because of this action, all the salads offered by the fast food chain are now completely "clean" - free of any potentially harmful or controversial additives, which makes this an excellent addition to a list of great fast food salads.
It's important to point out, though, that for all its healthy-sounding ingredients, this salad is fairly high in sodium - containing almost half of the daily recommended amount. You may have also noticed that, unlike many of the other salads on this list, the Modern Greek Salad does not contain any meat. As such, you won't get a ton of protein if you opt for this particular salad. Overall, here's what you can expect:
| | |
| --- | --- |
| Calories | 510 |
| Fat | 40g |
| Carbohydrates | 28g |
| Protein | 11g |
Round Up
Surprisingly, there are some great choices out there for fast food salads. In general, try to stick with grilled chicken instead of fried and go easy on the dressing. Keep in mind, as well, that many of these fast food salads contain high levels of sodium and other additives that you may want to avoid.