There are plenty of great gluten-free (GF) lunch options that you can enjoy at home or in the office. While some require meal planning and cooking, others are basic ideas that you can quickly and easily pull together from a well-stocked refrigerator and pantry that's free from items that have hidden sources of gluten.
Quiche for Lunch
For a dish that's easy to heat up for a quick lunch, make a crustless quiche or prepare an almond flour pie crust and fill it with your favorite quiche filling, such as spinach, broccoli or other yummy ingredients. Quiche makes a nourishing mix on its own, but it also tastes great at lunchtime served with a green salad or a nice cup of soup. This wonderful GF cream of mushroom soup recipe is a perfect accompaniment.
Sloppy Joe Special
Whip up a batch of gluten-free sloppy joe sauce to mix with your choice of ground beef or turkey. Serve open-face with melted cheese on store-bought GF hamburger buns and pair with your favorite gluten-free chips or homemade sweet potato fries. Enjoy your favorite zero gluten cookie recipe or flourless chocolate cherry bars for dessert.
Smoked Salmon Treat
Smoked salmon is an elegant item to have on hand for a super-quick lunch at home, assuming that you are purchasing a pre-made filet. Of course, if you're feeling ambitious, you could make your own. Either way, smoked salmon pairs perfectly with other easy items like sliced avocado, fresh salad greens, other raw veggies, or boiled eggs.
Flavorful Omelet
An omelet is a great quick lunch item that you can whip up in little time using a combination of eggs, complementary herbs, and leftover proteins and veggies you have on hand. For example, if you tried the smoked salmon treat idea earlier in the week, use the leftover smoked salmon to whip up a unique and flavorful omelet. Stir in some chives and serve with a simple green salad with a squeeze of lemon juice for dressing.
Comforting Chicken Noodle Soup
Use this wonderful recipe for homemade gluten-free chicken noodle soup to whip up a batch of comforting warmth. Cook a big batch over the weekend so you can simply heat up leftovers (or carry them to work in a thermos) when it's time for a lunch break. Or, purchase a few cans of GF chicken noodle soup to keep in the pantry for those days when you're really pressed for time. Enjoy with rice crackers and a kale salad for a lovely light lunch that will leave you feeling nourished and satisfied. For a sweet ending, serve with GF chocolate pudding.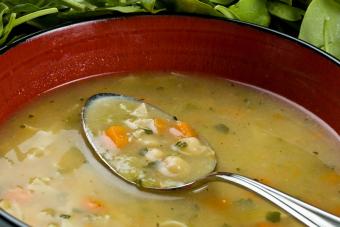 French Onion Soup Delight
If you're craving soup but chicken noodle isn't what you want, give this GF French onion soup recipe a try. Serve it with a salad of mixed baby greens and a homemade vinaigrette dressing. If you need something a bit more substantive, make a grilled cheese or lunch meat sandwich using your favorite store-bought or homemade gluten-free bread (what a perfect excuse to break out your bread machine!).
Chicken Finger Box
Make yourself a wheat-free version of a takeout chicken finger box with this recipe for chicken fingers made with coconut flour or grill your own "naked" chicken tenders. Pair with homemade French fries or potato chips and a serving of coleslaw made with ingredients you're sure have no gluten. Serve with GF ginger snaps for a sweet ending to the meal.
Protein Packed Crudité Platter
Set up a fancy crudité platter (or a small single-serving container to take to the office) with a variety of dips, veggies, meats and cheeses. Mix up a batch of homemade hummus and/or baba ganoush (or purchase at the store) and serve with your choice of cut-up raw fresh veggies (think cucumbers broccoli, cauliflower, zucchini, bell peppers, sliced mushrooms) paired with cherry tomatoes. If desired, add slices or chunks of your favorite hard and semi-soft cheeses and/or GF sliced meat. Serve with your GF crackers, such as Crunchmaster multi-seed crackers. Add some fruit, such as grapes, apples, and strawberries to satisfy your sweet tooth.
Lovely Lunches
These are just a few of the many options for preparing delicious lunches to enjoy at home or work without having to worry about potentially being exposed to gluten in restaurant meals. With a bit of planning and careful shopping, you're always just a little bit of kitchen time away from having wonderful home-cooked meals that meet your dietary needs.