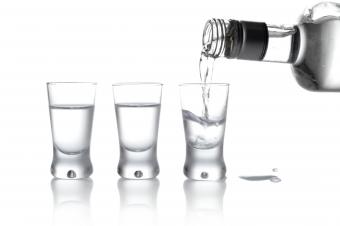 Many experts claim all vodka is gluten-free because distilling it removes even trace amounts of gluten. However, if you are highly sensitive, vodkas made from gluten grains may, indeed, cause a reaction. Fortunately, there are many brands that are made with gluten-free ingredients.
Tito's Handmade
Tito's handmade vodka is certified gluten-free and is made from corn. It's a middle shelf vodka that sells for about $30 for 1.75mL, and tasters generally enjoy it. For example, on the website Total Wine & More, it gets a 93 percent approval rating from customers, who call it clean, pleasant, and one of the best-tasting vodkas on the market. Negative reviewers say it isn't any better than a bottom shelf vodka that costs less.
Tito's smooth flavor is especially pleasant in cocktails, such as a vodka with soda and a squeeze of lime or a vodka gimlet.
CÎROC Ultra Premium
Distilled from French grapes, CÎROC Ultra Premium vodka is certified gluten-free. It's widely available in liquor and grocery stores as a well- known brand. It costs about $25 for 750mL, and reviewers at Total Wine give it a 94 percent approval rating, citing its smooth, crisp, and delicious flavor.
Smirnoff
Like Titos, Smirnoff is distilled from corn and is certified gluten-free. Along with vodkas of varying proofs, Smirnoff also has 35 flavored vodkas, so it's a great mixer, and it is widely available in liquor and grocery stores. Reviewers on Influenster give it four out of five stars, calling it affordable, smooth, and an easy drinker. Many reviewers are neutral, suggesting it's just a regular vodka with nothing special but nothing terrible about it. For about $10 for a 750mL bottle, it's a good call when you're cocktailing on a budget.
Chopin Potato Vodka
Not all Chopin vodka is gluten-free, but the potato version is. That's the one that has a black cap, and it's about $25 for 750mL. It comes from Poland, and you can order it online or find it in some stores. Reviewers at Total Wine give it a 100 percent approval rating, calling it "exceptional," and "smooth as silk."
Kissui
Kissui vodka comes from Japan, and it's distilled from rice, making it naturally gluten-free. It costs about $30 for 750mL, and you can find it at bigger liquor stores, such as Ace Spirits. One reviewer (a self-described vodka snob) found it smooth and said it was a premium vodka best sipped straight.
UV
From Minnesota comes another corn vodka, UV. It's a budget vodka at about $11 for 750mL, and it's available in many liquor and grocery stores. Proof66 reviewers give it 2.6 out of 5 stars, with most users finding it underwhelming but not terrible, which is fairly consistent for vodkas in this price range. One reviewer notes is "smoother than usual for an entry-level vodka."
Rain Vodka
From Kentucky's Buffalo Trace Distillery comes Rain vodka, a corn vodka. It costs between $15 and $20 for 750mL, and Proof66 reviewers rate it as average, which is common for a vodka at this price point. People feel it is a good value vodka, and the bottle is pretty cool to look at.
Cold River
Along with its potato vodka, the Maine distiller Cold River also makes gin. The distiller has a plain vodka, and an oak-aged vodka, as well. This vodka isn't cheap - costing between $30 and $40 for 750mL, and it's only available in 18 states currently. Wine Enthusiast gave it a score of 96 out of 100, calling it "a coming superstar." If you can find it in your state, it might be worth the price.
Teton Glacier Vodka
Teton Glacier vodka is made from potatoes in Boise, Idaho. It costs about $28 for 750mL, and you can find it in larger liquor retailers, like BevMo where reviewers give it five out of five stars. One reviewer calls it, "The best vodka I've tasted." Wine Enthusiast likes it, giving it a rating of 82 out of 100 and calling it, "pleasant and sweet" but noting it turns "smoky and bitter" at mid-palate.
Vodka for All
If you're particularly sensitive to gluten, it may seem to find gluten-free brands you really like. Fortunately, there are an array of vodkas available at various price points that are sure to please your palate.