Proteins are the body's building blocks and important to cell repair. Protein is thought to keep you fuller longer and should be a part of every meal. High protein breakfast foods can be a great way to start your day.
Breakfast Foods to Start Your Day
It's important to eat adequate protein at breakfast. Following are some high protein breakfast foods.
Quick and Easy
These foods are high in protein and simple to prepare: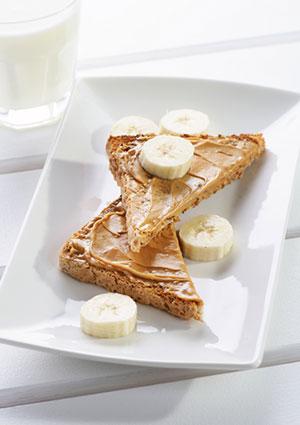 Spread whole grain toast with natural almond or peanut butter; add a sliced banana for more nutritional value
Make a smoothie with yogurt and fresh or frozen fruit (1/2 cup yogurt; 1/2 cup fruit, and one cup liquid). For added protein, add a scoop of protein powder; use Greek yogurt or kefir and toss in a handful of spinach or kale and a tablespoon of wheat germ.
Add a drizzle of honey and sunflower seeds or chopped almonds to a cup of Greek yogurt
Cottage cheese and fruit
Oatmeal made with low-fat milk instead of water and topped with a sliced banana or strawberries
A hard boiled egg and a slice or two of turkey bacon
Scrambled eggs with chopped spinach, topped with low-fat shredded cheddar or Swiss cheese
Spread a whole wheat tortilla with honey, almond or peanut butter and a sliced banana; roll up and eat right away
Yogurt parfait: Alternate vanilla or plain Greek yogurt with sliced bananas or strawberries and chopped almonds, walnuts or peanuts
Protein Off the Shelves
When there's no time to cook, the following items from your local supermarket are good sources of protein.
Toasted frozen waffle spread with almond or peanut butter
Soy breakfast sausage
Muesli
When You Have Time to Cook
If you have more time to spend in the kitchen, try the following high protein recipes:
Eggs baked in avocado: This high protein recipe features an egg baked in an avocado half and topped with crumbled bacon.
Quinoa: This popular grain is versatile and high in protein. Cook as directed and add almond milk, honey and berries for a fresh take on porridge or layer cooked quinoa in a yogurt parfait.
Protein pancake: Fitnessista's protein pancake uses protein powder and oats to make a protein-packed breakfast. These can be made ahead of time and taken on the go.
Make-ahead protein muffin: Muffins are great grab-and-go breakfast option that can be made ahead of time. Try this gluten-free chocolate muffin that uses high protein flour or this healthy banana protein muffin from Dashing Dish which uses egg whites, oats and Greek yogurt for protein.
Southwestern breakfast burrito: To make this burrito, scramble one whole egg or two egg whites; saute one tablespoon each of diced onion and diced green pepper; place eggs down the center of a warm corn tortilla and top with onion/pepper mixture; sprinkle with one tablespoon shredded cheddar cheese and 1 tablespoon salsa. Roll up tortilla and eat immediately.
Southwestern bean breakfast burrito: Prepare the above recipe but substitute half a cup of drained, rinsed and warmed black beans for the scrambled eggs.
Tofu scramble: Tofu is very high in protein and a great breakfast option for people who are vegetarian or sensitive to eggs. To make a tofu scramble, simply cook crumbled, extra firm tofu as you would scrambled eggs. Add diced tomatoes, green peppers, onions, spinach, kale, and/or shredded cheese and your favorite seasonings.
Egg and Canadian bacon sandwich: Cook one egg over easy to desired doneness; heat one slice of Canadian bacon and serve on whole grain toast or a whole grain English muffin.
Healthy and Hearty Breakfast
High protein foods can be part of a healthy diet. If you're counting calories, sugar and fat grams, choose low-fat dairy, lean meat options, whole grain breads and use honey or fresh fruit to sweeten cereals or oatmeal instead of white sugar. A high protein breakfast can help provide you with the energy you need to get through a busy day.