Gifts for Active People
People who are into health and fitness enjoy gifts that help them stay healthy and fit while also adding an element of fun. Check out some ideas within this slideshow for gifts that will please the active people on your list.
Click on the 'More Details' button at the bottom of each slide for purchasing options.
Note that the author received free review items of some of the products featured within this slideshow.
Healthy Snacks
More Details
Snacks are a big hit as holiday gifts, but if your recipient is health-conscious you want to make sure to give healthy, nutritious snacks.
Cherry Moon Farms offers an all-organic snack box starting around $60. The snacks featured within the box are both sweet and savory, with protein-rich snacks right alongside dehydrated fruit. Add custom ribbon to the box for a festive touch.
Activity Tracker
More Details
An activity tracker helps the wearer keep track of not only calories burned and steps taken, but also tracks sleep to make sure recovery time is adequate.
The WeGo Hybrid is an accurate activity tracker that has a seven-day memory capability. Priced around $80, the WeGo partners with smartphones and tablets wirelessly to make tracking easy.
Home Exercise Gear
More Details
Home exercise gear is an excellent gift for fitness-minded people, especially when the equipment offers a variety of exercises that can be done nearly anywhere.
The Metaball Fitness System is a compact product that offers both strength and cardio workouts that can vary in intensity, making it a good choice for new exercisers and fitness fanatics alike. Prices for the system vary depending on package purchased, but start around $120 with payment plans available.
Bicycle Enthusiasts
More Details
Avid bicyclists will enjoy an attachable unit that helps them not only track their rides, but offers many more options as well.
The Magellan Cyclo attaches to the user's bicycle and measures heart rate, provides music control and notifies the rider of incoming text messages and phone calls. Navigation support helps riders plan their rides and shows them how to get home if they get lost. The Magellan Cyclo retails for around $430.
Tasty Treats
More Details
Those striving to eat healthy will appreciate a gift that allows them to eat a delicious dessert without ruining their diet.
Dole's Yonanas Maker takes frozen fruit and turns it into a tasty, creamy dessert that has the consistency of soft serve. The unit is easy to use and the results are quite delicious. The basic unit starts at $49.99 with the deluxe unit priced around $130.
Healthy Air
More Details
Help your health-conscious loved ones clean the air they breathe with a quality air purifier. These units can help people breathe better - especially those who suffer from seasonal allergies.
The Blueair Sense Air Filter offers air purifying with a stylish look that blends well with modern decor. The unit is quiet and is easy to use. The unit pictured here sells for $479.
Gym Bag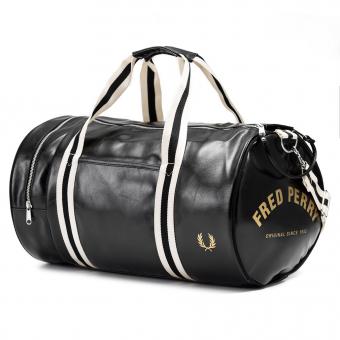 More Details
A durable gym bag is a welcome gift for someone who spends a lot of time packing up fitness apparel to go to the gym.
The Fred Perry PVC Barrel Bag is not only durable, but it's stylish as well. The vintage look sets it apart from other gym bags. Adjustable straps and spacious storage capacity make this a practical, yet stylish, gift. This bag is available for $90.
Action Camera
More Details
Outdoor enthusiasts will get a real kick out of being able to easily record their activities for later viewing. An action camera, which can be attached to a headband, helmet or bicycle or connected to a hand-held pole, is designed to capture all the action.
Sony's Mini Action Camera is splash-proof and features advanced image stabilization technology that helps make the videos fun to watch, even when the action is full of movement. The camera retails for around $350 when accompanied by a live remote bundle for easy recording.
Tea Variety
More Details
Tea has long been touted as a healthy beverage. Gift your health-conscious loved ones some quality organic tea they can enjoy hot in the colder months or brew over ice during the summer.
The Art of Tea offers both sampler gift boxes that can be purchased individually or gift subscriptions so your loved one enjoys tea for months to come. Gifts start at around $25 and go up to around $100.
Fun Gym Apparel
More Details
People who spend a great deal of time in gym clothes will appreciate receiving comfortable, durable fitness apparel, especially gym shirts that make them chuckle.
Activate Apparel offers gym shirts and jackets featuring funny sayings that are sure to make your fitness enthusiast smile. Tank tops start around $20.
Balance Ball Chair
More Details
Fitness enthusiasts who are confined to cubicles during the day will love receiving a balance ball chair as a gift. These chairs are designed to help the user build a stronger core while seated, turning work into a mini stability workout.
Gaiam offers their Balance Ball Chair for around $80. Available in a variety of colors, this lightweight chair is an excellent gift for someone who must sit for long periods of time, but wants to make their sitting time more active.
Wine
More Details
When enjoyed in moderation, wine can be a healthy way to unwind at the end of an otherwise-active day. A bottle of wine makes for a great gift, whether it is wrapped under the tree or presented as a hostess gift at a holiday party.
Dreaming Tree Wines offer a nice variety of wines from which to choose, all with a focus on taste and sustainability. Gift sets start around $60.
Sleep Help
Folks who love coffee at night, but who also need a little help getting to sleep after an active day, will enjoy Counting Sheep Coffee. Not only decaffeinated, but also infused with sleep-inducing valerian root, this coffee is made for nighttime drinking. This is a good option for folks who exercise at night and have a difficult time settling down to go to sleep.
Lifestyle Gifts
Being fit is a lifestyle. Choose gifts based on the aspects of health your loved one most appreciates, whether that's exercise, diet, or both.