The Good and the Bad
Customers worldwide have voiced both their negative and positive opinions about the experiences they have had with a variety of skin products. Check out a roll call of the top rated skin care products available, as well as a selection of items at the opposite end of the quality spectrum.
Top Five Skin Care Products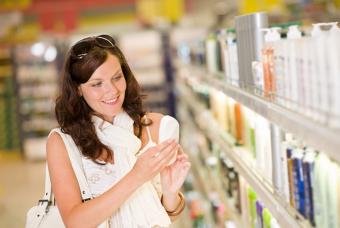 With so many skin care products available, it's hard to tell which ones your skin can actually benefit from. The following five products were able to live up to their promises, producing stellar results.
CeraVe Hydrating Cleanser
Buy Now
While many cleansers can strip the skin of moisture, often worsening its condition, CervaVe Hydrating Cleanser does the opposite by repairing and restoring the skin's barrier. This cleanser was developed by a dermatologist and can be used in conjunction with other skin medications. It contains a patented MVE formula which is able to be absorbed deep into the skin, and deliver hydration.
Board certified dermatologist Brooke A. Jackson, M.D., and Medical Director for the Skin Wellness Center of Chicago, said that the cleanser is, "Great for all skin types. Gentle and Hydrating."
SkinCeuticals Phloretin CF Gel
More Details
SkinCeuticals Phloretin CF Gel is great for younger women who are looking for a wrinkle preventive serum, and for those who are looking to reduce the appearance of fine lines and wrinkles.
Antioxidants play a key role in diminishing damage to the the skin, and this product is packed with them. It also helps to protect the skin form UVA and UVB rays.
The serum is lightweight and easily absorbs into the skin, and great for all skin types. Once applied, it continuously works for 72 hours. In Allure magazine, dermatologist Ranella Hirsch points out, "You can apply it twice a day, even if you have oily skin."
SkinCeuticals Phloretin CF Gel has received awards from Allure magazine such as the 'Best of Beauty Award' in 2012 and 2013.
On the SkinCeuticals website, one reviewer said her dermatologist 'raved' about the serum referring to it as 'one of the best.'
Barielle's Total Foot Care Cream
Barielle's Total Foot Cream can be used to keep the feet smooth and soft in between pedicures, or can be used by those who suffer from severely dry, callused feet. This cream does not contain any chemicals which will exacerbate dry skin. With continued use of the cream, the skin on the feet will soften and improve in appearance.
A cream such as this, which is solely focused on caring for the feet, is also a gem to those who suffer from diabetes. Diabetics are prone to experiencing a lack of moisture and painful splitting on the feet. In a Massage Magazine article about this award-winning foot cream, Dr. Marvin Roberts explained, "By using a conditioning foot cream you are moisturizing the area helping to prevent the problem."
Barielle's Total Foot Cream was an Allure magazine 'Best of the Beauty Award Winner-Editor's Choice' in both 2003 and 2004.
On TotalBeauty.com, after two weeks of use of the cream one consumer said her feet now "look good." And another consumer loves how "nice and smooth" her feet have become.
Neutrogena Oil-Free Eye Makeup Remover
More Details
Stubborn waterproof mascara can be a pain to get off, soap and water just doesn't cut it. With a few swipes, Neutrogena Oil-Free Eye Makeup Remover, easily removes the product without over-drying the delicate skin around the eyes.
This eye makeup remover has been ophthalmologist tested, so it's safe for those with sensitive eyes. On his website, Mark L. Skowron O.D., of Skowron Eye Care, suggests using this product to remove eye makeup for those who wear contacts.
In 2012, TotalBeauty.com gave this product a Best Makeup Remover Award.
Numerous users of the makeup remover on Ulta.com agree that it makes removal of eye makeup "effortless" without a lot of "tugging" required.
Burt's Bees Beeswax Lip Balm
Buy Now
Burt's Beeswax Lip Balm is a far contrast from other balms that only sit on top of the lips, and never actually moisturize them. Some other lip balms actually worsen lip conditions causing them to flake and peel, and clog the small pores around the lips.
The skin on the lips is very thin and can easily be dried out. Burt's Beeswax Lip Balm combats the dryness by using peppermint oil and Vitamin E to repair and soothe parched lips.
Users of the lip balm rated the product a five, out five stars on the Burt's Bees website and recounted the balm as working "wonders" and saying that the "minty vapors" helped with nasal congestion.
In 2013, this product won the TotalBeauty.com Reader's Choice Award.
Top Five Worst Skin Care Products
All too often many people fall for the hype of some products only to be disappointed, and left feeling like they wasted tier money. Discover five of some of the worst skin care products out there.
Chapstick True Shimmer
More Details
For women who don't wear lipstick or lip gloss, the affordable ChapStick True Shimmer line had the potential to amp up the normal layer of the lip balm with some luster.
Unfortunately, the added shimmer has left the lips looking "colorless" according to a reviewer for Makeup Alley. The reviewer stated that the product made her lips look "blue-ish white-ish" and she gave it a rating of two out of five.
It also made TotalBeauty.com's list of 6 worst lip balms, due to low ratings from members. One reader referred to the consistency as "shards of glass", while another reader from the site said it failed to moisturize her lips.
CVS Make-Up Remover Cleansing Cloth Towelettes
Sometimes, ladies can get a little lazy and reach for those handy little makeup remover wipes. Many think they are doing more good than harm by removing most of the makeup. The truth is, these cloths can actually wreak havoc on the skin, especially when using a store brand, like the CVS Make-Up Remover Cleansing Cloth Towelettes.
According to the Huffington Post these wipes contain "formaldehyde-releasing chemicals," and formaldehyde is a well-known carcinogen.
The CVS wipes also contain alcohol. In the Huffington Post article Dermatologist Dr. Maryann Mikhail from Spring Street Dermatology indicated that alcohol-containing wipes can lead to stinging.
Garnier Skin Renew Dark Spot Treatment Mask
More Details
Fading pesky dark spots can be a nuisance for most. The Garnier Skin Renew Dark Spot Treatment Mask promises to help fade these spots with the help of Vitamin C, as well as to hydrate skin - but it ultimately falls short according to some consumer reviews.
On Musings of a Muse.com, the product was said to be "pricey" compared with similar products. Although the blogger was pleased with the hydration, after completing an entire box, she was left 'disappointed' because her dark spots had not lightened.
For RatzillaCosme.com, this was chosen as a 'Worst Pick.' The reviewer said the product left a 'sticky film' and 'slightly irritated' her skin.
Aveeno Positively Radiant Daily Moisturizer with SPF 30
More Details
A moisturizer that contains SPF, helps with dull skin, and includes the word radiant in its title sounds like a match made in heaven. However, after applying Aveeno Positively Radiant Daily Moisturizer with SPF 30 to the skin many consumers had some unsavory experiences.
On makeupalley.com reviews said that product was "greasy" and "did not work well under makeup."
This moisturizer was also on TotalBeauty.com's list of 11 Worst Facial Moisturizers, where one reader said it "made her face turn red and flame."
Smooth Away Hair Removal System
More Details
Products that help to get rid of hair are always enticing. Smooth Away Hair Removal System assures the removal of the hair anywhere on the body, and the product is also rather cheap costing around $10 in the store.
The infomercial promises effortless and effective hair removal with just a few shorts buffs on the skin, but readers from TotalBeauty.com have differing opinions. One reader said it took her "20 minutes to do one leg" and it was "on fire." This product came at number 1 on their list of of the '10 Worst Hair Removal Products.
On Glamour.com, contributor Petra Gugliemtti did a thorough review on the product. She said the system didn't work well on her "bikini zone or underarms", and was "way more work than shaving." If nothing else, she said it can serve as a good exfoliating tool. Some commenters who had purchased the item referred to it as a "joke" and a "scam."
Consider Products Carefully
When shopping for skin care products, don't rely solely on marketing messages and claims printed on the packaging. Do your research ahead of time, finding out what reviewers and real consumers have to say. Gathering this type of information can help you choose the best items for your needs while staying away from the worst ones out there.