Know What You're Eating
It's not hard to avoid the top ten worst foods as long as you know what they are. Let's face it; we know when we're eating something that's not good for us like the famous deep fried Twinkies and other favorites found at your local fairgrounds. Foods that are the worst for us are laden with fat, sugar, refined grains and plenty of preservatives and other additives. You can find lists of bad foods all over the Internet and the choices for the worst unhealthy foods are vast. The way to identify them is to check the nutritional content of menu items before eating out. This little trick will help you sidestep these dieting pitfalls.
High Fat Ice Cream Treats
Delicious high fat ice cream treats are one of the top ten worst foods because they go down so easy, taste so good and are loaded with sugar and fat. For example the Baskin Robbins Large Chocolate Oreo Shake has 135 grams of fat, 263 grams of sugar, 1,700 mg of sodium and a whopping 2,600 calories. This one treat holds more than 3 day's worth of fat!
Before stepping foot into an ice cream establishment check their menu and nutritional information online. In this case you would find options at Baskin Robbins like the Cappuccino Blast Low Fat, Regular sized, 16oz. which only has 220 calories and 2 grams of fat.
Appetizer Pitfalls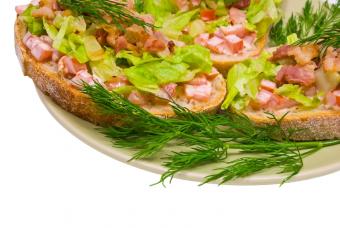 Appetizers are supposed to be a light pre-meal snack but many of them have enough calories to be a meal and more fat than you should eat in a day. Consider the stats for a full order of Uno Chicago Grill Pizza Skins. 2,400 calories and 155 grams of fat! And then you eat your meal! To be fair, if you really are splitting this appetizer 5 or 6 ways it does knock your portion down to 400 calories.
Think about what you're ordering for dinner and ask yourself whether you really need an appetizer. If you're trying to lose weight you can share an appetizer and enjoy a salad based entrée.
Unhealthy Salads
Salads are an important part of a healthy diet. The problem is that it's easy to make those healthy greens into an unhealthy meal. Salad buffets offer all kinds of toppings. The real pitfall is fatty toppings including many salad dressings. Blue Cheese and Ranch dressings average about 75 calories for a single tablespoon. If you pile on a half cup, that 300 calories.
Ordering a salad off the menu isn't always healthy, either. Consider T.G.I. Fridays' Pecan Crusted Chicken Salad. The restaurant doesn't disclose the fat content, but it is about 1,360 calories. Instead order the Cobb Salad for just 590 calories. Big difference.
Coffee Drinks
Coffee specialty drinks are booming business and there are plenty of fattening ones to choose from. One of the worst is Starbucks' Venti Caffe Mocha (20 ounce). When made with whole milk and whipped cream it boasts 450 calories and 13 grams of bad fat. For a drink! It's as bad as eating a quarter pound cheeseburger!
Don't fret though. With a few adjustments you can enjoy this special coffee drink without all the fat and knock the calorie count down to 170. Just ask to have it made with nonfat milk and tell them to hold the whipped cream.
Fried Chicken
Dieters often turn to chicken as a healthy option, but again it depends on how it is prepared. Fried chicken, chicken strips and chicken nuggets are no longer healthy due to the way they are prepared. Take the Dairy Queen 6-Piece Chicken Strip Basket. It has 1,270 calories, 67 grams of fat and 2,910 mg sodium. That's more fat than if you order 4 of their Homestyle Burgers and about 300 calories more than you'd take in if you ate a large Strawberry CheeseQuake Blizzard!
Avoid fried foods, and eat your chicken grilled or baked.
Worst Desserts
Desserts are one of the best ways to ruin a sensible meal. Consider these 6 desserts in the top ten worst foods:
PF Chang's Great Wall of Chocolate (2,240 cal.)
Romano's Macaroni Grill Dessert Ravioli (1,630 cal.)
Chili's Chocolate Chip Paradise Pie with Vanilla Ice Cream (1,600 cal.)
The Cheesecake Factory Carrot Cake.(1,560 cal.)
Ruby Tuesday's Brownie (1,030 cal.)
On the Border's Chocolate Turtle Empanadas (1,280 cal.)
Sandwiches
Sandwiches can be healthy or unhealthy depending on the ingredients. Sometimes we think we're eating healthy but we're not. For example the Blimpie Veggie Supreme 12 inch sub has 1,106 calories and 56 grams of fat and 2,831 mg of sodium. While vegetarian options sound healthy that's not always the case. One way to make this choice healthier would be to eat half of it. Just order a six inch sub and it will cut calories, fat and sodium in half.
Fried Fish
Fish is another menu choice people turned to as a healthy option. Not so fast. Fried fish is loaded with fat calories. Always check how the fish is prepared. Dishes like On the Border Dos XX Fish Tacos with Chipotle Sauce and Refried Beans and Rice has 2,440 calories and 159 grams of fat! To avoid this pitfall order your fish grilled or baked.
Worst Breakfasts
Breakfast offers a number of unhealthy, fat-laden choices, but Bob Evans Stacked and Stuffed Caramel Banana Pecan Hotcakes is one of the top ten worst foods. It starts the day with 1,543 calories and 35 grams of fat, not to mention 2,259 mg of sodium and 109 grams of sugar!
Avoid high glycemic choices for breakfast. Instead, enjoy an Egg Beaters omelet with 2 pieces of bacon and small cup of fresh fruit for 314 calories and less than 20 grams of fat.
Fast Food Meals
While all the menu items included in this slideshow easily make the worst foods list, any food that encourages a person to eat more calories than needed on a regular basis is bad. Fast food restaurants often offer dishes or even individual items with enough calories for the entire day. Learn to educate yourself. A 2,000 calorie muffin? Not unless you want that to be all you eat ALL day! Check out menus online and scope out pertinent nutritional information. Knowing what you're eating is the first step toward making better choices.