Whether you are looking for an illustration to help make a point in a presentation or you just want to see a funny picture as a way of coping with the stress you are experiencing, you're sure to find one of the five original cartoon images presented here to be quite helpful. If you need help downloading any of the printables, check out these helpful tips.
Paperwork Stress
If you're putting together a handout or presentation that discusses the importance of dealing with desk clutter, keeping up with filing, or even going paperless in the office, this illustration can help you get your point across. You can also hang the image in your workspace as a self-reminder to avoid letting your paperwork creep up until it reaches mountain status.
Multitasking Stress
Are you creating a presentation or handout designed to help people learn about the stress associated with multitasking? Are you trying to get into the habit of saying "no" rather than taking on additional obligations that you'd be better off avoiding? This illustration can go a long way toward making the point of just how frustrating it can be to juggle multiple priorities day after day.
Financial Stress
If you're creating a presentation on the stresses of managing a household or business budget, this cartoon can help you illustrate the emotions that go along with trying to meet financial obligations. It can also be a great visual reminder to stop and think before spending money on items that you don't need if you're trying to get your own spending under control.
Overwhelmed with Stress
Just about everyone feels overwhelmed at one time or another. This cartoon can be a great illustration to use if you're putting together a presentation or handout focused on helping people cope with the stressors often associated with "having it all." It can also serve as a great visual reminder to yourself that it's okay to feel overwhelmed sometimes, even though your efforts are certainly important and worthwhile in the long run.
Career Stress
Career-related stress is certainly not uncommon. If you're preparing a presentation or handout focused on how to deal with - or how to avoid - workplace burnout, this cartoon can be a great illustration to use. It can also be a good reminder to yourself that taking a little break to catch your breath is sometimes just as important as continuing to forge ahead.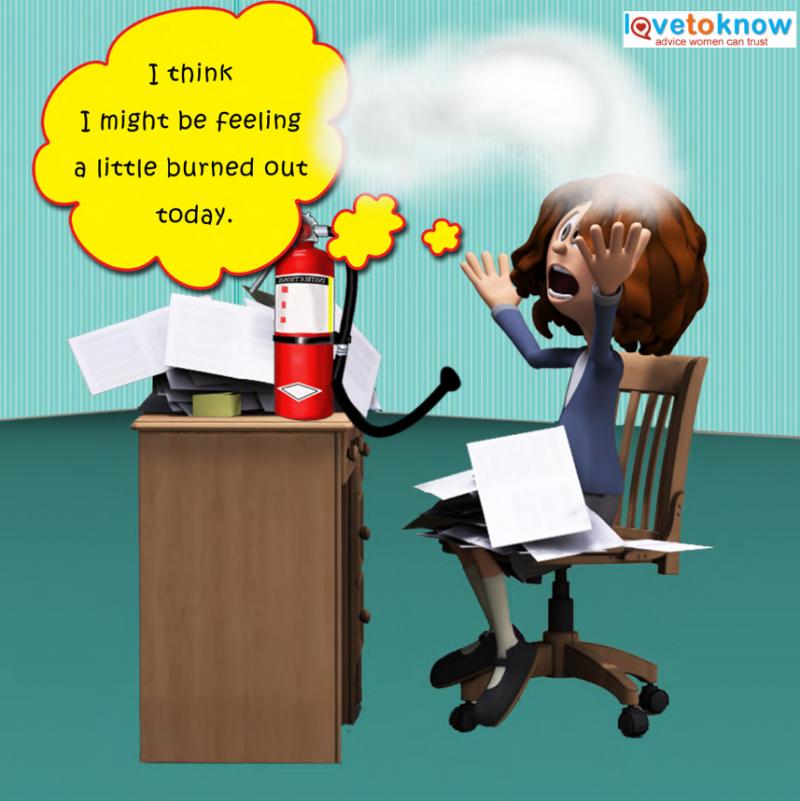 Places to Find More Stress Cartoons
There are plenty of other online resources where you can find cartoons about stress. While many are fee-based, there are a few that provide no-cost cartoons for you to view or use. Review the site's terms of use to make sure you are in compliance before reproducing or distributing any images.
A few places that you may want to try if you are interested in locating additional no-cost images include:
CartoonStock: This site offers a number of no-cost cartoon images about stress. You'll need to click "download" to place the cartoon you want in your shopping cart. Verify that you have selected a free selection by making sure that the price is set to zero in your shopping cart once you've clicked the download link. When you've made your selections, click "proceed to checkout" to get to the screen where you can download the files that you want.
Funny Times: Register with Funny Times to receive a free stress-theme cartoon via email each week. You can also browse a selection of past featured images when you visit the site.
Humor Can Help with Stress
Cartoons can be a great tool for teaching stress management skills and for dealing with personal stress. Sometimes it takes a smile and a laugh to start making forward progress toward dealing with stress effectively. Humor can be a great tool to help gain perspective on the many stressors that can have a significant impact on daily life.