10 Foods You'll Be Shocked to Learn Have More Sugar Than a Twinkie
The Twinkie Has Returned!
In July 2013, the Twinkie made the "sweetest comeback in the history of ever" after an eight month hiatus. This beloved American snack is now made under new ownership and the recipe has been varied a little to elongate its shelf life by nearly three weeks.
Possibly one of the most widely discussed treats, one Twinkie contains 16.5 grams of sugar per cake, along with 4.5 grams of fat, 2 grams of which are saturated. Since 4 grams of sugar equals one teaspoon of sugar, that's four and a half teaspoons of sugar per Twinkie.
For some perspective, find out how Twinkies stack up against other food choices in terms of sugar content.
Oatmeal Bar
When you reach for an oatmeal bar, you may think you are grabbing a healthy on-the-go snack, but these bars tend to be loaded with added sugar. For example, a Quaker Oatmeal to Go Brown Sugar & Cinnamon Bar contains 19 grams of sugar. The second ingredient listed is high fructose corn syrup compared to the fourth ingredient in Twinkies.
Even so, with five grams of fiber and 20 percent of your daily value of vitamins A and B6 as well as calcium and iron, compared to no fiber and little - if any - nutritional value in the Twinkie, the oatmeal bar might be a better option.
Apple Juice
One cup of bottled or canned unsweetened apple juice has 24 grams of natural sugars from fruit, over seven grams more than a Twinkie. However, apple juice has no fat, is low in sodium, and has only one ingredient, compared to Twinkie's 37 ingredients.
The juice is the clear winner even though it has a significant amount of sugar.
Greek Yogurt
Despite its popularity among some fitness enthusiasts and dieters, Greek yogurt is surprisingly high in sugar. A five ounce container of Dannon's Lemon Meringue Greek Yogurt has 19 grams, or almost five teaspoons, of sugar. The sugar comes from natural sugars in the milk and fruit, as well as added sugars.
Unlike a Twinkie, the yogurt provides a high-protein option, with 11 grams in one container, and no high fructose corn syrup or unhealthy hydrogenated oils.
Vitamin Water
Buy Now"
On a hot day or after a workout, you might reach for this drink, but Vitamin Water can pack a sugary punch. A 20-ounce container of grape Glaceau Vitamin Water contains 30 grams of sugar, which is nearly twice as much as a Twinkie.
Keep in mind, though, that the crystalline fructose and cane sugar in the Vitamin Water are healthier sugars than the high fructose corn syrup in a Twinkie. To boot, the Vitamin Water contain vitamins and minerals not present in a Twinkie, such as 100 percent of your daily recommended value of vitamin C and some B vitamins.
Smoothies and Juices
Blended and juiced sweet fruits and vegetables can be high in natural sugars.
Dr. Oz and WebMD promote naturally sweet pure beet juice to help lower blood pressure and improve blood flow in athletes. But with 23 grams of sugar per 1 cup serving, it is high in natural sugars.
Naked Berry Veggie Smoothie has no added sugars, but it still surpasses the Twinkie sugar load with 34 grams. In this smoothie, berries and cherries are combined with sweet vegetables such as purple carrots and sweet potatoes.
The whole food ingredients in these beverages, along with an abundance of vitamins and minerals still make them a more natural, healthier option than a Twinkie.
Canned Fruit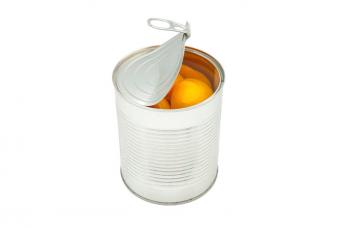 In addition to the natural sugars in fruit like peaches, canned fruit is augmented with corn syrup and sugar to make it an even sweeter treat. A half cup of Del Monte canned peaches contains 21 grams, or nearly six teaspoons, of sugar.
Even with this much sugar, since canned fruit has no fat or cholesterol and is low in sodium, it is still a better option than a Twinkie.
Snapple
Buy Now"
The 'best stuff on earth' may no longer be sweetened with high fructose corn syrup, but a 16 ounce bottle is still sky-high in sweetness. There are 39 grams - nearly ten teaspoons - of sugar in a Peach Snapple. Even if you only drink half of a bottle, you still will be consuming more sugar than in one Twinkie. In fact, sugar is the second ingredient in Snapple and tea is the fourth.
Consider, though, that with only five ingredients, the Snapple does not contain many of the questionable ingredients found in Twinkies such as corn syrup, food dyes, and hydrogenated oils.
Tomato Soup
The faithful partner to a grilled cheese sandwich, tomato soup can harbor a lot of hidden sugars. Campbell's Creamy Tomato Soup in an on-the-go microwaveable container contains 21 grams of sugar per serving, along with 650 milligrams of sodium.
The soup certainly has some questionable ingredients, with high fructose corn syrup listed second on the label. However, the three grams of protein, 900 milligrams of potassium, and abundance of Vitamin C help to make the soup a better option than a Twinkie.
Tip: Beware of added sugars in tomato and barbeque sauces as well.
Protein Bars
More Details"
After a workout you might choose to refuel with a protein bar, but think again. One Clif Builders Crunchy Peanut Butter Protein Bar has 21 grams of sugar, about a teaspoon more than a Twinkie, and 9 grams of fat, more than double that of a Twinkie.
With 20 grams of protein compared to the Twinkie's one gram, the Clif bar may give you more long-term fuel than a Twinkie - but it's still high in sugar and fat.
Thai Food
More Details"
If you are gluten-free and need lunch in a jiffy, you might turn to pre-packaged Thai foods that are easy to heat and eat. Be aware, though, that the Thai Kitchen Pad Thai Rice Noodle Cart contains a surprising 33 grams of sugar and 680 milligrams of sodium. With sugar as the first ingredient in the sauce, this veggie bowl with rice noodles and spices has nearly twice as much sugar as a Twinkie.
Still, with seven grams of protein, three grams of fiber, and no gluten or high fructose corn syrup, the Thai noddle cart beats out the Twinkie.
Sugar Shocked?
If you are watching your weight or just want to ensure you are eating a healthy, well-balanced diet, you'll want to monitor the sugar content in the foods you eat. Opt for fruits with less sugar like strawberries and blueberries and increase your intake of clean, lean proteins and non-starchy veggies like kale and broccoli to help you maintain a low-sugar diet.