About Frontier Herbs
Frontier Herbs is one of several companies under the brand name Frontier Natural Products Co-Op. The company sells organic herbs, spices, aromatherapy products, and natural health and beauty products throughout the United States and Canada. You can purchase products in health food stores or on the company's website.
Organic Herbs
Frontier Herbs offers dozens of organic herbs. The company strives to protect endangered or hard to grow herbs, and uses organic, renewable resources. They offer herbs for personal use or to make beauty products, such as herbal bath products, at home.
Fill the Spice Rack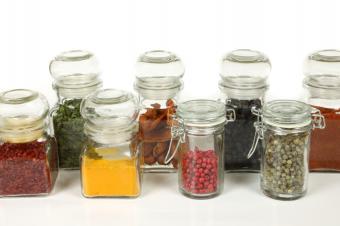 Spices for cooking or health are included in the company's online store. Like their herbal products, Frontier Herbs' spices are all grown organically and offered in individual jars or in bulk. Freshness is guaranteed and all jars are date stamped to ensure customers know when the spices lose potency.
Culinary Herbs
Culinary herbs round out the herbal offerings at Frontier Herbs. Whether you're a budding gourmet or need herbs for manufacturing, Frontier Herbs offers a huge array of all-organic cooking spices. Special products include Gourmet Peppers of the World; spice blends, and grilling blends to add punch and flavor to barbecued foods.
Herbal Teas and Tisanes
Frontier Herbs' bulk herbs may be used to make your own tea blends, or the company sells many fine herbal teas and tisanes. Teas are offered in typical tea bags or loose leaf. The company offers Fair Trade Tea too, to ensure that your purchase benefits farmers and sustainable agricultural practices.
Bulk Herb Orders
Frontier Herbs sells directly to the public, through retail stores, and offers bulk orders. Bulk orders are packaged differently and the company feels that bulk orders reduce trash and excess packaging going into landfills. Culinary herbs, herbs for bath and body care, and herbs for health are all offered in bulk.
Ethical Business Practices
Frontier offers not just a superior product and good selection, they also take great pains to run their business in an ethical, environmentally responsible manner. On their website, you can "meet the growers" and learn more about the small scale, rural farms throughout the world where the company purchases their herbs. They participate in Fair Trade to ensure that your purchasing powers supports rural farmers, and they use recyclable packaging.
Herbs for All Needs
So whether you're looking for one single hard to find herbal remedy, a reliable source of organic herbs, bulk herbs, aromatherapy herbs or interesting culinary herbs, spices and teas, Frontier Herbs offers a great selection. Visit the company's website for more information.