Weight Loss Success Stories
Stories of weight loss success are fascinating. It takes motivation and self-discipline to lose weight. Reading others' stories can inspire you on your own weight loss journey.
Craig Munhall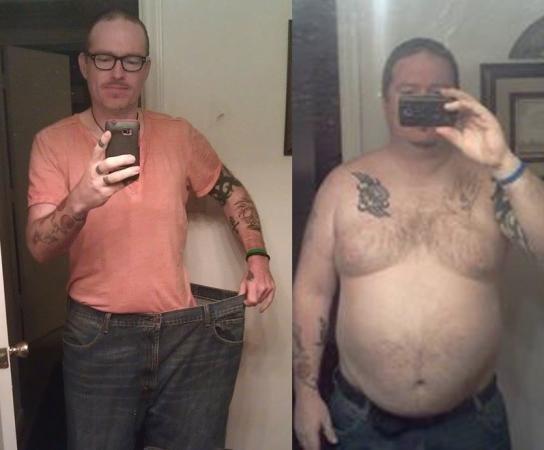 Virginian Craig Munhall, 42, was a food lover who consumed around 6,000 calories per day. One day in 2013, one of his office mates received applause from the health inspector for losing half of his body weight. He overheard what that guy said, "Never drink calories!" It was the wake-up moment he badly needed to start the weight loss journey.
Munhall is 6'1", and his highest weight was 290 pounds. As of August 2017, he's 201.2 pound. He started the journey to weight loss in May of 2013. By May of 2014, his weight had dropped to 195 pounds. In summer 2015, it shot back up to 210 pounds but since May 2014, it is back to controllable 201 pounds.
Craig's Weight Loss Tools
Craig combined diet and physical activity regimens by counting and tracking calorie intake with an Android app, keeping a weight log, and doing light exercises. He also believes sleeping 8 to 9 hours per day helped with his weight loss, which science confirms. People who are sleep-deprived choose twice as many snacks and crave high-carbohydrate foods.
Weekly Regimen
Craig's typical day starts with granola bar and coffee for breakfast, side salad with vinegar only and turkey sandwich on whole wheat for lunch, and chicken breast with zucchini for dinner. His snack is a bag of plain baby carrots. Depending on the daily calorie intake, he sometimes adds various low-calorie snacks. His daily calorie intake is about 1,400.
Craig also walks for 30 minutes three times a week and engages in weight training at the gym three times per week. On the first trip of the week at the gym, he performs chest and shoulder exercises, each with one set of eight reps per muscle group. On the second, he focuses on his back and biceps. On the third, he works his legs and abs. "It's important to do it slowly, to maximize the stretch," Craig notes.
Craig's Tip
Craig's tip for people who want to lose weight is this: Limit exposure to people, things, and places associated with foods. Remove all the temptations, including an empty pantry. Likewise, never drink your calories. He shares his weight loss journey and more photos on his personal blog.
Sheryl Walder
Sheryl Walder, 44, lost 49 pounds in seven months from June 2016 to January 2017. Her highest weight was 207 pounds, the point that triggered her to start the journey to weight loss. At six-feet tall, her current weight of 158 pounds is an ideal and healthy weight.
Weight Challenges
Walder's journey started when she gained weight after injuring her knees, so he could no longer run. She also became physically inactive because she took care of her mother with Parkinson's disease. As a marketing executive in the pharmacy industry, Sheryl had always been active person, and the sudden slow pace of life took a toll on her.
Likewise, combining a full-time career and being a full-time caretaker affected her physical and emotional well-being because she could no longer exercise regularly and had limited time to prepare healthy foods. Ultimately, watching her mother's health deteriorate made her realize life is short, and health really matters. It was the catalyst she needed.
Cheryl's Plan
Preparing nutritious meals was the hardest part, so when Cheryl stumbled upon a healthy meal company online called Diet-to-Go, she gave it a try. They had good reviews and offered both delivery and fresh local pickup. She found a fitness center in the vicinity where she picked up fresh packaged meals.
Diet-to-Go offers different plans, which are customized based on your BMI, height, and weight, as well as how much weight one wishes to lose in a chosen period. Walder started on the 7-day, three meals-a-day "Balance" plan, which contained 1,200 calories each day. Eventually, she moved to the four days-per-week plan.
Walder also cut out sugar and sweets, which was hard at first, but she was able to break the habit. The meal plan helped her to better understand proper portion sizes and nutritious foods. Now, she cooks meals in advance of a busy week and has remained on track ever since.
Geraldine Joaquim
Geraldine Joaquim, 47, of Petworth, UK, started her weight loss journey in April of 2014, when she weighed 196 pounds. By September when she participated in a triathlon, she'd already lost 35 pounds. Today, she weighs 154 pounds and is proud she has maintained her weight loss for nearly three years.
Diet Regimen
Geraldine praises her diet regimen, which is called "5/2 Diet." Each week, she has "normal" vegetarian diet for five days, and she fasts for two days. She finds it easier to continue fasting as a way to maintain weight because it's hard to resist the temptation of foods and to choose nutritious options.
On a typical "eating" day, Geraldine has a small bowl of oats, nuts, seeds, or raisins with natural yogurt or milk, warm water, and lemon or green tea for breakfast. For a snack, she has apple or banana and two or three cups of coffee with milk. For lunch, she has a small pot of probiotic yogurt or nothing and couple of cups of tea during the afternoon.
For dinner, she has a small portion of the vegetarian version of whatever the rest of her family is eating. Thus, if she makes a chili or Bolognese spaghetti with meat for the family, she cooks a vegetarian portion for herself.
On fasting days, Geraldine skips breakfast, snacks, and lunch. She eats an apple or a banana, consumes cups of coffee, and has a light meal like an omelette with vegetable or salad with boiled egg and seeds or nuts for dinner.
Exercise Regimen
Exercise is also a big part of Geraldine's weight maintenance lifestyle. She runs two or three times per week for three miles or more. As an avid marathoner and triathlete, Geraldine has completed the London Marathon, a couple of triathlons, and some ten-kilometer races, even though she has never won any. She practices yoga almost every day. Exercise keeps her balanced and positive, which is key to maintain the "5/2 Diet."
Jade Emmons
In January of 2017, Jade Emmons, 26, of London, UK, weighed 165 pounds. Seven months later, she weighs 130 pounds and is getting more muscular by maintaining a balance between eating in moderation and staying active with an exercise regimen.
Jade's Plan
Jade starts the day by scrambling one yolk and two egg whites with spinach, broccoli, or mushrooms. Alternatively, she eats Greek yogurt with banana, mixed nuts, a sprinkle of cinnamon, and a teaspoon of honey. For lunch, Jade eats soup or salad, such as chicken or salmon salad. Sometimes she eats tuna sandwich with mayo or Greek yogurt.
For dinners, she eats stir-fry and cauliflower rice, spaghetti Bolognese, tacos, or lettuce. On workout days, she eats a few extra carbs, such as brown rice or quinoa. For a sweet fix, Jade enjoys frozen yogurt.
Exercising to Maintain Her Weight
Exercising is also an important part of the weight loss program. Jade mixes spin classes, boxing, weight training, and yoga with one rest day each week. She says she keeps herself motivated by focusing on things she once couldn't do, so she amazes herself. For exercising inspiration, she goes to Instagram and Pinterest.
More Success Stories
Losing weight is easier than maintaining it. It takes a good balance of meal planning and an exercise regimen supported by continued motivation to maintain healthy habits, but you can be successful. For more inspiration of healthy lifestyle, fitness, and weight loss tips and advice, these sites might provide the right dose.
Health.com - Head to Health.com for anything health and fitness related information, news, and stories.
Dailyburn.com - This site aims at providing readers to live a healthier, happier and more active lifestyle through reliable and insightful articles, tools and resources.
Shapefit.com - Be motivated to stay fit, slim, and healthy.
Get Motivated
Use success stories from others to motivate you on your journey to health and fitness. By reading the words of others and discovering they found a path to weight loss success, you just may find the spark you need to do it for yourself.