You might not think getting hot and sweaty is a good look, but fitness babes will prove you wrong. Exercise not only provides a wealth of benefits after you've stopped moving, but can be enjoyable and fun.
It doesn't matter what your favorite activity is, whether it's running, tennis, swimming or yoga. You can get in better shape with a healthy eating plan combined with a regular fitness routine, like these fitness babes will show you.
Need motivation or inspiration? Then take a look at these women who are working it out!
Water, Water Everywhere...
To maintain a healthy physique, drinking adequate amounts of water is important. Not only does it replenish what you lose when exercising, water is also great for your complexion.
Take it Outside
When the weather is beautiful, take your workout outdoors for a change of scenery, especially if you always exercise in a gym. Walk, run, stretch, do Tai Chi -- in such gorgeous surroundings, it might not even feel like a workout.
Healthy Snacks
A large part of looking this good, besides exercise, is a healthy eating plan. Snacks like apples or other fresh fruit are perfect for refueling you with their naturally sweet taste.
Kick It
Engaging in martial arts is a wonderful way to work out. Besides being great for toning, you practice a lot of discipline, which can work in many other areas of your life.
Lace 'em Up
Going for a jog or a run? The right shoes are very important. Make sure you choose a pair that's comfortable and provides adequate support so that you lessen the chance of injury. Running shoes have to do a lot more than simply look good!
Serve Like a Pro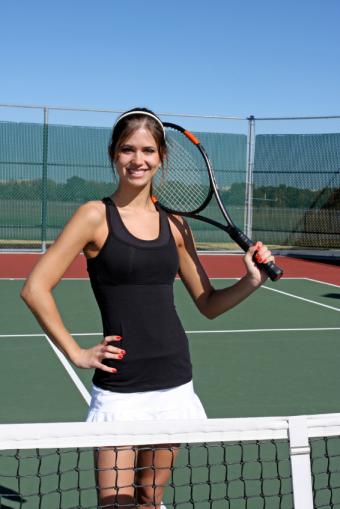 Tennis can be an incredible calorie burner. Just think about professional tennis players and how they look! When you engage in a game, you fit in exercise without it feeling like a chore.
Sun and Sand
If swimming or surfing are more your style, that's great. Both of these activities tone your muscles and burn calories.
Cool Down
After your workout, make sure you cool down and stretch. Not only is this slow-down routine relaxing, it helps prevent injuries.
Want to see more fitness babes? Then check out a sexy glutes slideshow!