Tanya Sharma, LPC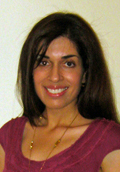 Tanya Sharma is a Washington, D.C.-based professional writer and editor who focuses on topics revolving around style and beauty. She has a Bachelor of Arts degree in Communication and Media Studies from George Mason University and is also a licensed cosmetologist.
Beauty and Skin Care Specialist
Long before Tanya had memorized the functions of skincare ingredients and moisturized her way to glowing skin, she was digging through her mother's vast beauty collection and helping herself to bottles of Oil of Olay and jars of Nivea. A former editor-in-chief of an online woman's magazine, she is a regular contributor to several print and online publications including TotallyHer Media, Brick and Mirror Beauty, and The Fashion Spot. She has spent her career focused on the entertainment and beauty industries. In addition to keeping a keen eye on what's hot and what's not, Tanya enjoys doing "research" at the mall.
Connect With Tanya Sharma
Want to learn more about Tanya and perhaps discuss a project with her? You can connect with her via LinkedIn. You can also visit her at TanyaSharma.com.
Most Recent Contributions by Tanya Sharma, LPC
All Contributions by Tanya Sharma, LPC