Three Awesome Sources for Maternity Catalogs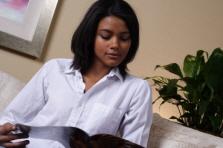 Maternity catalogs are a great way to find some unique products, clothes, and baby items for pregnant women. They can also help pass the time for women who are ordered to bed rest. Order a few to get the widest range of products available.
Maternity Catalogs' Products
Catalogs cater to a shopper's specific needs. Maternity catalogs are no different. While you may be tempted to assume they all revolve around clothing, they can also offer other products for the mom-to-be.
Choose from a wide range of maternity items, including:
Clothes
Lingerie
Shoes
Breastfeeding supplies
Workout gear and videos
Morning sickness cures
Healthy pregnancy guides
Books
Layette and other baby items
If you want to get a maternity catalog, look for one with a variety of those items. Or you might want to order a few specific catalogs, such as one with baby supplies, another for clothes, and another for fitness.
Where to Get Catalogs
Catalogs are often offered through various websites and companies. If the store you frequent does not have a maternity section, visit their customer service. They may have a catalog with maternity items for you to take home and shop with at your leisure. JCPenney is one company that offers maternity catalogs in their customer service department.
If you have friends who were recently pregnant, ask them for the catalogs they found most helpful. This way, you are not inundated with waste when you find out the catalog you ordered does not have items you wanted.
The following places offer catalogs for your shopping experience:
Catalogs from A to Z is a listing of maternity related catalogs with links to the website, phone numbers, and a short description of the products featured.
Isabella Oliver Maternity Wear lets you order a catalog for delivery in the United States or the United Kingdom for a wide selection of clothing.
The Natural Family Site lists catalogs for both breastfeeding/maternity and babies. Some are online catalogs, while others have forms to fill out to request one be mailed to you.
Remember, you are not limited to just maternity clothes when it comes to shopping. If you find a skincare product or line of baby items that you like while pregnant, call their customer service line to find out if they offer a catalog featuring more items.
Catalog Ordering
Ordering from maternity catalogs is no different than other catalogs. You will want to be sure and check how long most items take to ship, as well as the shipping charges. Expect extra shipping for items that are oversized, heavy, or bulky.
Returns often carry a 30 to 90 day limit. Breastfeeding supplies and maternity lingerie may not be returnable. Check with the company policy before you order them. Expect to pay your own postage on most returns.
When ordering clothing, check to see whether you need to measure yourself before ordering, or if they go from your pre-pregnancy size. Do your measurements fall into several sizes? Then order the largest one.
Regardless of the kind of maternity catalogs you enjoy, you are sure to find just about everything you need in your mailbox.